Fight and prevent chargebacks with
Midigator's chargeback management system.
Do you want better results with less effort? Request a demo, and see how easily Midigator can solve your biggest chargeback challenges.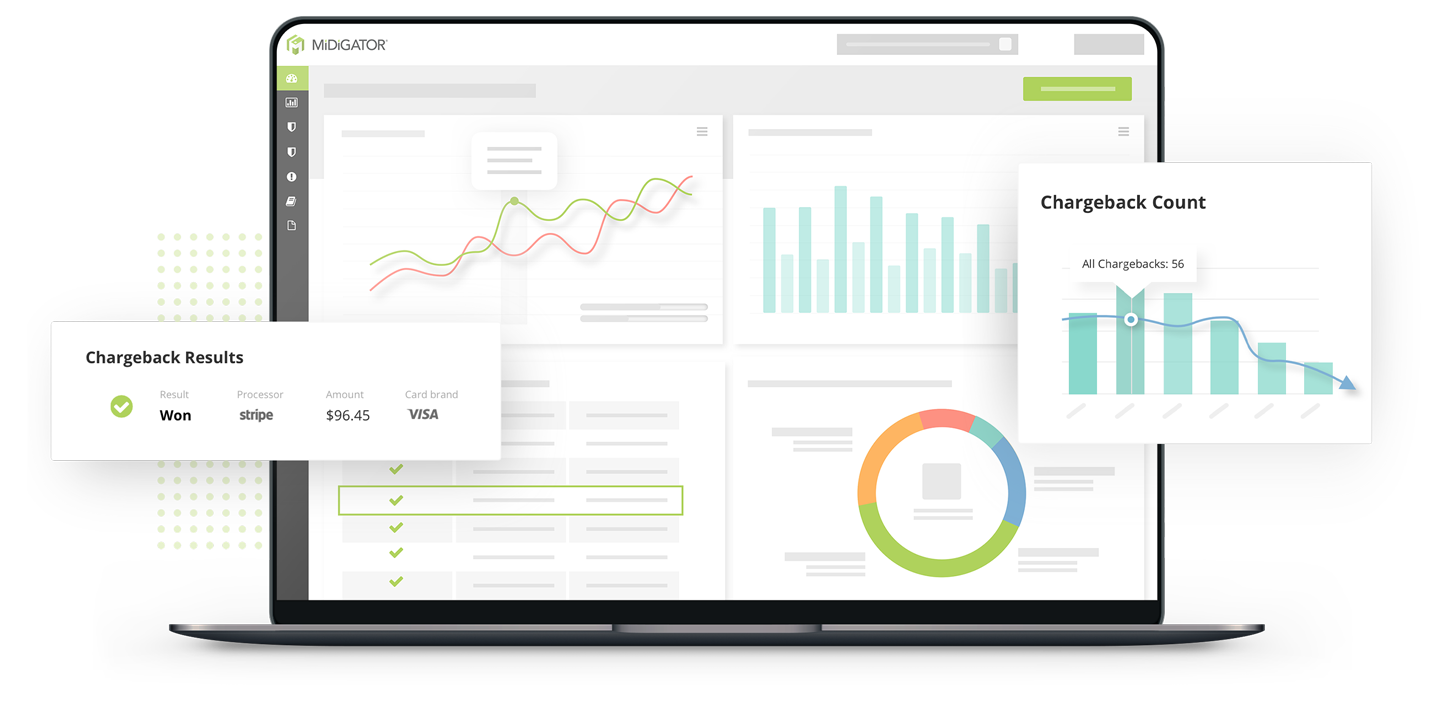 The #1 Choice for Chargeback Management
See why Midigator has a 4.4 out of 5 star rating on Capterra.

Nick
Sr. Software Engineer II,
Computer Software
Integration with Midigator is easy, and once it's established, you have access to their full suite of services and reporting without any additional development effort.

Paul
Manager,
Health, Wellness and Fitness
The automation is the best part for us. We can put people into other roles rather than chasing chargebacks, knowing Midigator is working in the background. It's a huge timesaver.

Connor J.
Owner,
Retail
I love the easy-to-use interface that provides actionable data to help reduce and deflect chargebacks.
Prevent chargebacks & minimize revenue loss.
The easiest-to-win fight is the one you can avoid. That's why chargeback prevention is a crucial first step in your management strategy. Midigator has everything you need to prevent the preventable.
Start seeing results in as little as 24 hours
Prevent up to 50% of chargebacks
Solve issues up to 5 weeks sooner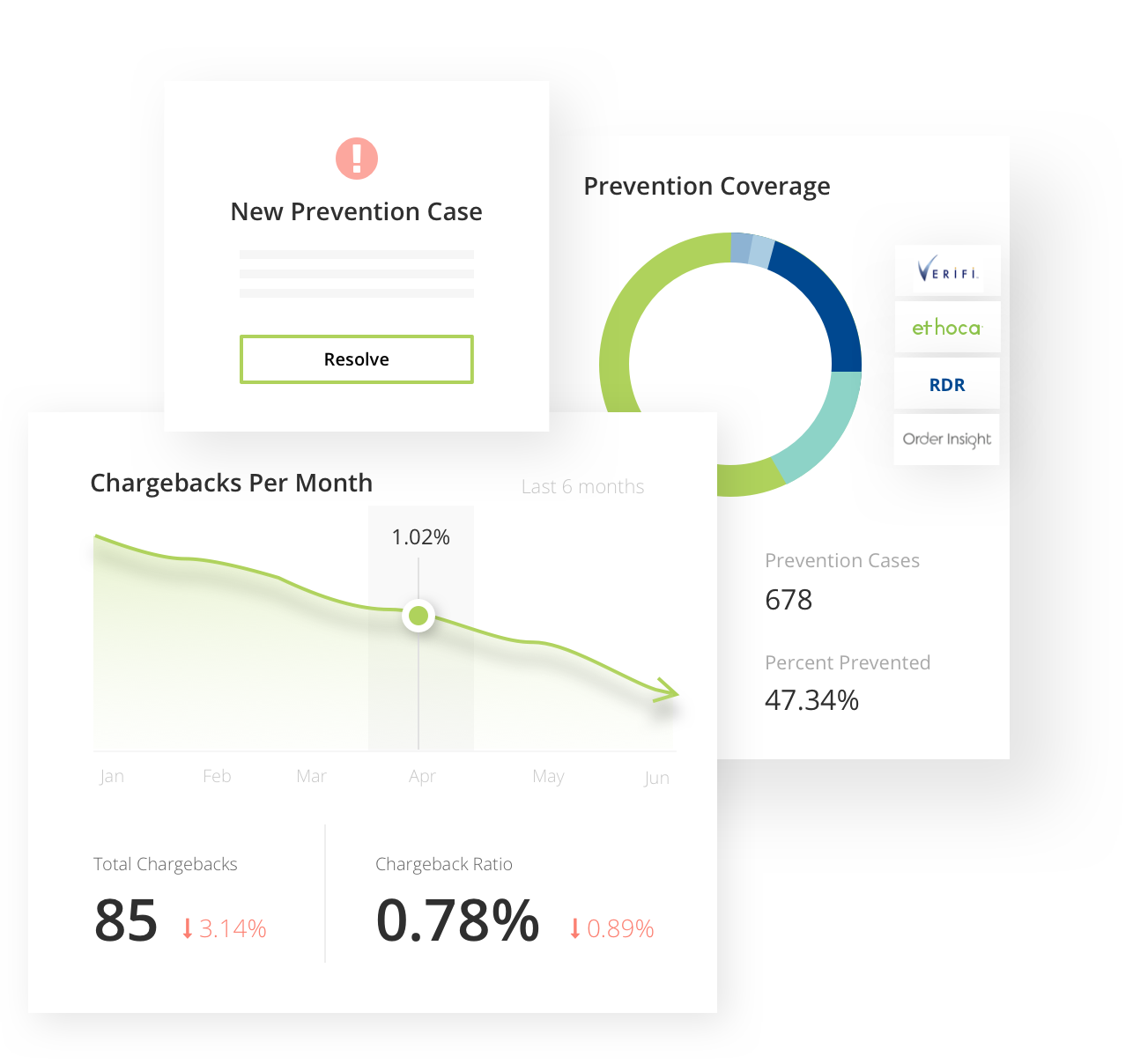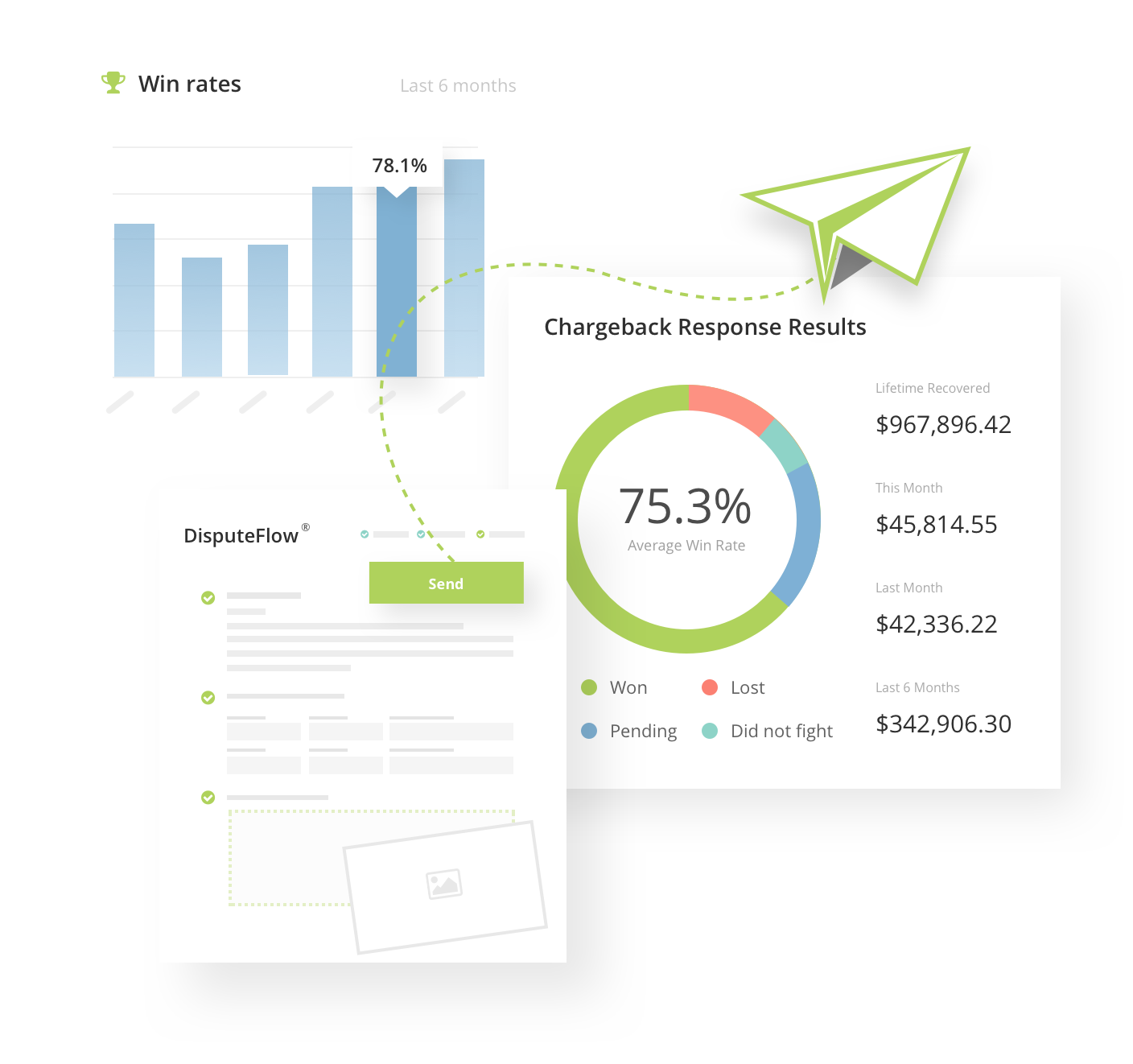 Fight chargebacks & recover more revenue.
When you lose money to chargebacks, Midigator gets it back. Our philosophy for revenue recovery is simple: we want you to have the best ROI possible. That means we fight chargebacks with the greatest efficiency and highest probability of success.
High win rates consistently improve over time
Intuitive, easy-to-use technology removes guesswork
Flexible automation replaces time-consuming, error-prone processes
On-demand support connects you with industry veterans
Chargeback Management System
Chargebacks can become a real problem for businesses if left unchecked. Excessive chargebacks could lead to significant revenue loss and stunt the growth of a business. With the right tools and insights, merchants may be able to reduce the number of chargebacks they need to process (and manage the repercussions of the chargeback process when they do need to process one) by implementing a chargeback management system like Midigator.
All kinds of businesses of all different sizes can benefit from using chargeback management software to handle their customers' payment disputes. Midigator is an example of a chargeback management system that can help prevent chargebacks and fight them if they do happen. Afterwards, the software can analyze the situation to determine the cause of the payment dispute so merchants can improve their management strategy. These functions form a comprehensive, multi-layered payment dispute resolution strategy that could help businesses prevent and manage chargebacks and streamline their chargeback processes overall.
One of the benefits of using Midigator's intelligent chargeback management system is that it can provide chargeback prevention alerts. This could help businesses prevent chargebacks before they happen by issuing refunds instead. While refunds are not ideal either because they still result in the business losing money, alerts can help keep ratios low and prevent threshold breaches.
When transaction disputes do occur, chargeback management software might be able to help the merchant get to the root of the issue more quickly, allowing it to be solved before more chargebacks are necessary. The software is capable of analyzing each transaction dispute so merchants can use the resultant insights to create long term solutions that could improve their chargeback management strategy. Therefore, even when chargebacks do happen, at least they can be turned into learning experiences so that future chargebacks might become less likely each time.
What Is Chargeback Management?
Implementing a chargeback management system could be very advantageous for a business that is struggling to deal with the financial impact chargebacks can have. To better understand how chargeback management software can benefit a business, it might be helpful to go over the answer to the question: "what is chargeback management?" Chargeback management refers to the process of resolving payment disputes with the goal of eliminating or minimizing the negative impact the dispute will have on the business. 
Chargebacks can have a profoundly negative impact on a merchant's bottom line because they cause revenue loss. But often, more challenging than revenue loss, is the damage that chargebacks have to the merchant's reputation. If activity becomes excessive, the bank will revoke the merchant's ability to process debit and credit card transactions. That's why a chargeback management system is so important. It can provide ecommerce chargeback protection that may improve a business's ability to fight and prevent chargebacks — ultimately helping the merchant stay in business. 
With chargeback management software, merchants may find it easier to prevent chargebacks, reduce revenue loss, and manage thresholds, which can remove the roadblocks that chargebacks present and allow the business to continue to grow and thrive.  If a chargeback model example would be helpful for understanding the potential impact of chargebacks and how chargeback management software can help minimize this impact, consider the following scenarios:
The cardholder disputes a transaction. 

The bank issues a chargeback. 

The merchant receives the chargeback and reviews the case. 

The merchant acknowledges that the chargeback is invalid and fights back. 

The merchant's response will hopefully reverse the chargeback and recover the lost funds. 
But if the merchant doesn't fight back or the response isn't successful, revenue is lost forever. 
Some examples of reasons why a transaction might be disputed are as follows: 
Some of these scenarios would result in the bank initiating a chargeback, and some would result in the customer initiating the chargeback — it just depends on the situation. However, regardless of which party initiates the chargeback, the business stands to lose revenue.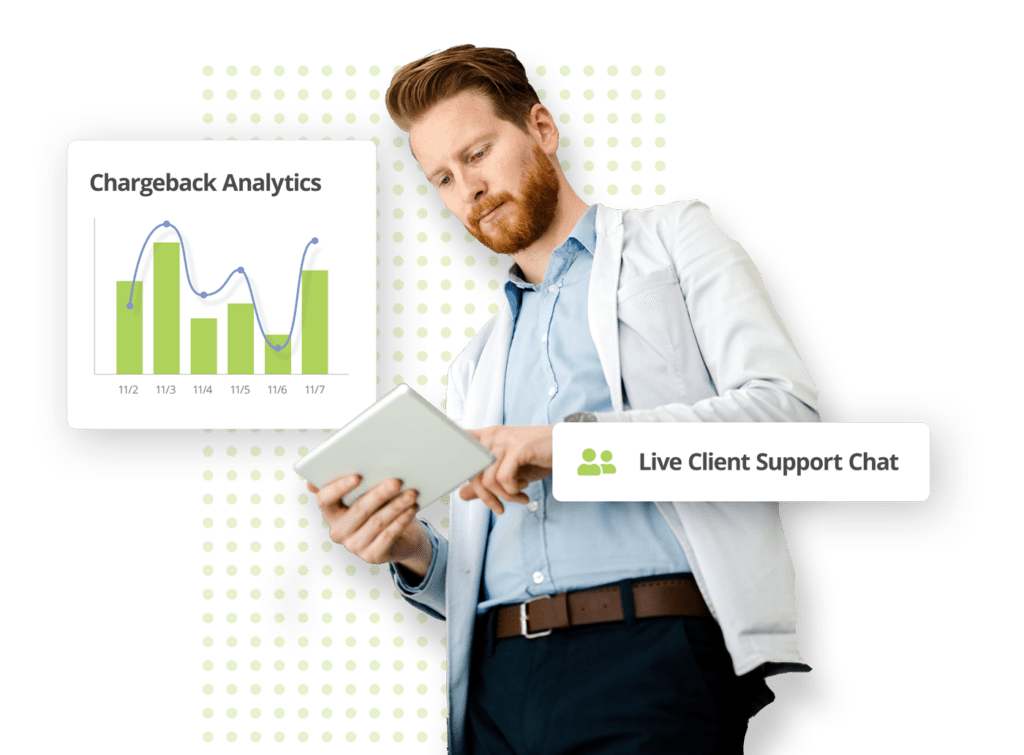 Midigator is a true software solution, providing complete, intelligent chargeback management.
A team of experts to help you succeed
Efficient, flexible automation
Everything you need in one platform
Chargeback Management Company

A chargeback management company is a company that offers streamlined chargeback management solutions to businesses that want to protect themselves against the negative repercussions of chargebacks. Top chargeback management companies can provide software that is capable of alerting merchants to payment disputes so they can be preemptively addressed before a chargeback is initiated. Chargeback management software may also be able to track detailed analytics that can aid in preventing future payment disputes altogether.
A chargeback company can provide a valuable service to merchants by enabling them to reduce the risks involved with chargebacks. Advanced technology solutions available from top chargeback management companies can increase a merchant's chances of preventing chargebacks and recovering lost revenue by formulating intelligent chargeback responses that are designed to have the best possible chance of success.
Midigator is an example of a chargeback management company that can provide software solutions to help prevent and manage the threat of chargebacks. Midigator is committed to simplifying the payment dispute process with their chargeback management software. The technology platform they have designed is intended to be able to automate the payment dispute process as well as provide real-time analytics that can unlock insight into the reasons chargebacks are being initiated to begin with, thereby making them easier to prevent in the future.
Chargeback software can provide multiple solutions that could help merchants reduce the number of chargebacks they are processing and improve their chargeback process in general. The most important chargeback solutions that can be supplied by chargeback software include the following:
Chargeback prevention and revenue loss reduction – one of the most significant ways chargeback software can benefit businesses is by enabling them to prevent chargebacks and reduce the amount of revenue lost as a result of chargebacks.
Lost revenue recovery and the ability to fight chargebacks – Even with the proper precautions in place, chargebacks may still happen sometimes. Another important chargeback solution that can be implemented with the use of chargeback software is the ability to fight chargebacks and recover lost revenue when chargebacks do unfortunately occur.
Automation of chargeback management tasks and processes – Chargeback management automation can simplify the payment dispute resolution process to minimize the time and resources that must be diverted to handle chargebacks. This can reduce the negative impact of chargebacks by helping to prevent lost time from being added on top of lost revenue.
One feature offered by chargeback prevention companies such as Midigator is the ability to receive chargeback alerts. This feature is capable of delivering alerts that can warn businesses when a transaction dispute occurs, making it easier to respond quickly and come to a better solution than a chargeback. Chargeback prevention companies that offer chargeback alerts as a built-in feature could provide significant chargeback help to merchants.
Chargeback prevention companies can provide many different kinds of chargeback help. The prevention alerts feature is a good example of one type of chargeback help that chargeback prevention companies can offer to businesses. Chargeback alerts could increase the likelihood of a merchant being able to resolve a payment dispute before it escalates to a chargeback that results in lost revenue. Preventing chargebacks in this way could help a business keep ratios low and prevent threshold breaches.
Dispute Management Software
Another chargeback management tool that Midigator's payment dispute management software offers is DisputeFlow. DisputeFlow is a feature that can make it easy for merchants to fight chargebacks. Just a few clicks is all that is needed for merchants to fight chargebacks using DisputeFlow — the efficiency of this system could reduce the amount of time a business spends on responses by as much as 84%.
Without DisputeFlow, the process of fighting a chargeback could be complex and lengthy, and might look something like this:
Chargeback data must first be downloaded manually from portals
Data must then be manually copied and pasted into documents, which could potentially take hours.
Complicated submission expectations must be studied and fully understood.
Finally, time must be spent searching for response results.
By using DisputeFlow, the process could be simplified and sped up considerably, and look something more like this:
Chargeback info can be received in a single portal.
Dispute responses can then be built efficiently with easy-to-use workflows.
Packages can be sent with a single click.
Detailed reporting and automatic results can be monitored.
Midigator's payment dispute software and DisputeFlow can streamline the chargeback response process and reduce the time and effort required to successfully fight chargebacks.
A debit or credit chargeback could cause a significant loss of revenue for a business. However, businesses can use chargeback recovery tools available from chargeback management companies like Midigator to increase their chances of successfully fighting disputes. And with real-time notices, merchants don't have to worry about issuing a refund after chargeback which would cause twice as much revenue loss. Ultimately, Midigator's technology makes it easy to boost the bottom line with unparalleled ROI.
Without the help of an automated chargeback management system, merchants may struggle to prevent or control a debit or credit chargeback. A chargeback example in which it could be useful for a merchant to have a reliable means of chargeback recovery might be when a customer disputes a transaction for a reason other than fraud. Chargebacks are a necessary consumer protection in cases where a card was charged due to a fraudulent purchase made by someone other than the cardholder. In such cases, the chargeback would be justified. In other cases, however, the chargeback request could be illegitimate. Chargeback management software could assist businesses with chargeback recovery in an illegitimate chargeback example.
GET STARTED TODAY
Get started with Midigator's chargeback management system today!
Are you ready to see why thousands of companies trust Midigator to manage millions of payment disputes with unprecedented ROI? Sign up for a demo today, and see what you've been missing!
Certified & secure technology