The Best Chargeback Management Tools Available
Midigator has all the chargeback management tools you need to protect and recover revenue. Find out how to get better results with less effort and fewer costs.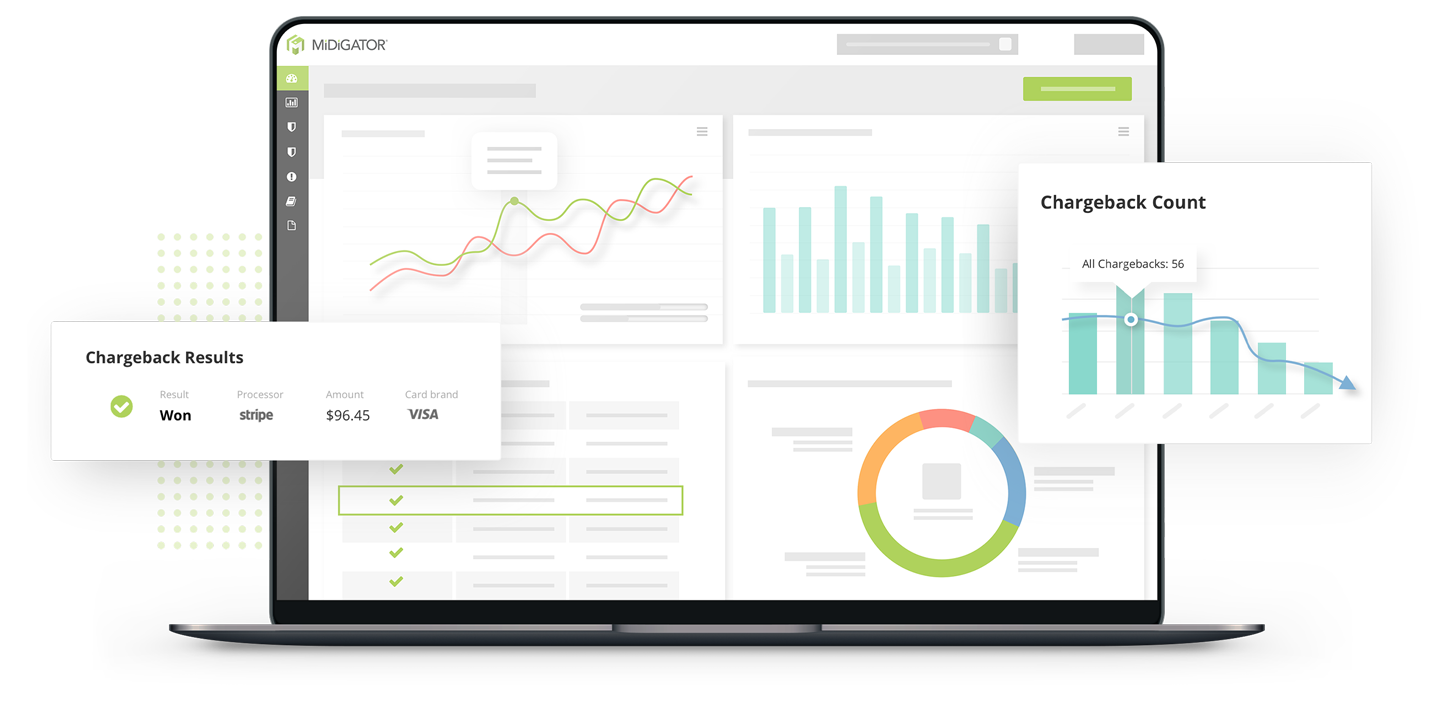 The #1 Choice for Chargeback Protection
See why Midigator has a 4.4 out of 5 star rating on Capterra.

Nick
Sr. Software Engineer II,
Computer Software
Integration with Midigator is easy, and once it's established, you have access to their full suite of services and reporting without any additional development effort.

Paul
Manager,
Health, Wellness and Fitness
The automation is the best part for us. We can put people into other roles rather than chasing chargebacks, knowing Midigator is working in the background. It's a huge timesaver.

Connor J.
Owner,
Retail
I love the easy-to-use interface that provides actionable data to help reduce and deflect chargebacks.
Prevent chargebacks & minimize revenue loss.
The easiest-to-win fight is the one you can avoid. That's why chargeback prevention is a crucial first step in your management strategy. Midigator has everything you need to prevent the preventable.
Start seeing results in as little as 24 hours
Prevent up to 50% of chargebacks
Solve issues up to 5 weeks sooner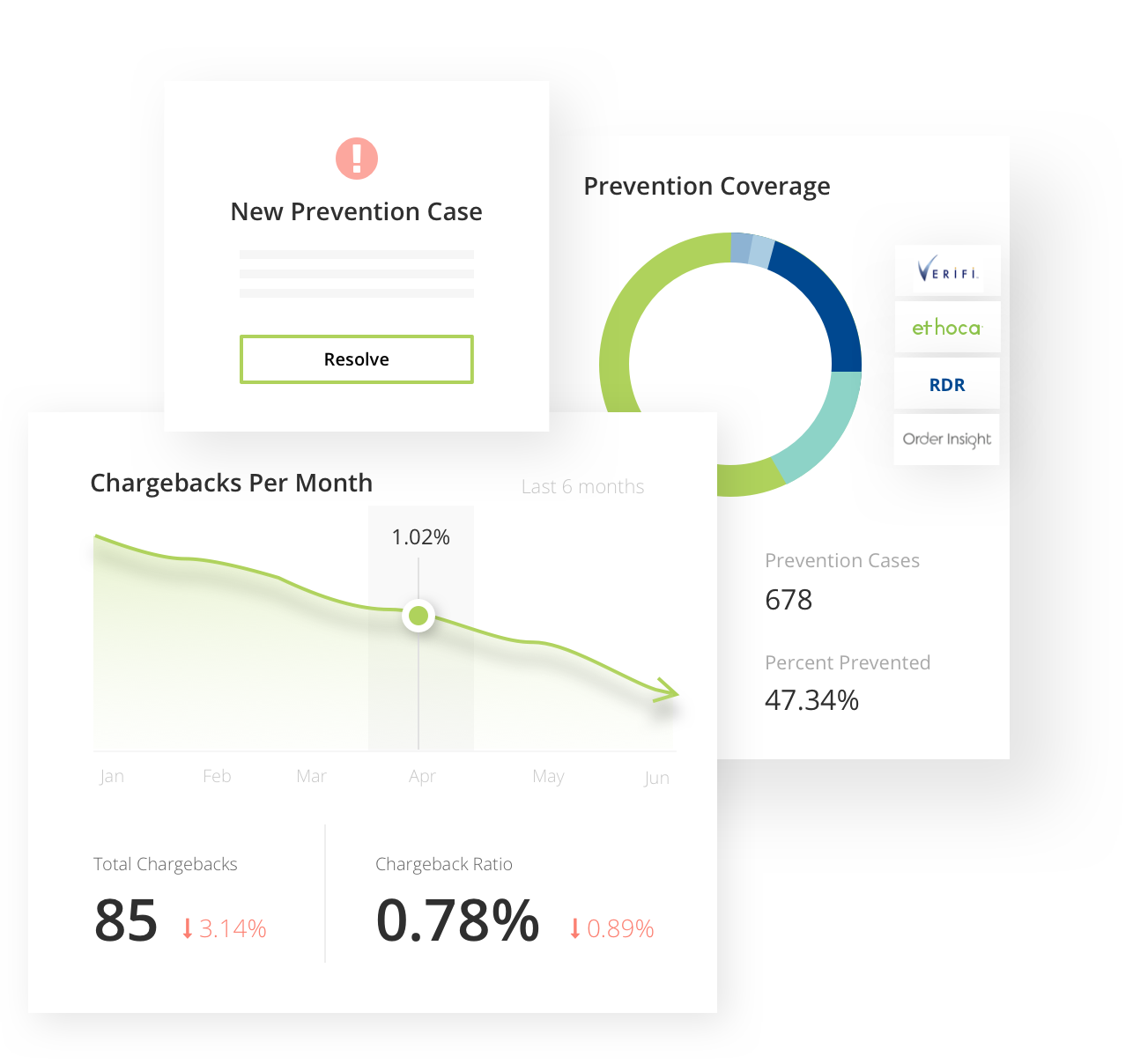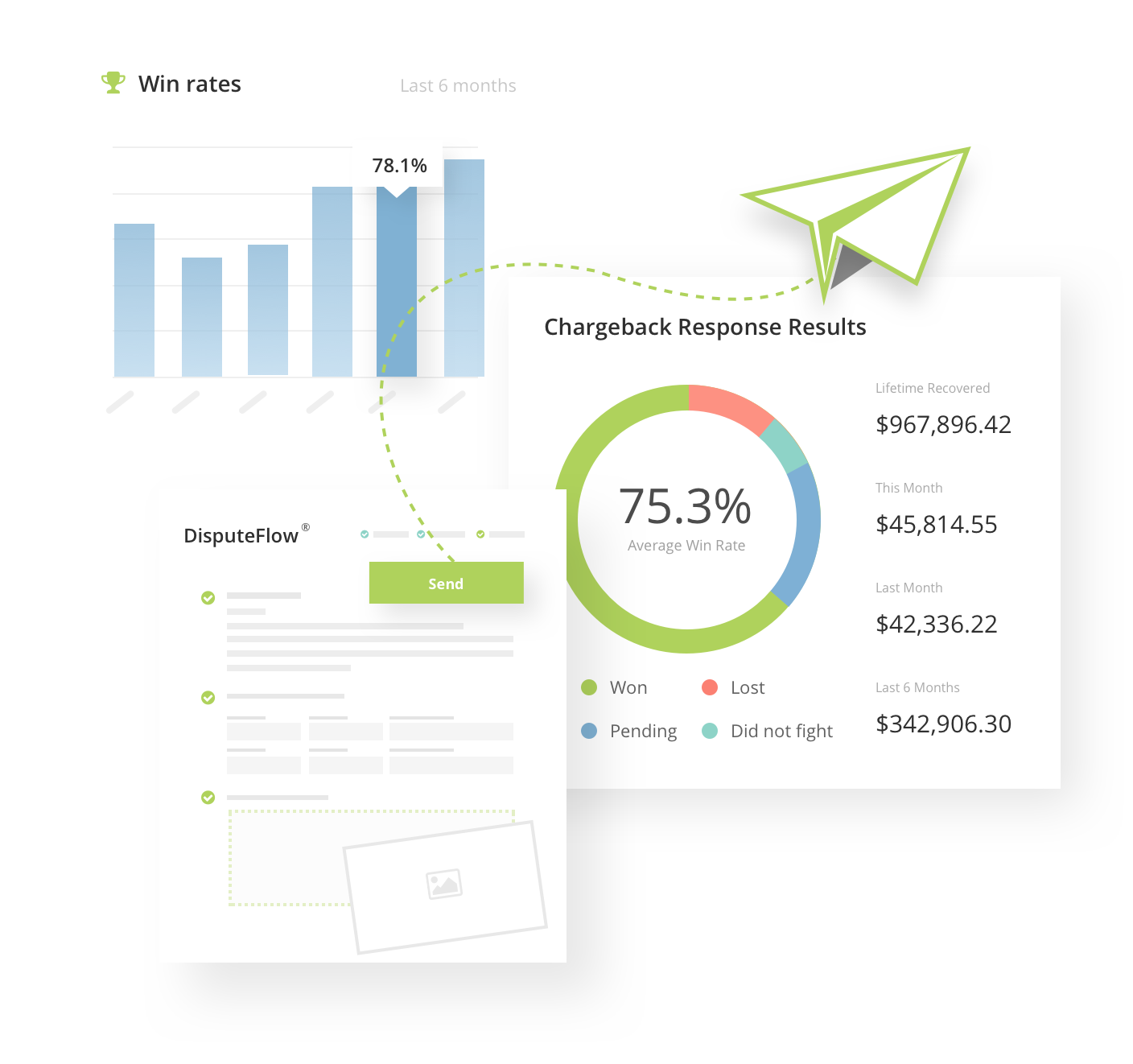 Fight chargebacks & recover more revenue.
When you lose money to chargebacks, Midigator gets it back. Our philosophy for revenue recovery is simple: we want you to have the best ROI possible. That means we fight chargebacks with the greatest efficiency and highest probability of success.
High win rates consistently improve over time
Intuitive, easy-to-use technology removes guesswork
Flexible automation replaces time-consuming, error-prone processes
On-demand support connects you with industry veterans
Chargeback Management Tools
A chargeback is a reversal of funds by a bank or other issuing entity, usually due to some type of dispute between a customer and merchant in which the customer wins. While there are many ways to handle chargeback management and it is possible to do everything manually, your company's process can be vastly improved by automation technology. Chargeback management tools can automate tasks and streamline the chargeback process to improve business efficiency. You can easily view a history of your chargebacks and see what pending disputes, if any, exist on your account. 
There are many different chargeback prevention tools you can choose from, and not all software is created equally. Some platforms are better for small businesses, while others are targeted at large companies running complex chargeback processes. It's important to assess your own process to determine your needs and how automated tools might be able to fill an existing gap in your workflow. If you find, for instance, that you're struggling to keep up with recording each chargeback, you might turn to a chargeback management tool to automatically keep records so that you don't have to go into the system and manually make entries each time you're hit with a chargeback. 
Midigator offers chargeback management software to help users simplify their payment disputes. Whether you're a startup or a large institution, Midigator can help you fight and even prevent chargebacks. The platform uses a multi-faceted approach to resolve disputes and prevent chargebacks from occurring in the first place. Users receive chargeback prevention alerts to help users keep their accounts in good standing, issue timely refunds, and actively work to avoid chargebacks. They also have detailed analytics that help identify why chargebacks are occurring so that you can gain a thorough understanding of what's going on behind the scenes and prevent issues from arising in the future.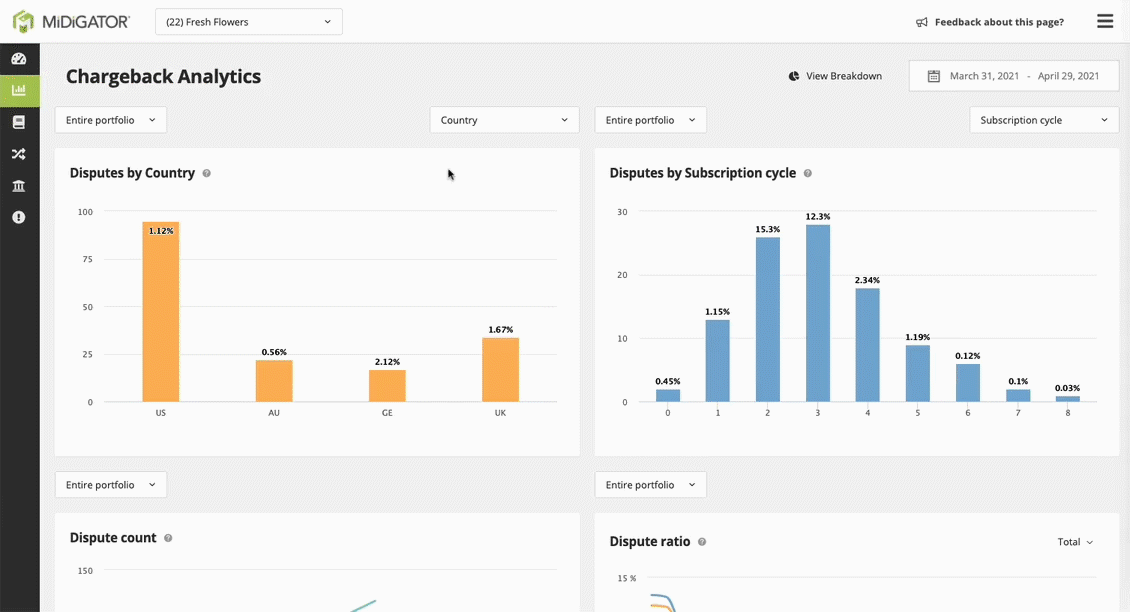 Midigator is a true software solution, providing complete, intelligent chargeback management.
A team of experts to help you succeed
Efficient, flexible automation
Everything you need in one platform
Top Chargeback Management Companies
Chargeback prevention companies help others prevent chargeback by providing insight into disputes and working to identify the underlying causes of chargebacks. Keeping track of all of your chargebacks by hand can be difficult, but by partnering with a chargeback management company, you can automate the process, letting the software do most of the dirty work for you. There's no doubt about it—nobody wants to see a chargeback on their merchant account, and it can be tempting to just let it go and avoid thinking about it. It's crucial, however, to resolve disputes in a timely and effective way to maintain brand reputation and prevent future problems, and a chargeback company can help you stay on top of the process.
Midigator is among the top chargeback management companies because it offers a holistic view of chargebacks and helps users successfully resolve disputes. Chargeback management platforms like Midigator make it possible for businesses to automate and streamline their chargeback management processes to promote the likelihood of a favorable outcome. As such, more and more businesses are working with chargeback management companies to look for innovative solutions to the chargeback process.
Many companies use chargeback software to simplify the way they manage their disputes. For example, some software platforms, like Midigator, send chargeback alerts prompting users to quickly resolve disputes before chargebacks occur. Without this kind of software, disputes can easily fall through the cracks, resulting in more chargebacks down the line. It's important to address disputes as quickly as possible so that you can sort things out. In this way, dispute management software is critical to ensuring customer satisfaction and the ultimate success of your business. 
One chargeback example might involve a customer returning items for a refund, but never getting their money back and taking matters up with their bank. Dispute software can help prevent scenarios like this by alerting businesses to requested refunds and any other pending transactions that could become chargebacks if not addressed promptly. It also helps users identify the root cause of chargebacks so that they can make meaningful changes to their business to reduce the number of chargebacks they're forced to deal with down the road. If you're looking to simplify your chargeback management process, then chargeback software is the way to go.
Companies seek chargeback solutions to gain greater control of their dispute processes. Ecommerce chargeback protection helps protect ecommerce merchants from chargebacks, alerting them to trouble with their accounts and helping them resolve disputes before they become an even bigger deal. A cloud chargeback model, as the term suggests, is a cloud-based chargeback system in which merchants can access their records to manage disputes, whether they're working from the office or remotely. Cloud solutions are a great way for sellers to manage their disputes and get an upper hand on chargebacks.
With some chargeback solutions, you might mistakenly issue a refund after chargeback but not with Midigator. Midigator offers solutions to help merchants fight chargebacks and recover lost revenue. It does this by syncing user data into a single platform, helping them create customized responses to increase their odds of winning disputes, and optimizing results to boost their win rate. With Midigator you get full visibility into your chargeback process and can easily see what's happening across your merchant channels. Remaining in control is all about staying informed, and Midigator enables users to dig into their dispute processes and come up with solutions for fighting and preventing chargebacks and collecting refunds where applicable. 
Chargeback Protection Insurance
Chargeback protection insurance is a policy that protects merchants from costs related to credit card fraud, or instances in which a credit card is used by someone other than the cardholder to make a fraudulent purchase. The policy covers a merchant's liability for any claims arising from these transactions. For this reason, having a chargeback allocation fund is crucial, as this can help lower your chargeback dispute rate and enable you to resolve issues quicker. When it comes to chargeback protection, Stripe remains a popular choice, though there is a limit to the number of eligible fraudulent disputes that this platform will protect in a given calendar year. 
Although chargeback protection insurance goes a long way in protecting merchants and helping them avoid financial disputes, it's not enough to simply react to these charges as they arise. This is why Midigator offers solutions to help merchants prevent chargebacks in the first place. Rather than jumping to respond to chargebacks at the last minute, Midigator makes it possible for users to avoid chargebacks altogether. By examining your account and understanding the reasons behind disputes, you can stay ahead of the game, with or without insurance.
Chargeback Systems Used in Organizations
There are multiple types of chargeback systems used in organizations. Whether you're dealing with an internal chargeback or a standard chargeback model, it's important to take your unique business needs into consideration when looking for a system to help manage your dispute process. In one chargeback model example, a company might have a policy that chargebacks are to be disputed only for certain reason codes. 
Setting custom notifications is a great way to manage your chargeback system. Midigator allows users to customize notifications to alert them whenever their accounts have reached a predetermined threshold. Instead of having to constantly check your system for real-time reports, Midigator monitors it for you and sends you alerts when an item requires your attention. With Midigator you can keep track of your chargeback ratio, transaction count, total chargeback dollar amount, and more. What's more, Midigator offers dashboard notifications so that users can log in to their accounts and quickly find whatever metrics they need.
Chargeback protection is essential to managing your company's finances. In fact, chargeback protection for merchants can mean the difference between the quick resolution of disputes and drowning in chargebacks. Additionally, having some sort of chargeback funding method can ensure that you're able to cover your lost disputes in a timely manner. Stripe is an online payment processing company that offers chargeback protection for ecommerce merchants. Chargeback protection Stripe services can be useful for those that deal with few chargebacks. 
The platform may pose problems, however, for large businesses that regularly handle large volumes of chargebacks, as the chargeback protection Stripe limit only covers chargeback amounts up to a certain point. Currently, the chargeback payout limit is set at $25,000 per year. Note too that if you are located outside of the US or Europe, Stripe chargeback protection is currently unavailable for your business.
Finding the right chargeback protection solution is critical to maintaining your business operations and ensuring that you respond to all chargebacks as quickly as possible to improve your dispute win rate. Businesses that fail to properly manage their chargeback process lose out on a lot of revenue. You can avoid being buried in dispute charges by implementing a chargeback management solution like Midigator, which simplifies your entire process, automates tasks, and keeps you up to date on what's happening with your account.
GET STARTED TODAY
Get started with Midigator's chargeback automation today!
Are you ready to see why thousands of companies trust Midigator to manage millions of payment disputes with unprecedented ROI? Sign up for a demo today, and see what you've been missing!
Certified & secure technology