The Best Chargeback Management Tools Available
Midigator has all the chargeback management tools you need to protect and recover revenue. Find out how to get better results with less effort and fewer costs.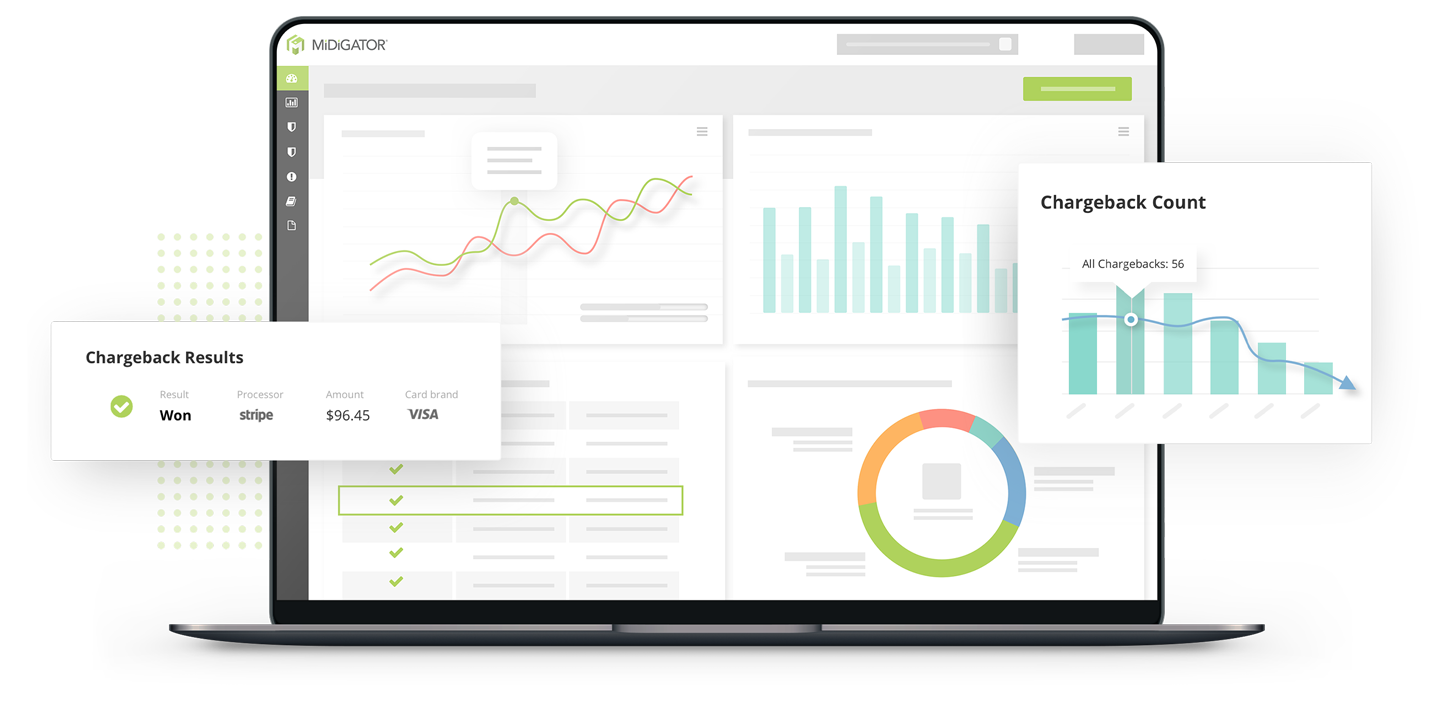 The #1 Choice for Chargeback Management Tools
See why Midigator has a 4.4 out of 5 star rating on Capterra.

Nick
Sr. Software Engineer II,
Computer Software
Integration with Midigator is easy, and once it's established, you have access to their full suite of services and reporting without any additional development effort.

Paul
Manager,
Health, Wellness and Fitness
The automation is the best part for us. We can put people into other roles rather than chasing chargebacks, knowing Midigator is working in the background. It's a huge timesaver.

Connor J.
Owner,
Retail
I love the easy-to-use interface that provides actionable data to help reduce and deflect chargebacks.
Prevent chargebacks & minimize revenue loss.
The easiest-to-win fight is the one you can avoid. That's why chargeback prevention is a crucial first step in your management strategy. Midigator has everything you need to prevent the preventable.
Start seeing results in as little as 24 hours
Prevent up to 50% of chargebacks
Solve issues up to 5 weeks sooner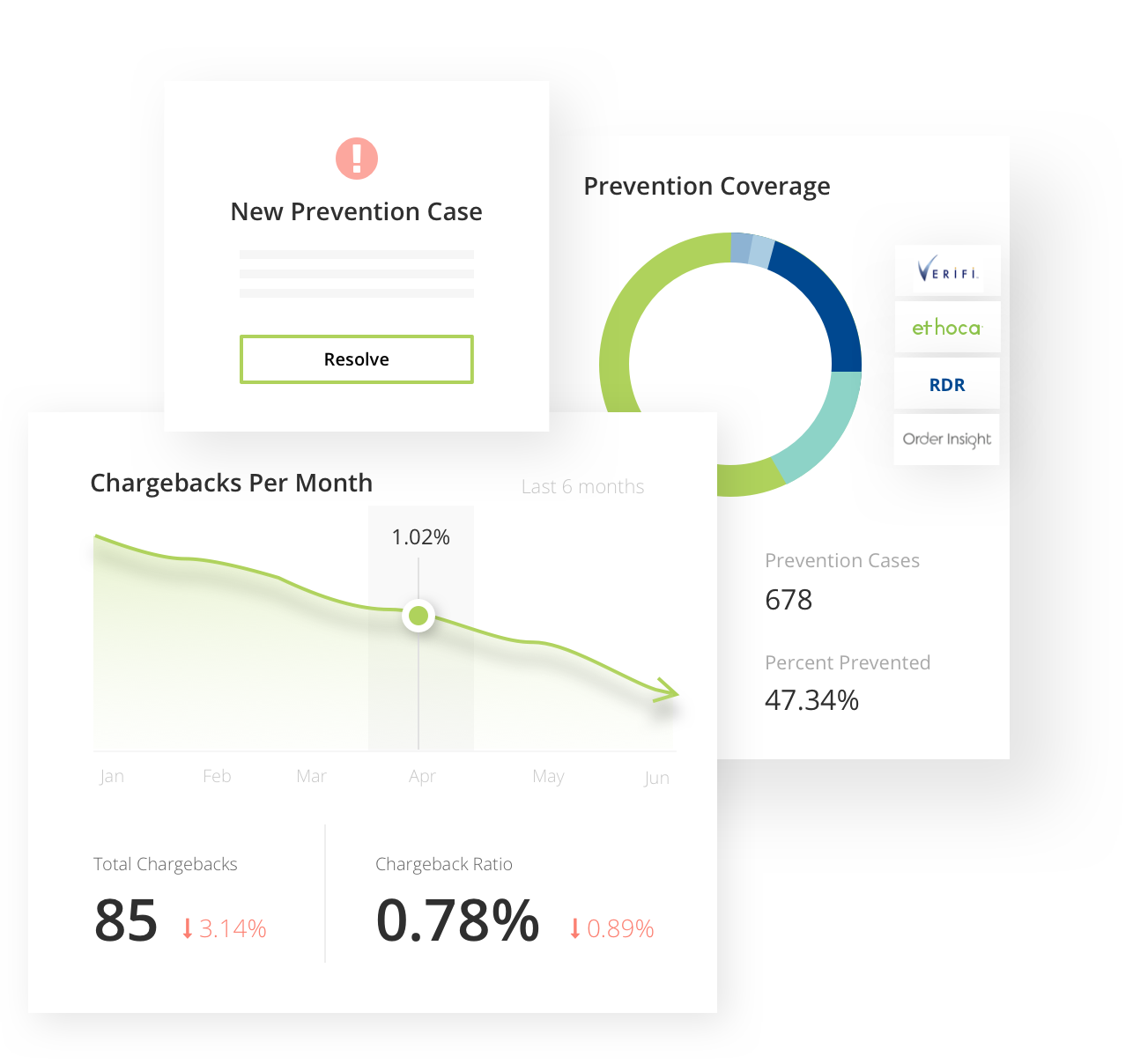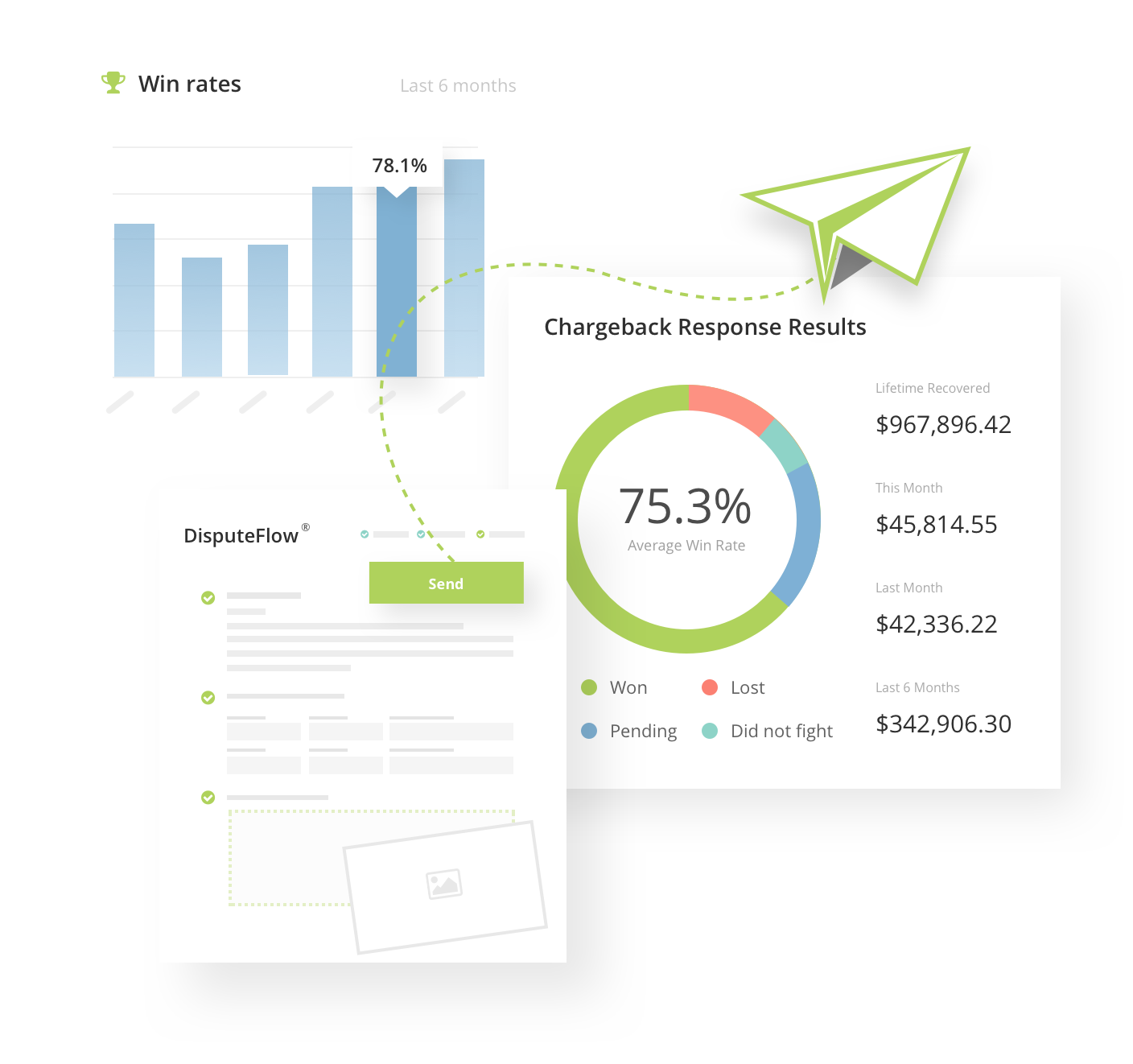 Fight chargebacks & recover more revenue.
When you lose money to chargebacks, Midigator gets it back. Our philosophy for revenue recovery is simple: we want you to have the best ROI possible. That means we fight chargebacks with the greatest efficiency and highest probability of success.
High win rates consistently improve over time
Intuitive, easy-to-use technology removes guesswork
Flexible automation replaces time-consuming, error-prone processes
On-demand support connects you with industry veterans
Merchants often struggle with invalid chargebacks that cause significant damage to their business. Because banks and consumers commonly misuse the chargeback process, many merchants can benefit from advanced chargeback tools. By analyzing the root cause of financial disputes, merchants can craft solutions to overcome the challenges that plague chargeback management teams. With a comprehensive chargeback model template, merchants can simplify the rebuttal and resolution process while providing specific details necessary to the invalid chargeback claim.
Many merchants, processors, and large financial institutions benefit from using a chargeback model for shared services. Because of the damage that chargebacks cause to merchants, finding advanced chargeback tools is critical to ensuring that an organization is protected from harm.
Chargeback management companies like Midigator provide merchants with unique tools to recover and protect against chargebacks. Midigator is an essential chargeback tool for merchants because of its advanced and intelligent chargeback management software. Midigator provides real-time data to quickly discover why chargebacks are occurring and automates the dispute response process to increase efficiency. By automating and disrupting the payment industry, Midigator's extensive chargeback tools give critical help to merchants, processors, and large financial institutions needing chargeback management protection.
With Midigator's software, merchants can access chargeback tools such as intelligent dispute responses, in-depth analytics, real-time account reporting, chargeback prevention alerts, custom notifications, and DisputeFlow. This unique tool allows merchants to fight chargebacks in only a few clicks. With a chargeback model for shared services such as that offered by Midigator, merchants can feel protected in all their financial transactions and minimize revenue loss from invalid chargebacks. All merchants can benefit from Midigator's unique and sophisticated chargeback tools.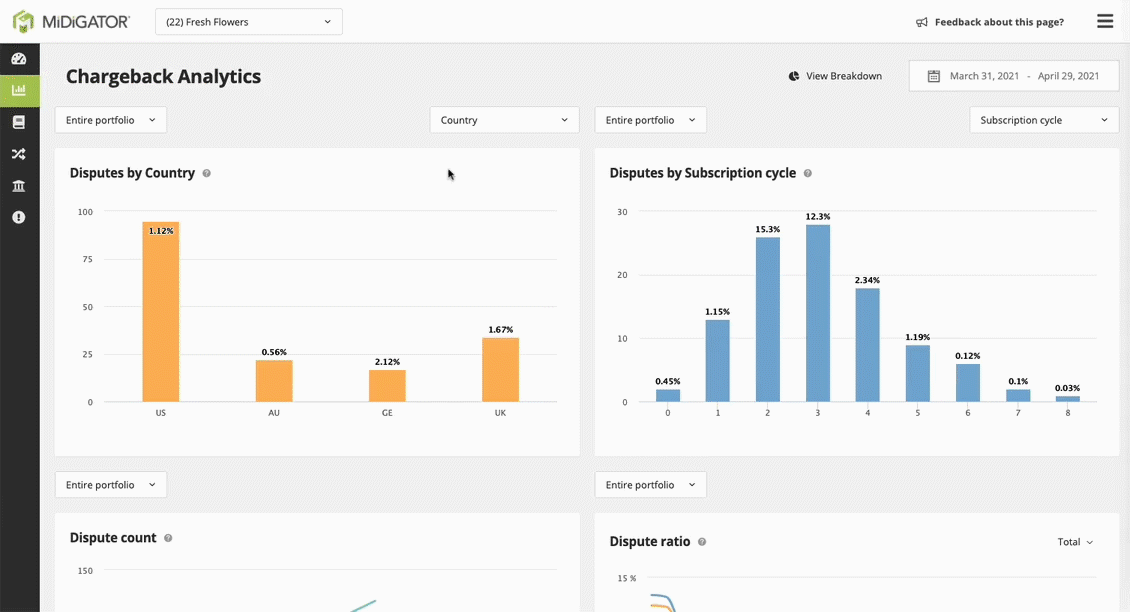 Midigator is a true software solution, providing complete, intelligent chargeback management.
A team of experts to help you succeed
Efficient, flexible automation
Everything you need in one platform
Chargeback Prevention Tools
There are several different chargeback prevention tools available for merchants. The most popular are chargeback prevention alerts, order validation (such as Order Insight and Consumer Clarity), and acquirer refunds (like RDR and Mastercard Collaboration). 
Chargeback prevention tools have many benefits. The biggest advantage is keeping chargeback activity to a minimum. This helps protect your ratio and prevent threshold breaches. This is important because if you go over the card brands' chargeback limits, you could be placed in a monitoring program — and monitoring programs have expensive fees. 
But unfortunately, not all chargebacks can be prevented. That's why you need to be prepared to fight the chargebacks that can't be prevented. 
When you fight, you need a chargeback rebuttal letter. 
A chargeback rebuttal letter is the cover letter for a chargeback response package that summarizes the case and the evidence in support of the case. This cover letter aims to disprove the invalid chargeback by giving an overview of the most critical information about the chargeback. Within a chargeback rebuttal letter, merchants typically include identifying information, dispute-specific information, business overview, compelling evidence highlights, and a call to action.
A chargeback response example is as follows:
You receive the chargeback. 

You decide whether or not you want to fight. 

If you want to fight, you put together a response. 

You format the response to fit the processor's submission rules. 

You send the response for review. 

The

issuer

makes a decision. 
If the issuer decides in your favor, the chargeback amount will be returned to you. If the issuer thinks the cardholder's argument is the strongest, the case is closed. Revenue will be lost forever.
Chargeback management software is critical for merchants looking to have better chargeback protection. Chargeback management companies help merchants simplify the chargeback rebuttal process, making it easier to win back revenue. However, as you look into the top chargeback management companies, it is essential to consider all of the features and benefits a company's software will provide you. As you look into different features from some top chargeback management companies, ensure that you keep in mind the areas where your business is struggling the most. 
Midigator's chargeback system design is beneficial for merchants looking for chargeback management software that will detect chargeback threats. This way, merchants can address and resolve issues before they become a serious dispute. Chargeback management ensures that merchants can automate the chargeback process and reduce manual processes. 
Midigator's chargeback system design allows merchants access to chargeback records, minimizes revenue loss, fights chargebacks, recovers revenue, and prevents chargebacks. Midigator caters to merchants, processors, and large financial institutions looking to benefit from an advanced chargeback management software. Midigator's software eliminates the complexity of payment disputes for struggling merchants. Midigator also offers merchants chargeback solutions that are flexible, efficient, and accessible through a single platform. Midigator's on-demand support provides extra security for merchants looking to speak with industry experts.
So, what is a chargeback? Chargebacks are bank-initiated transaction reversals that can cause severe damage to merchants. Because chargebacks do not require customers to return a product as a refund, merchants often deal with invalid charges due to banks and consumers incorrectly using the chargeback process. Because of the danger of invalid chargebacks, merchants require chargeback protection to minimize revenue loss and prevent chargebacks before they occur. Chargeback management software is critical for merchants experiencing significant losses due to invalid chargebacks. There are many benefits of chargeback management software, like Midigator, that ensure safety for merchants at risk of numerous invalid chargebacks.
Chargeback Protection For Merchants
Chargeback protection for merchants is critical to preventing chargebacks and any severe damage from invalid chargebacks. Merchants benefit from chargeback protection insurance, a policy that protects merchants from any costs related to credit card fraud, or instances where a credit card was used by someone other than the card carrier for a fraudulent purchase. If chargeback insurance is currently unavailable to your business, you may want to consider it. 
However, there are things to be aware of when purchasing chargeback protection insurance. The first thing you should learn about is the chargeback limit that many chargeback insurance companies set. Chargeback protection services like Stripe have a chargeback limit for the number of fraudulent disputes within a calendar year. 
Chargeback insurance policies cover a merchant's financial liability for claims that arise from fraudulent transactions. However, chargeback protection insurance alone is not enough to ensure merchant security. Because protection insurance only helps merchants manage the ramifications of invalid chargebacks, chargeback tools like Midigator are necessary to help prevent the chargeback from ever occurring.
Unfortunately, there are several different chargeback companies on the market today. In theory, more companies should give merchants more options. But deciding which chargeback company is right for your business can be challenging. 
The most accurate way to pick the best chargeback company is to think of your business's needs and wants. What problems do you want to solve? Which features would help you the most? 
Then take the time to review each available option. Ask questions and make sure the company is clearly explaining what services you'll get. Be on the lookout for hidden costs and over promises. You don't want to sign a long-term contract and then find out the chargeback company can't deliver what you expected! 
As you shop, here are some things to look for. 
Find a company that uses technology. A lot of companies say they use technology, but they really don't. Technology should be more than just a dashboard. 

Find a company that offers a complete strategy. Chargeback management involves preventing, fighting, and analyzing. You probably want help with everything. 

Find a company that has a team of professionals. Chargebacks are complicated, confusing, and frustrating. Let someone else figure out all the complexities and turn them into easy-to-understand tips that you can just put into action. 
How to Prevent Chargebacks
Though merchants need to know how to navigate invalid chargebacks and solve the issue when chargebacks occur, it is equally crucial for merchants to know how to prevent chargebacks. Even after implementing the help of a chargeback app, many merchants may lose revenue by not having the ability to prevent the chargebacks before damage is caused. Because of this issue, merchants can benefit from software that offers chargeback automation services to merchants. With chargeback automation software like Midigator, merchants can disrupt the payment industry to ensure that chargebacks are preventable in the future. 
Chargeback systems used in organizations can give merchants security and protection from invalid chargebacks. While some systems are built so merchants can minimize the damage of existing chargebacks, Midigator helps merchants defeat chargebacks by intervening before a dispute escalates to a chargeback. Midigator can identify potential chargeback risks and help merchants address consumer issues to avoid revenue loss caused by invalid chargebacks. Midigator removes the complexity of payment disputes with intelligent chargeback automation software, simplifying disputes that threaten the sustainability of targeted organizations. Midigator's flexible chargeback automation eliminates errors that commonly occur when the chargeback process is done manually, saving merchants valuable time and ensuring high win rates.
GET STARTED TODAY
Get started with Midigator's chargeback management tools today!
Are you ready to see why thousands of companies trust Midigator to manage millions of payment disputes with unprecedented ROI? Sign up for a demo today, and see what you've been missing!
Certified & secure technology