Looking for the best chargeback services?
They're right here.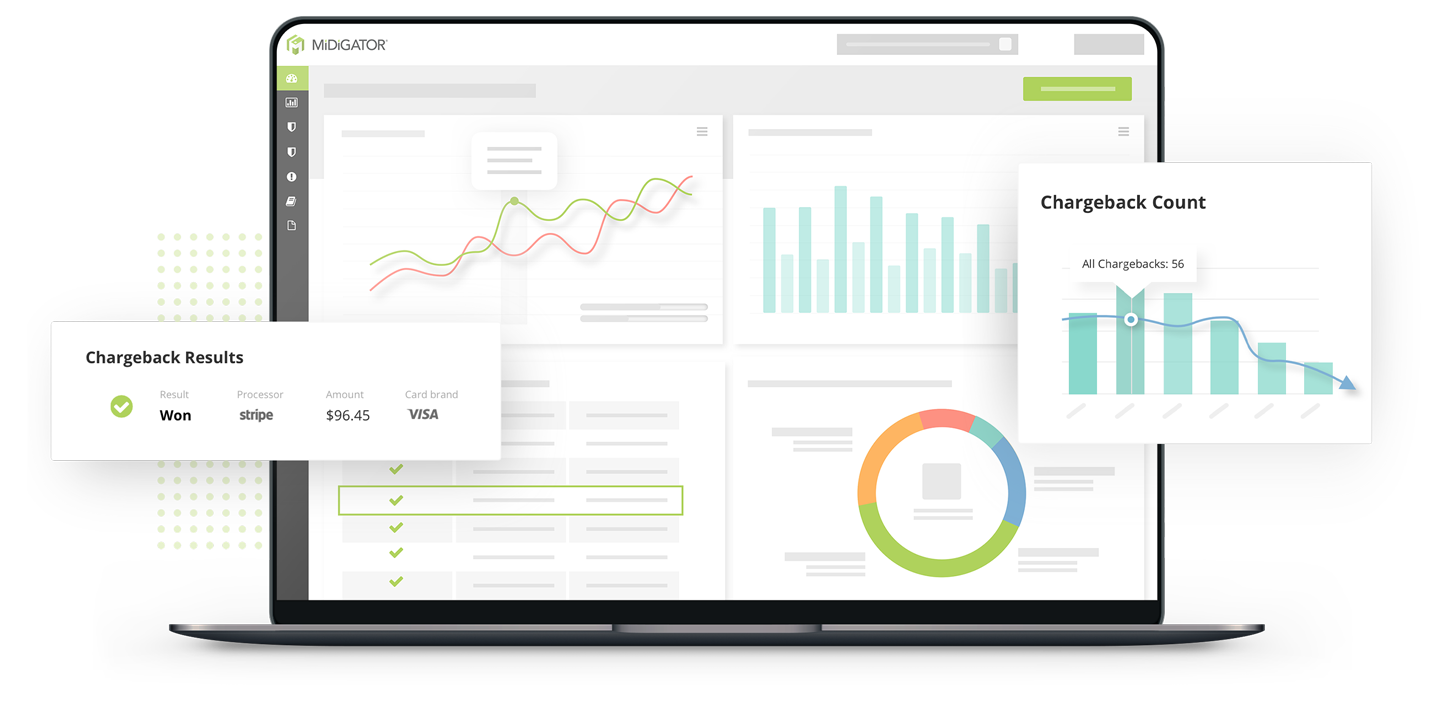 The #1 Choice for Chargeback Services
See why Midigator has a 4.4 out of 5 star rating on Capterra.

Nick
Sr. Software Engineer II,
Computer Software
Integration with Midigator is easy, and once it's established, you have access to their full suite of services and reporting without any additional development effort.

Paul
Manager,
Health, Wellness and Fitness
The automation is the best part for us. We can put people into other roles rather than chasing chargebacks, knowing Midigator is working in the background. It's a huge timesaver.

Connor J.
Owner,
Retail
I love the easy-to-use interface that provides actionable data to help reduce and deflect chargebacks.
Prevent chargebacks & minimize revenue loss.
The easiest-to-win fight is the one you can avoid. That's why chargeback prevention is a crucial first step in your management strategy. Midigator has everything you need to prevent the preventable.
Start seeing results in as little as 24 hours
Prevent up to 50% of chargebacks
Solve issues up to 5 weeks sooner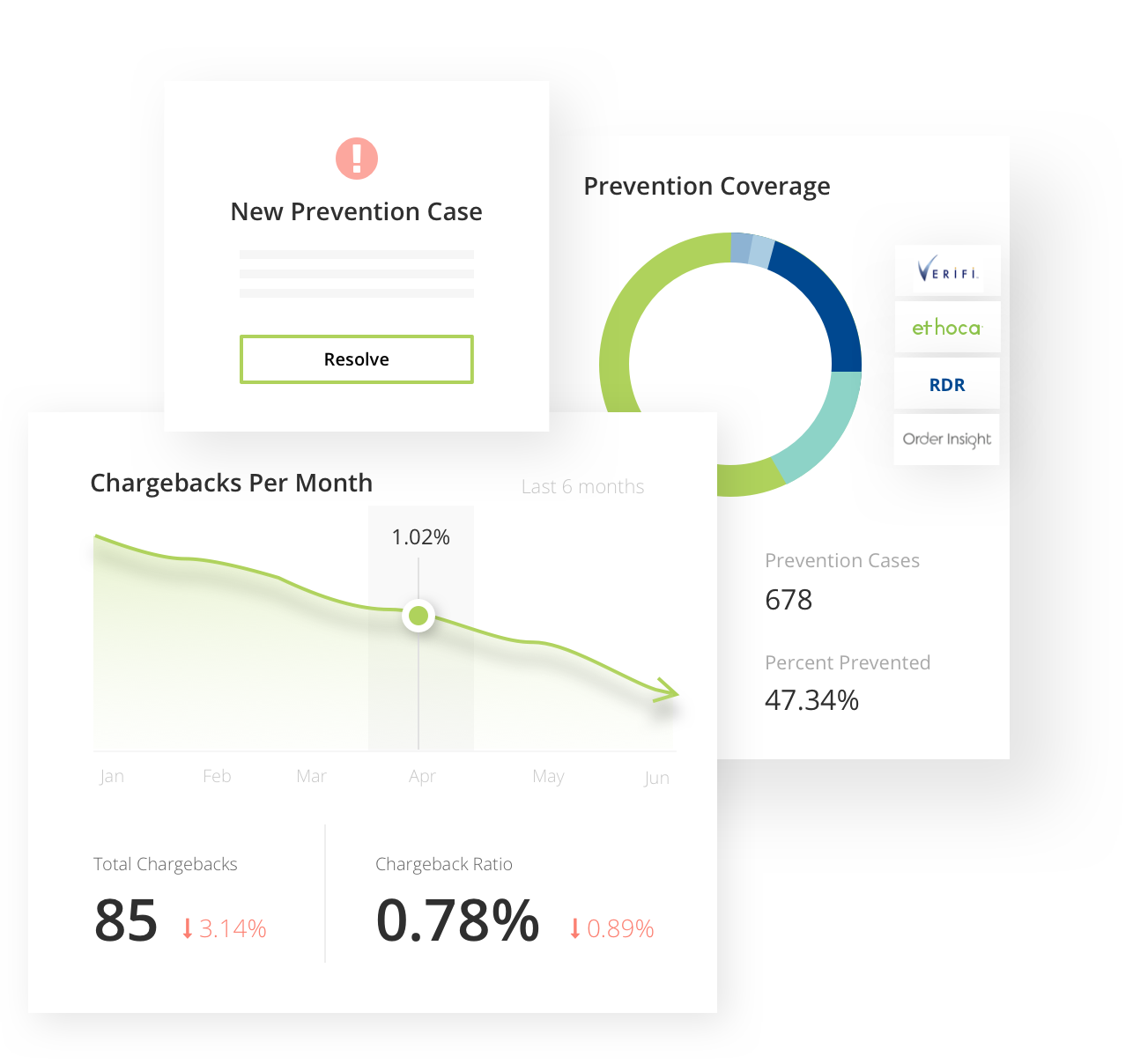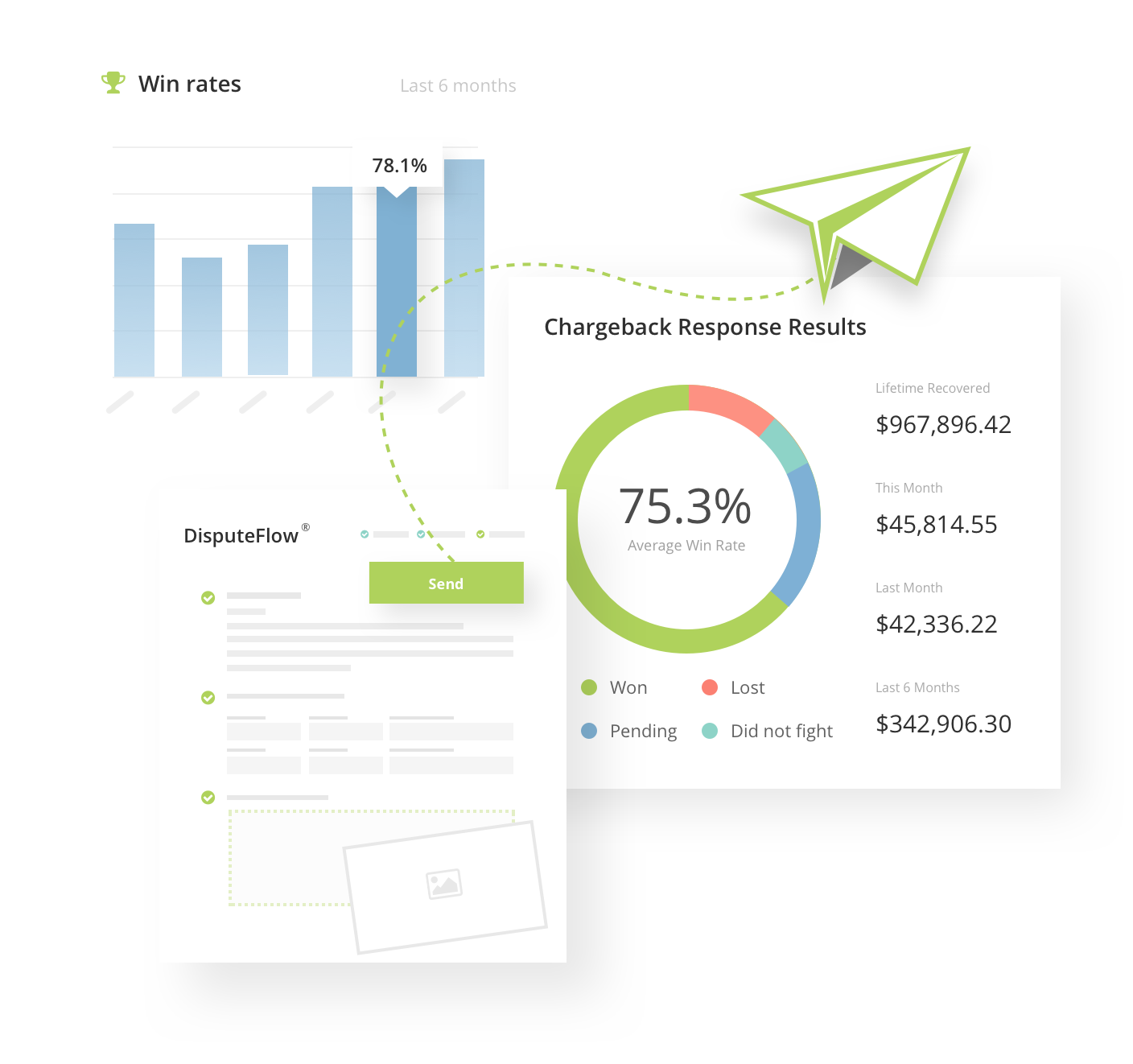 Fight chargebacks & recover more revenue.
When you lose money to chargebacks, Midigator gets it back. Our philosophy for revenue recovery is simple: we want you to have the best ROI possible. That means we fight chargebacks with the greatest efficiency and highest probability of success.
High win rates consistently improve over time
Intuitive, easy-to-use technology removes guesswork
Flexible automation replaces time-consuming, error-prone processes
On-demand support connects you with industry veterans
A chargeback occurs when a transaction is reversed and a customer receives the money they had originally paid in said transaction. Chargebacks occur when a customer files a dispute against a company for fraudulent charges or services that were never delivered, and the bank receiving said claim deems the dispute valid. 
Understandably, business owners may fear chargebacks and worry that such events can set them back financially. Fortunately, chargeback services exist to help businesses better understand what frequently causes chargebacks; they can then potentially use this knowledge to keep chargebacks from occurring. 
A common question that many may have is simply: Do customers always win chargebacks? Surprisingly, customers are not always successful with their chargebacks. While any customer can file a dispute with their card-granting institution or bank, it is ultimately up to that institution to determine that something is amiss and that the customer should receive their money back. Even before a chargeback can go through, there are several steps that must occur, and companies will have the opportunity to resolve the issue with the customer directly. For this reason, it is important that businesses understand the chargeback process, what it entails, and the services and resources at their disposal.
Of course, finding the right chargeback services to meet your business needs can be a challenge at times. Sometimes, you may need to view important information when you are out of the office or otherwise away from your computer. That is where a chargeback app may be able to help; such an app can help you keep track of chargeback disputes and note any recurring issues that may be triggering chargebacks. You will also receive alerts when any chargeback disputes come through.
Whether you're working on desktop or mobile, chargeback services can help you better visualize what is going on with your customers and identify any potential customer problems before they escalate into more costly issues. Managing such information manually may increase the risk of error or make it easier to overlook pressing problems. A chargeback service can help you track these issues continuously so that you can better address them as they occur. 
Fortunately, Midigator can help streamline all steps of the payment dispute process. It can also update you with new information as it filters in and guide you through crafting responses to disputes when they arise. The platform itself is intuitive to navigate and can help remove some of the uncertainty that arises when you are faced with chargebacks disputes. 
Moreover, having access to such software can also make it easier to tackle common customer complaints. That way, you can solve problems before they escalate and potentially improve your relationships with your customers. While no business enjoys dealing with chargebacks, you should understand what may lead to them and how you can go about addressing the common issues about which customers most frequently complain. Getting to the bottom of such problems can possibly help you prevent chargebacks now and in the long-term. 
A chargeback company helps businesses track chargebacks and manage them on one platform. To get an idea of what your options may be, you could browse a list of chargeback companies. Ideally, you should select a chargeback company whose policies and offered features align with your business needs. Such a company should also have experience in operating within your industry and should also provide tools that could help you navigate chargebacks more efficiently. Chargebacks in retail may be different from chargebacks in home improvement services, so it also makes sense to choose a company that can work with your business type and customers.
Midigator could be one of the best chargeback companies because its technology could benefit companies of all sizes and across many different industries. This could be true whether you run a relatively young business or a company that has earned a name within its given industry. After all, oftentimes, no two disputes are the same. Midigator can also alert you of any chargebacks and allow you to access customer information as needed. Moreover, with Midigator, you can discover and analyze common causes of dispute, which can help you strategize to prevent costly problems in the long term. This in turn can enable you to provide better customer service so that disputes become a thing of the past—or at least drastically reduced.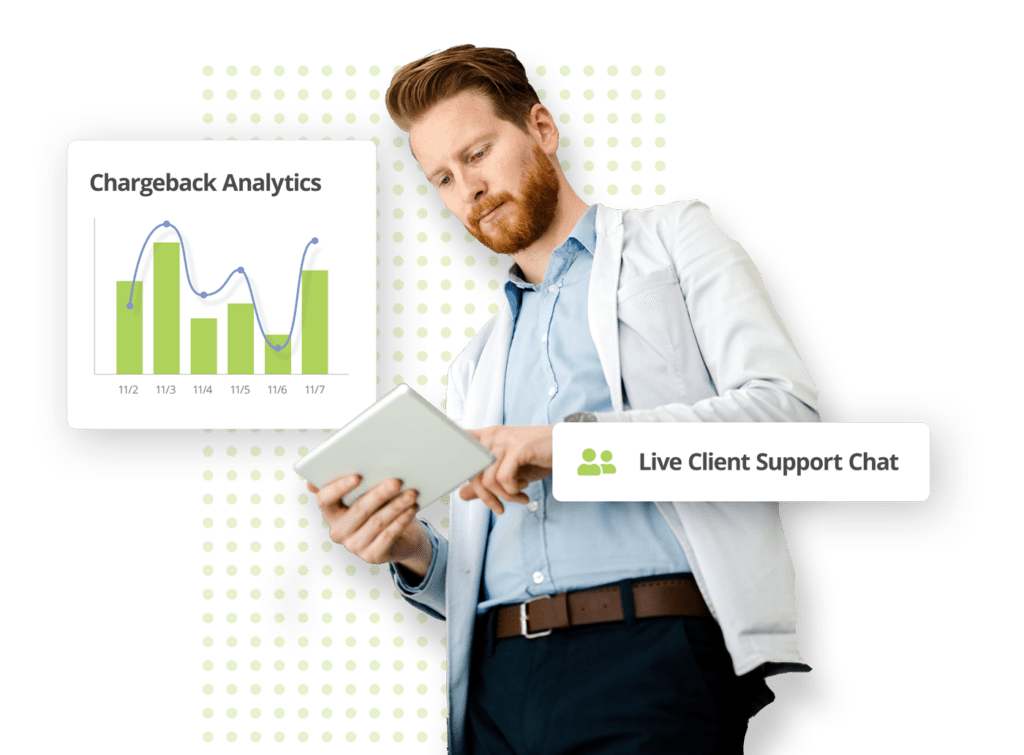 Midigator is a true software solution, providing complete, intelligent chargeback management.
A team of experts to help you succeed
Efficient, flexible automation
Everything you need in one platform
Chargeback Meaning in Business
The chargeback meaning may vary depending upon the context in which the word is being used. For example, chargeback meaning in business simply refers to a customer receiving a refund after a successful payment dispute. The chargeback meaning in accounting relates to how the business accounts for the lost money in their record books.
Of course, one question may remain: what is a chargeback in banking? The chargeback meaning in banking is similar in that it occurs from the bank's side rather than that of the customer or business. This makes sense, when you consider that the bank is the one responsible for ensuring that funds are returned in the case of a successful chargeback.
No matter the stage of the dispute process, Midigator can help make the entire process more manageable for you. More specifically, Midigator provides you with the tools you need to craft effective responses to chargebacks and the data to manage the customer experience. The platform provides you access to all vital chargeback information; that way, you can quickly compile evidence to aid you in your chargeback responses. By crafting your responses carefully with the help of Midigator's tools, you may have a better chance at success. Even with this streamlined approach to crafting your chargeback responses, you can still rest assured that each response can be carefully customized to suit the issue at hand.
Chargeback Dispute Process
The chargeback dispute process can at times seem lengthy. This is especially true if you're trying to manage multiple disputes at once. What is a chargeback dispute? Essentially, a chargeback dispute occurs after the initial complaint. When a customer approaches their bank with concerns that they have been wrongly charged in some way and thus believe that they should receive their money back, a chargeback is launched. Then, the merchant has the opportunity to file a chargeback dispute. The chargeback dispute is a way for the merchant to get their money back.  
Chargebacks usually arise from significant customer dissatisfaction; with that in mind, you could potentially reduce the risk of chargebacks by addressing any common customer concerns directly. 
In terms of how to win a credit card dispute as a merchant, you will want to create a compelling case as to why the dispute is false. You may need to provide evidence of the validity of the transaction and demonstrate that the customer was aware of what they were purchasing and that they received the product or service they were promised. Because chargeback disputes may occur for a number of different reasons, it makes sense to evaluate each case carefully and take note of any trends. It is also wise to address chargeback disputes as soon as you are made aware of them. That is why Midigator issues chargeback notifications when a customer dispute comes through.
What happens if you lose a chargeback, and how often do merchants win chargeback disputes? If you lose a chargeback, the bank receiving the customer dispute will reverse the transaction and ensure that the customer receives their money back.  There may also be fees associated with the chargeback process.  Some merchants may feel hopeless when faced with a chargeback and assume that they will lose. However, this is not always the case, which is why it is important to provide evidence as to why a chargeback is not valid by providing customer and order information and other key details.
To better prepare yourself for chargebacks should they occur, it could be helpful to review a chargeback example. Understanding different types of chargebacks and how and why they occur can help you successfully resolve disputes, and potentially prevent them.  Making your customers aware of what they have been charged for — either by sending them itemized receipts or asking them to confirm payment  — could potentially help reduce chargeback risks. Many chargebacks occur because a customer failed to understand a transaction and what specifically they are paying for. Therefore, ensuring that your customers are well-informed about their purchases and the value you provide can possibly keep disputes from arising, which could save you stress and money in the long term.
It may help to understand Gaap accounting for chargebacks. The terms "chargeback" and "refund" are often used interchangeably, but there are distinctions to be made: chargebacks occur when a bank decides that a customer dispute has merit and ensures that the transaction is reversed and any funds returned to the customer. Refunds, on the other hand, are issued on the merchant's side. Therefore, in the chargeback vs refund discussion, or when trying to understand the chargeback definition, it's important to remember that chargebacks involve the bank, while the merchant will be the one in charge of issuing any refunds Chargeback accounting can seem challenging, which is why some companies may be afraid to delve too deeply into it in the first place. 
However, preventing disputes from ever occurring may not be realistic. Thankfully, Midigator can help you better keep track of disputes and ensure that you are responding to them promptly and effectively. 
You should collect information to craft dispute responses that may help banks choose to rule in your favor in cases of chargebacks.  If you do, Midigator can help you carefully craft each chargeback response to address the issue at hand. That way, you can better position yourself for a successful case.
The chargeback process can be long and tedious and could involve fees.  First, it could help to address the question: what is a chargeback fee? Chargeback fees are issued to merchants when a chargeback is issued. There is no set minimum or limit for these fees; this will depend upon the specific institutions and their individual policies. To better understand how chargebacks work, and what may be required of you if you are successful, you might consult with a chargeback process flow diagram, which can help you better visualize each step of the process. 
With Midigator, you can more easily find essential user and order information and ensure that all the details included in the dispute matches what is on file. Moreover, you can access all information via one centralized platform, which can help streamline your tasks. This can not only help make the process of responding to a chargeback dispute more efficient, it can also ensure that you always have access to pertinent information when you need it most.
GET STARTED TODAY
Get started with Midigator's chargeback services today!
Are you ready to see why thousands of companies trust Midigator to manage millions of payment disputes with unprecedented ROI? Sign up for a demo today, and see what you've been missing!
Certified & secure technology