Easily prevent and fight Stripe chargebacks with Midigator.
Worried about Stripe chargebacks? We have an easy and effective solution. Just flip a switch, and Midigator will start saving you money.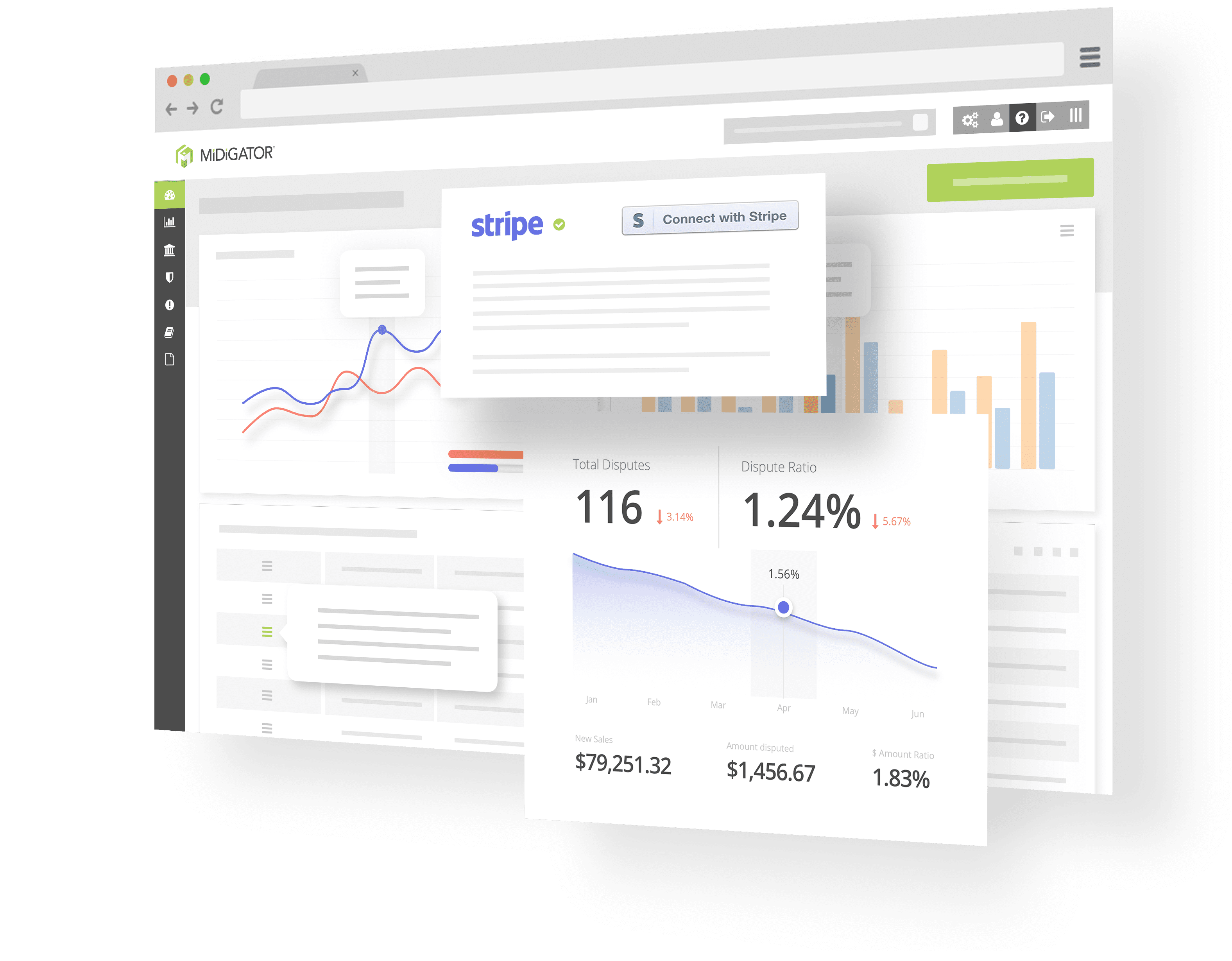 The #1 Choice for Fighting & Winning
Stripe Chargebacks
See why Midigator has a 4.4 out of 5 star rating on Capterra.

Nick
Sr. Software Engineer II,
Computer Software
Integration with Midigator is easy, and once it's established, you have access to their full suite of services and reporting without any additional development effort.

Paul
Manager,
Health, Wellness and Fitness
The automation is the best part for us. We can put people into other roles rather than chasing chargebacks, knowing Midigator is working in the background. It's a huge timesaver.

Connor J.
Owner,
Retail
I love the easy-to-use interface that provides actionable data to help reduce and deflect chargebacks.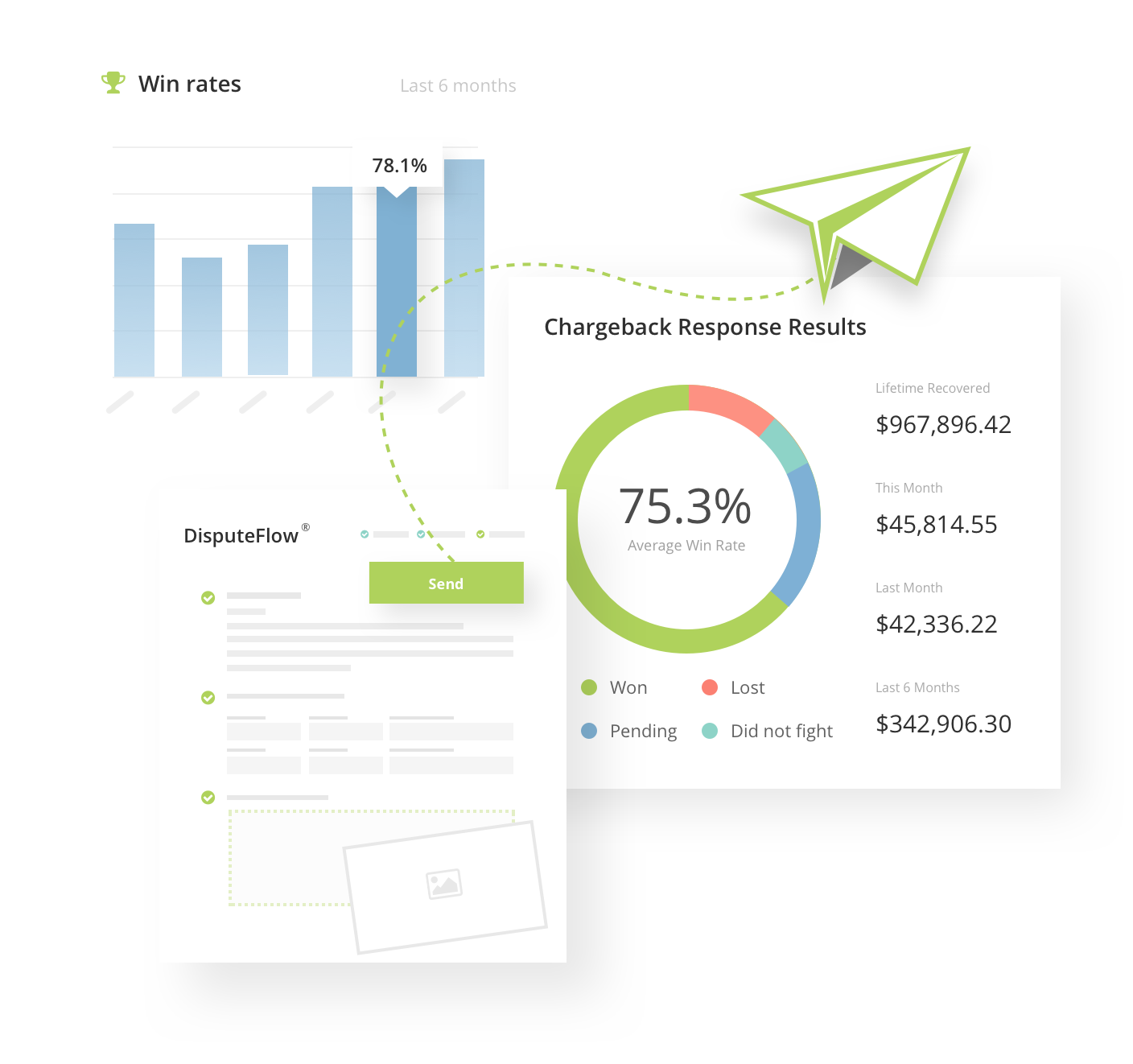 Fight chargebacks & recover more revenue.
When you lose money to chargebacks, Midigator gets it back. Our philosophy for revenue recovery is simple: we want you to have the best ROI possible. That means we fight chargebacks with the greatest efficiency and highest probability of success.
High win rates consistently improve over time
Intuitive, easy-to-use technology removes guesswork
Flexible automation replaces time-consuming, error-prone processes
On-demand support connects you with industry veterans
Prevent chargebacks & minimize revenue loss.
The easiest-to-win fight is the one you can avoid. That's why chargeback prevention is a crucial first step in your management strategy. Midigator has everything you need to prevent the preventable.
Start seeing results in as little as 24 hours
Prevent up to 50% of chargebacks
Solve issues up to 5 weeks sooner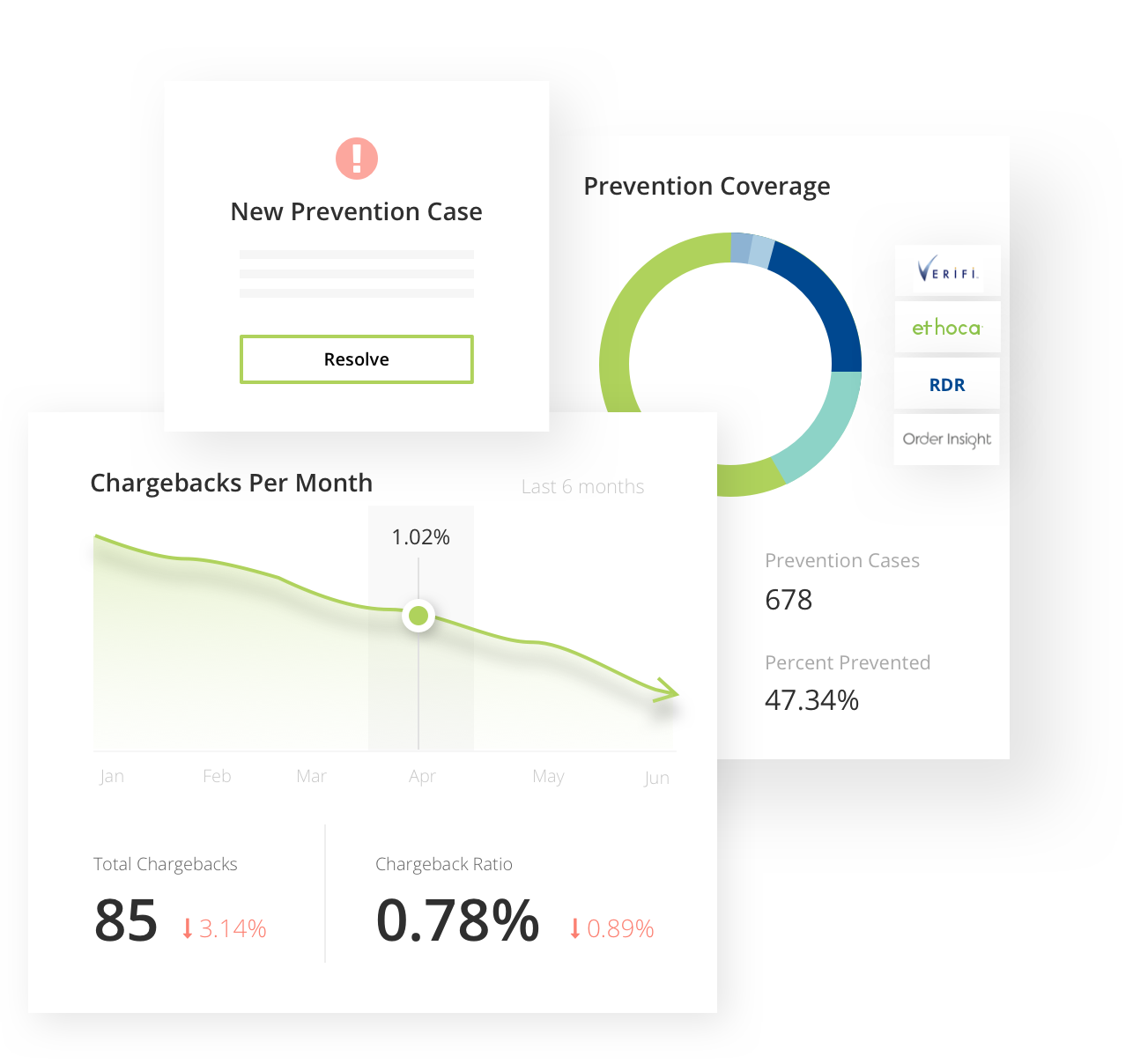 Chargebacks can block business growth in a harmful manner. If disputes with customers escalate to chargebacks, it can be problematic for your business. 
Are you seeking to fight Stripe chargebacks or learning about the Stripe API? If you are a merchant who is wondering how to win Stripe disputes, Midigator can help you deal with chargeback, Stripe chargeback especially. 
Midigator is a technology company. It is dedicated to removing the complexities of payment disputes using intelligent chargeback management software. Its technology platform is designed to not only automate the dispute resolution process, but also to provide merchants with real-time data as to why the chargebacks are occurring in the first place. This platform can greatly help simplify and automate the payments industry. 
Merchants are not the only beneficiaries of Midigator. Processors and large financial institutions can also take advantage of Midigator's technology platform.
To go more in depth, Midigator may be able to help you analyze why exactly chargebacks on Stripe are occurring. Midigator could even prevent them from happening in the first place, which can be greatly beneficial to any merchant worried about their Stripe dispute status. Being able to prevent, fight, and analyze chargebacks using Midigator's one platform can make the entire process of chargeback management easier and more efficient.
By helping you track your performance using detailed analytics, Midigator can help you analyze and optimize your chargeback and dispute management. Through using Midigator's technology platform of chargeback prevention solutions, you can begin to take preemptive action against any emerging threats more effectively. 
Another benefit of using Midigator is that it enables you to have more control over your data, as Midigator provides a complete data sync. Your data may be more easily consolidated into a single platform. This kind of boost in efficiency and transparency can be of great benefit to any merchant. 
With Midigator's data sync, merchants can add order information to merchant account data within Midigator. All the tools that can help you prevent chargebacks may then be easily accessible from this single Midigator platform, improving your efficiency and streamlining workflows.
Chargeback Protection For Merchants
Chargeback protection for merchants can be especially helpful to many merchants who may be worried about chargeback Stripe. Midigator can potentially help you refund transaction disputes in order to avoid chargebacks. Another thing that Midigator may be able to assist you with is preventing threshold breaches. 
Merchant accounts being in good standing is a very big deal as it helps businesses use Stripe smoothly. By using Midigator's chargeback protection, Stripe disputes can be won more easily, which may be able to help you keep your account in good standing. 
If you are wondering about what the chargeback protection Stripe is and how it works, the program is something that you can enroll in. There is chargeback protection Stripe and chargeback protection PayPal. There is a chargeback protection limit on how many eligible fraudulent disputes are covered.
When a customer dispute is created and eligible for Chargeback Protection, what Stripe does is count all fees related to this dispute towards your annual calendar year protection limit. This would include fees such as dispute fee, as well as any associated monitoring program fees.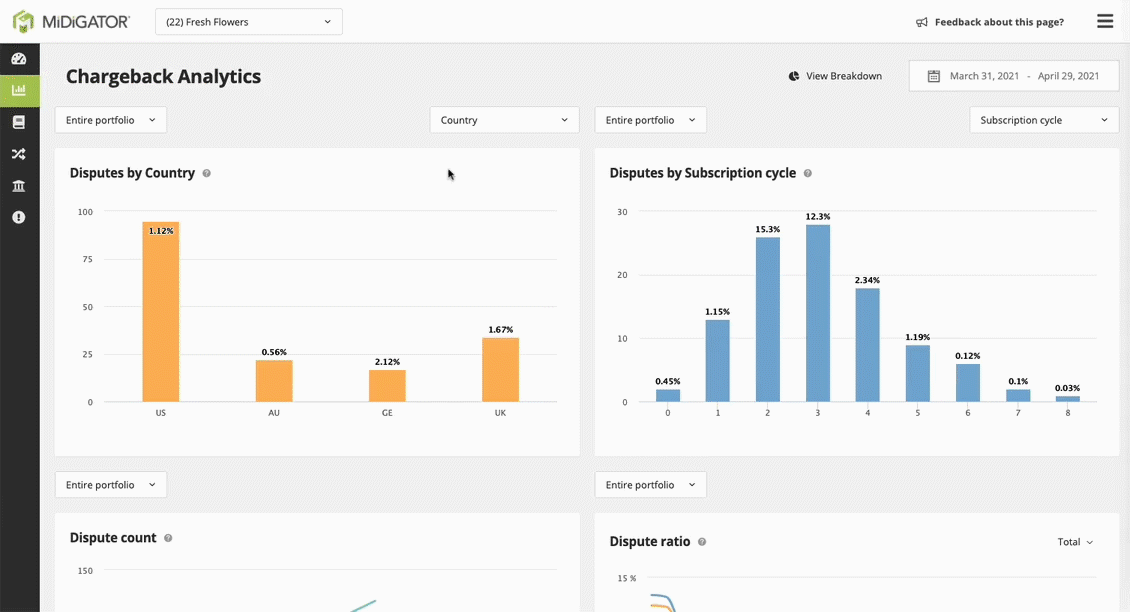 Midigator is a true software solution, providing complete, intelligent chargeback management.
A team of experts to help you succeed
Efficient, flexible automation
Everything you need in one platform
Stripe Chargeback Protection
Are you looking at Stripe chargeback protection review sites and wondering: Does Stripe have buyer protection? When it comes to chargeback, Stripe does have chargeback protection options. 
While chargebacks are not limited to fraud, credit card fraud can be a problem everywhere. It is a term that encompasses fraud that has been committed using a payment card. That means that debit cards and credit cards are both included in this generic term. 
Chargeback protection insurance, Stripe chargeback protection specifically, can protect merchants from costs that are related to credit card fraud. That is due to how the policy can cover a merchant's liability for any claims that might arise from these transactions that have fraudulent credit card usage. 
Midigator is able to help you set up real-time merchant account monitoring and reporting, which can be invaluable when it comes to giving you chargeback protection. Midigator allows you to more easily monitor your chargeback status and be notified when the chargeback risk starts to increase, all in real-time.
Dealing with a Stripe chargeback can be a frustrating part of integrating with the Stripe chargeback API. You may have to provide adequate Stripe dispute evidence before you can win or challenge the dispute. While the answer to "Does Stripe have buyer protection" is yes, they do offer standard user protections like two factor authentication, for merchants, the question of whether Stripe has good chargeback protection is also critical. 
The Stripe chargeback limit for a merchant or business becoming monitored by the Stripe monitoring program is dependent on your chargeback rate. 
If chargebacks take place too often, they can escalate into critical issues for your merchant account. It is reasonable that Stripe would not want to be known as a payment provider for merchants who have shown to have a history of chargebacks. That contributes to why Stripe has their monitoring program. It is a good idea for merchants to try and respond expediently to any potential disputes or chargebacks before they escalate into bigger problems. Midigator may be able to help you with this de-escalation process.
The entire Stripe dispute process can take quite a while. It is ideal to react to disputes accordingly and as quickly as possible, so as to prevent them from escalating into chargebacks. Oftentimes, this may be as simply as issuing a refund when requested by a customer. But it can also be more complex and time consuming than simply giving a refund. The dispute (also called inquiry or retrieval) negotiation may take some time. 
If there is a formal chargeback, the payment made will be immediately reversed, and can be extremely problematic for a business. 
When it comes to a Stripe dispute withdrawal, it means that the customer may have realized that they made the dispute accidentally. The withdraw dispute meaning does not mean that there is no more work to be done on the merchant's side of the event. Written confirmation is generally needed, in the form of a dispute withdrawal letter or chargeback withdrawal letter. 
The Stripe dispute timeline can take months of time before a dispute gets formally and completely resolved. Midigator's technology platform may be able to help you deal with monitoring and reacting to any potential chargeback Stripe related issues.
The Stripe Visa Dispute Monitoring Program (also called the Stripe VDMP) is the way through which Visa scrutinizes and monitors merchants. This program is essentially meant to identify vendors that attract abnormal payment disputes and have a high Stripe dispute rate. It is reasonable for Stripe to suspect merchants that may run into frequent Stripe disputes. There is also a Stripe dispute fee when a chargeback is processed. 
It is notable that certain industries may be affected by global or national issues more so than others, but global events can certainly affect every kind of industry, whether negatively or positively. For example, Stripe has responded to the elevated dispute rates faced by merchants in the travel and entertainment industries (due to the pandemic). If you fall under these Stripe dispute categories it might be even harder to manage and win these disputes. 
It is important to be aware of what kind of Stripe dispute rate and chargeback rate is considered elevated by Stripe. Typically, elevated dispute rates are considered any dispute rate above 0.75%. Because the percentage threshold is so low for a merchant account to be considered as having an elevated dispute risk, it can be highly beneficial for your business to use solutions that can prevent chargebacks and reduce revenue loss. Midigator offers tools and insights so you can manage thresholds and prevent future chargebacks.
Chargeback Dispute Process
The great thing about Midigator is that it aims to provide a comprehensive approach to resolving disputes, as well as preventing chargebacks. By approaching the chargeback dispute process in a multi-layer way, Midigator can help you with chargeback prevention. 
The difference between a chargeback vs refund is great. A refund comes from the merchant directly, and usually results in a better customer service experience and reputation. A chargeback example, however, comes from the card issuer, and chargeback reversal can be undesirable and difficult to manage. 
The chargeback policy and procedure includes understanding what to do when a chargeback occurs, and how disputes can lead to chargebacks. A chargeback reversal can be time-consuming or difficult, and may have you wondering what happens if you lose a chargeback dispute. After all, how often do merchants win chargeback disputes?
On average, more customers win chargeback disputes than do merchants. That makes it even more important to be able to prevent future chargebacks and disputes, and prioritizing the effort of resolving any current disputes and chargebacks. 
Midigator may be able to help your business respond to customer disputes and resolve any issues before they escalate into problematic chargebacks that may even put your Stripe merchant account in jeopardy.
GET STARTED TODAY
Get started with Midigator's chargeback software today!
Are you ready to see why thousands of companies trust Midigator to manage millions of payment disputes with unprecedented ROI? Sign up for a demo today, and see what you've been missing!
Certified & secure technology