Looking for the best chargeback management services?
They're right here.
Midigator can help you prevent up to 50% of chargebacks and improve your win rates by 225%. Let us show you how.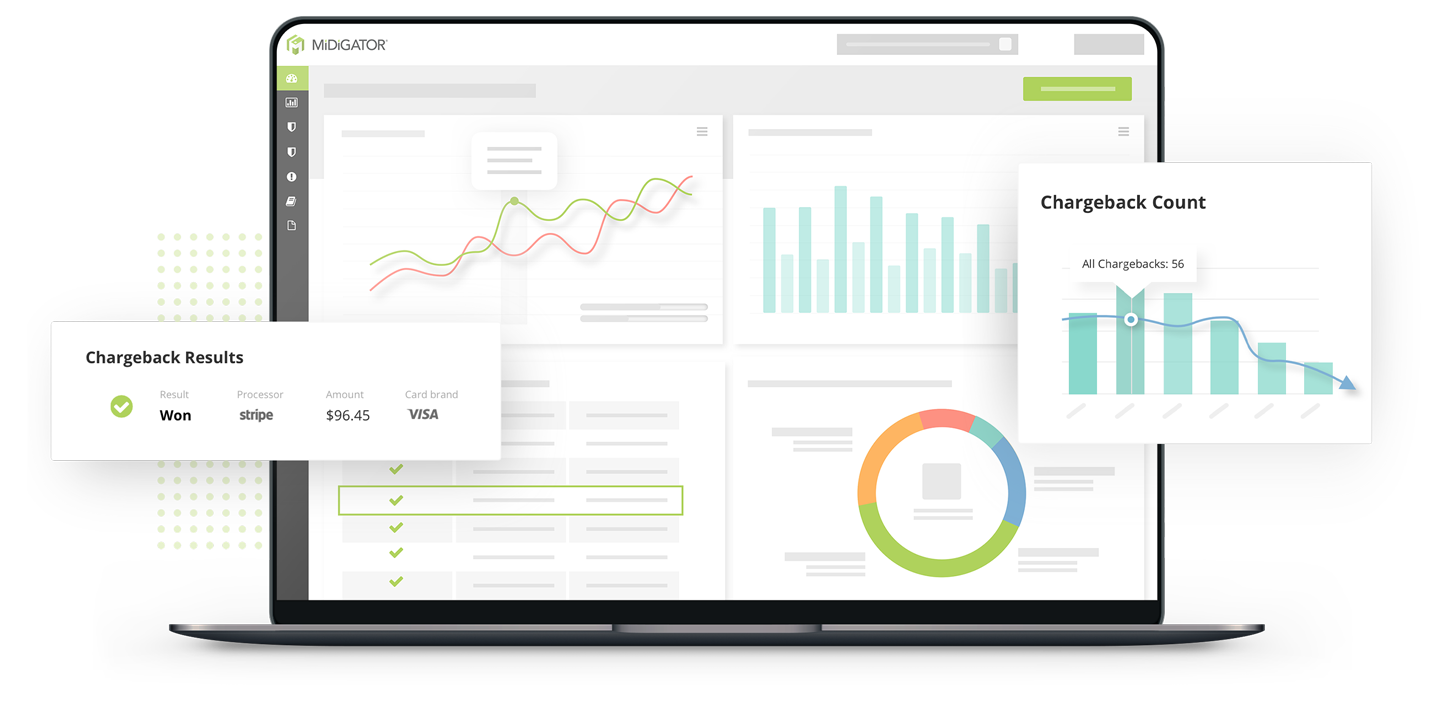 The #1 Choice for Chargeback Management Services
See why Midigator has a 4.4 out of 5 star rating on Capterra.

Nick
Sr. Software Engineer II,
Computer Software
Integration with Midigator is easy, and once it's established, you have access to their full suite of services and reporting without any additional development effort.

Paul
Manager,
Health, Wellness and Fitness
The automation is the best part for us. We can put people into other roles rather than chasing chargebacks, knowing Midigator is working in the background. It's a huge timesaver.

Connor J.
Owner,
Retail
I love the easy-to-use interface that provides actionable data to help reduce and deflect chargebacks.
Prevent chargebacks & minimize revenue loss.
The easiest-to-win fight is the one you can avoid. That's why chargeback prevention is a crucial first step in your management strategy. Midigator has everything you need to prevent the preventable.
Start seeing results in as little as 24 hours
Prevent up to 50% of chargebacks
Solve issues up to 5 weeks sooner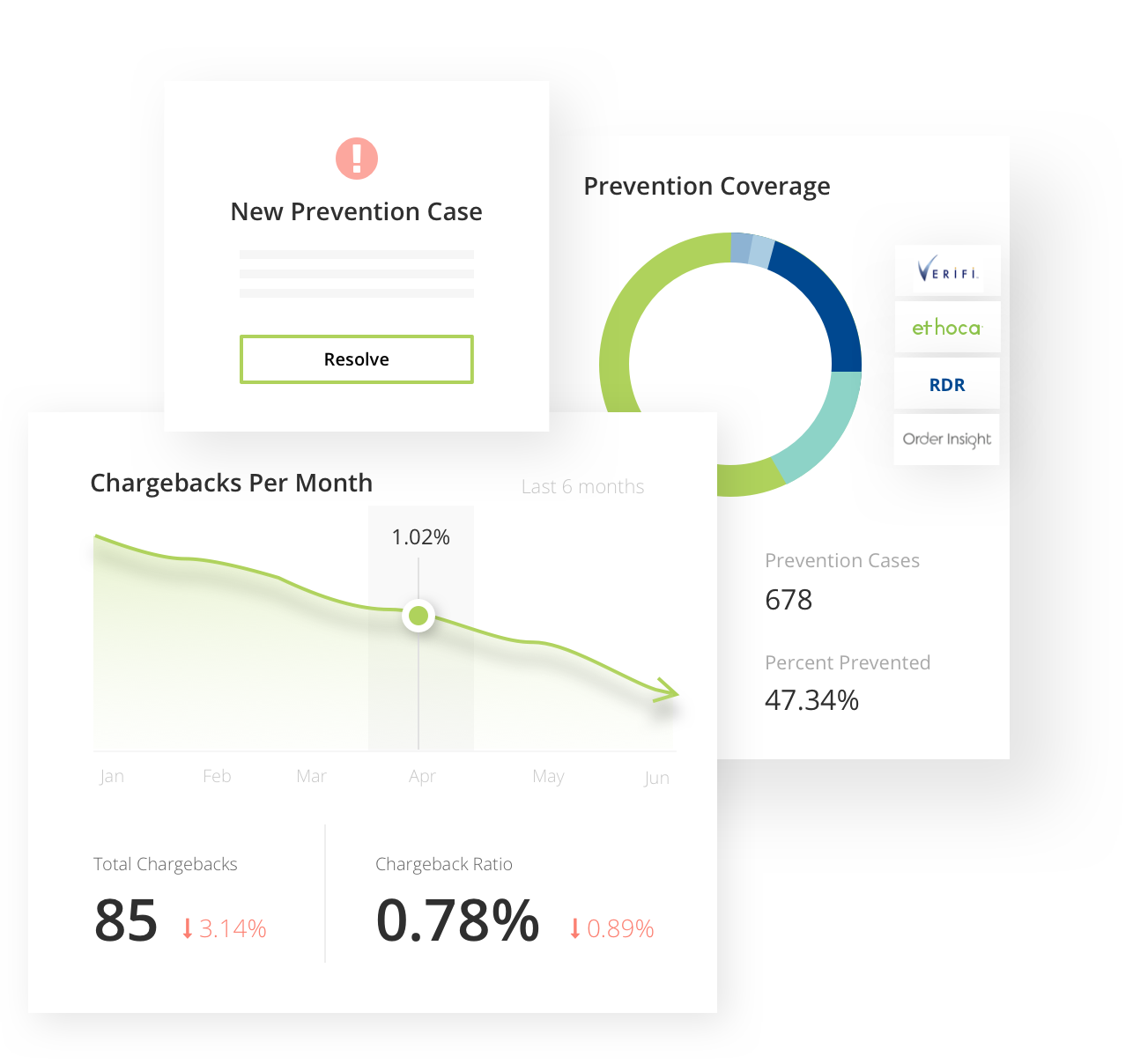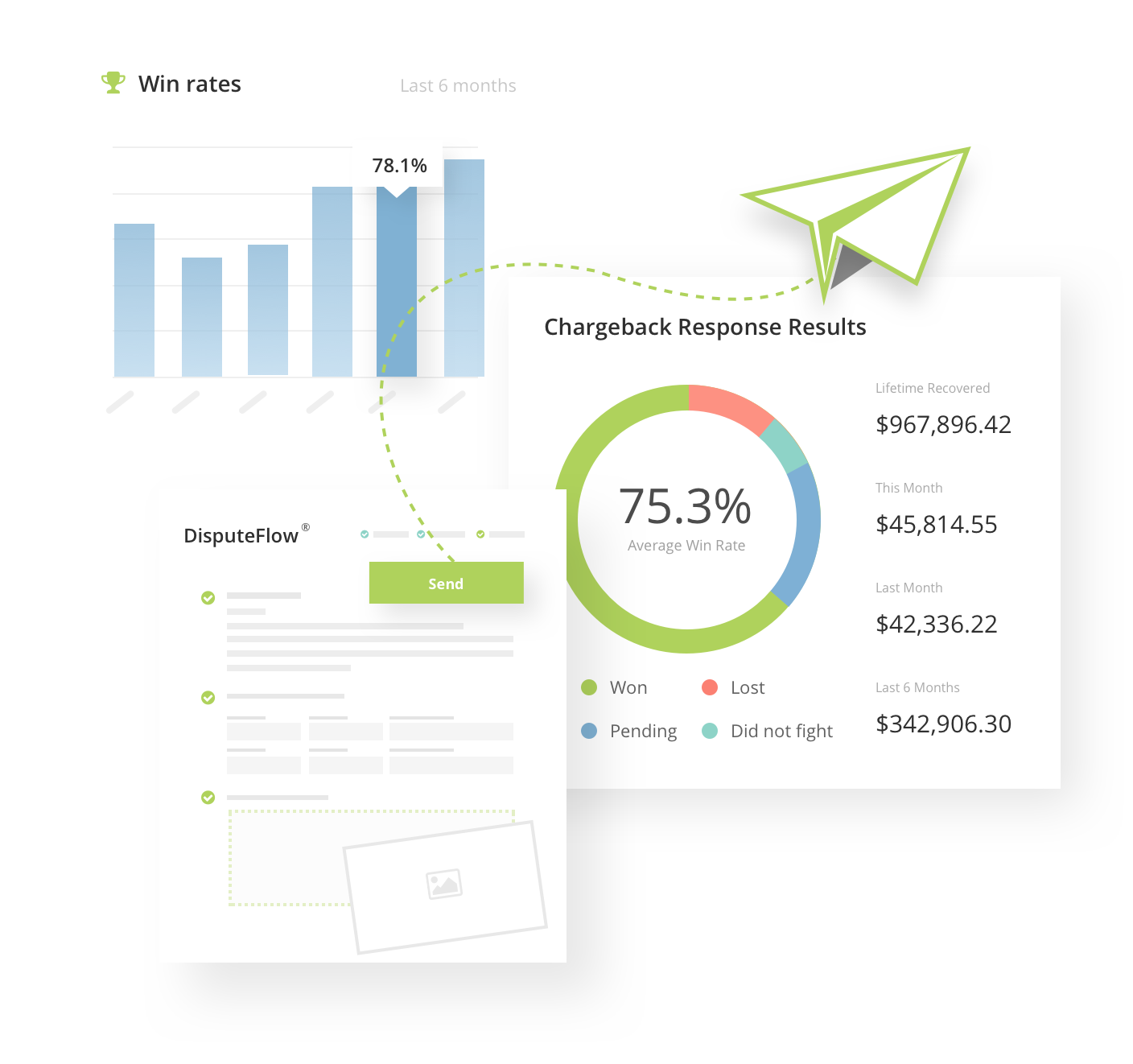 Fight chargebacks & recover more revenue.
When you lose money to chargebacks, Midigator gets it back. Our philosophy for revenue recovery is simple: we want you to have the best ROI possible. That means we fight chargebacks with the greatest efficiency and highest probability of success.
High win rates consistently improve over time
Intuitive, easy-to-use technology removes guesswork
Flexible automation replaces time-consuming, error-prone processes
On-demand support connects you with industry veterans
Chargeback Management Services
As society continues to become more digitally advanced, many businesses are finding themselves needing to adopt more complex systems in order to both keep their customers happy and avoid problems — such as chargebacks. Ecommerce is continuing to rise in popularity today — especially with big chains like Amazon offering anything people are looking for from furniture to snacks from around the world. Because of this, more and more consumers are turning to online shopping for both products and services rather than looking at shops in person. This means that there is a much higher demand for online services and products. With the higher demand and higher online traffic comes a higher chance of experiencing chargebacks.
These can be extremely problematic for a business. But what exactly is a chargeback? In essence, a chargeback is similar to a refund, however, chargebacks are much more detrimental to a business. There are a few key differences between a chargeback and a refund. While there are many differences between a chargeback and a refund, it can be boiled down to a simple analogy for easy understanding of the difference. 
Say you and a coworker had a disagreement about something. This disagreement could be resolved easily by having a simple conversation between the two of you. But, instead of having a conversation with you, your coworker went to speak with your boss about the disagreement. Here, instead of addressing the issue and coming to an agreement amongst yourselves, your coworker has brought in someone else and cut you out of the conversation. And because of that, you now have to face consequences from your boss due to your coworker's escalation of the situation. In the case of chargebacks, they are an escalation of a refund. This often results in the consequences of a chargeback fee that you must pay because the customer cut you out of the conversation.
In order to help protect yourself from these unsavory challenges that can accompany the world of ecommerce, it can be a good idea to utilize a chargeback company and chargeback insurance. While many people may think that just chargeback insurance is enough, the truth is that the insurance alone does not protect you from chargebacks, it can simply help you out a little bit. A chargeback company, like Midigator, can provide you with complete chargeback protection.
Chargeback Management Software
Using chargeback management software can be helpful to any business — no matter the size. Both large chain stores and smaller independent ones are at risk for chargebacks. Especially as consumers become more and more used to very customer-centric approaches to marketing and service in general, it can be extremely beneficial for businesses of all sizes to implement a chargeback management software system of some kind in order to help them prevent and fight chargebacks. 
The chargeback systems used in organizations that are the most effective are those that not only provide them with tools like a refund and chargeback tracker but also tools that can help them to prevent chargebacks. For example, Midigator's chargeback prevention solution features integrated prevention alerts that notify you when a customer has a dispute so that you can immediately refund the customer, stop the order, and cancel a subscription before they can issue a chargeback. All of these things can be done with Midigator's help so you can address the issue immediately and easily before it can get escalated — like the coworker situation example.
Additionally, a good chargeback management software, like Midigator, offers real-time monitoring and reporting tools so that you can be sure you are taking care of any issues before they become a chargeback. Also, these reporting tools give you the ability to take preemptive measures to keep your business both healthy and profitable — again, all from the Midigator platform so you don't have to worry about logging into multiple different applications.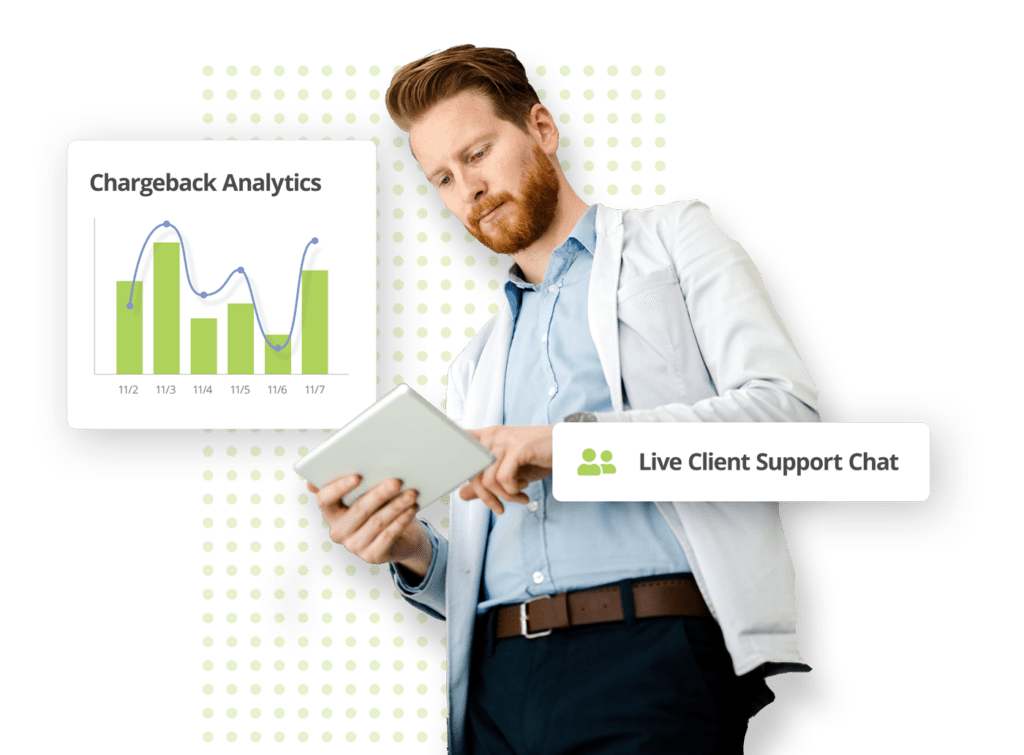 Midigator is a true software solution, providing complete, intelligent chargeback management.
A team of experts to help you succeed
Efficient, flexible automation
Everything you need in one platform
A chargeback service can provide you with many tools and features that can help you to better manage your chargeback process, lessen the likelihood of future chargebacks, and fight any chargebacks that come up. These services, like Midigator, can offer tools such as alerts, notifications, analytics, reporting, and automation to help your business both fight and prevent chargebacks. 
Prevention tactics must be ongoing. You can't assume that you are out of the woods and the transaction is safe after just a few months have passed. Because you might find that customers wait until the last minute – right before the chargeback time limit expires. Fortunately, there are tools that can help – especially for a Visa chargeback.  Essentially, these services help you to prevent a chargeback by addressing it before it can even become a chargeback.
Chargeback Prevention Companies
Since chargebacks are continuing to be such an important issue for businesses to address early, there are different chargeback prevention companies available today on the market for your business to choose from. While this wide variety of chargeback management companies and chargeback protection insurance options can be a great thing because you can find a service that offers exactly what you need for your business, it can also make choosing a company extremely difficult.
When trying to find the right chargeback protection solution for you, it is important to determine what will work best for you and your business. In order to determine what tools and services are going to best benefit your business, it can be a good idea to start by looking at a list of some of the top chargeback management companies and see what they offer. This way you will be able to see what is included in the best chargeback protection for merchants and know what to look for when choosing your chargeback protection solution. For example, you will probably want software, like Midigator, that offers some form of notification when a customer makes a dispute — this can help your business to easily address the issue before it turns into a chargeback.
Because chargebacks pose such a problem for businesses today as ecommerce gains popularity and the online shopping habits of consumers continue to change, it is incredibly important for your business to implement some sort of protection against them. With tons of options out there like chargeback management companies, chargeback protection Shopify, or chargeback protection insurance, how can you know what will be the best chargeback protection for you?
Well, there are a few things to keep in mind. For starters, chargeback protection for merchants comes in many different shapes and sizes. Some protection solutions may only help with one specific area, such as credit card chargeback protection. There are chargeback management software companies, such as Midigator, that provide you with not only the tools to fight chargebacks and recover more of your lost revenue but also tools such as automatic notifications that can help you to prevent chargebacks entirely. These prevention tools can help you to stop disputes in their tracks and take action to refund customers, cancel their orders or subscriptions, and avoid having to face a chargeback. 
When you're looking for a chargeback solution for your business, keep in mind that while something like chargeback insurance may be enough for you, it will not protect you from chargebacks — just lessen the effects of them. If you are looking for actual protection from chargebacks, a platform like Midigator may be the better option.
What Is Chargeback Management
So, what is chargeback management exactly? Chargeback management is the system that you use to manage the chargeback process. Alright, then what is a chargeback in business? A chargeback is the reversal of a transaction, and managing the process of these transaction reversals can be time-consuming, costly, and extremely frustrating. When chargebacks happen they cause not only revenue loss but also damage to your business's reputation and in extreme cases, the closure of your business. In short, you want to avoid chargebacks as much as possible. And this is where utilizing a chargeback management company or software can become a great help.
What is a chargeback in banking? Chargebacks from a bank are the same as a chargeback from a cardholder. The only difference is who is initiating the dispute. Sometimes, the bank will detect an issue and automatically initiate a chargeback before the cardholder even gets involved.
What Is A Chargeback Dispute
A chargeback reverses the initial transaction (the purchase of a product or service by a customer) by withdrawing the funds that were used to purchase the product or service from your bank account and returning them to the person who made the purchase. While this may sound similar to a refund at first, there are a few important distinctions between a chargeback and a refund. 
A chargeback dispute is an attempt to reverse the chargeback. It allows you to state why the chargeback is invalid and, hopefully, recover the revenue that's been lost. 
So, chargeback vs refund, which is better? In reality, both are a loss for the business, but a refund is definitely the better of the two. This is because a chargeback is a bank-initiated transaction reversal whereas a refund is led by you — the merchant. An example of a refund would be if someone purchased your product but realized it wasn't going to work for them and contacted you directly to solve the issue. This way you could address the issue privately and refund their purchase without causing a larger issue for your business. A chargeback example, on the other hand, would be if that customer went to the back and disputed the transaction rather than coming to you directly. This can be a much more time-consuming and costly process than a refund is. A refund is overall a more pleasant experience for both the merchant and the consumer because it is more direct, clear, as well as less time-consuming and costly.
GET STARTED TODAY
Get started with Midigator's chargeback management services today!
Are you ready to see why thousands of companies trust Midigator to manage millions of payment disputes with unprecedented ROI? Sign up for a demo today, and see what you've been missing!
Certified & secure technology