Chargeback Management Solutions
with the Best Results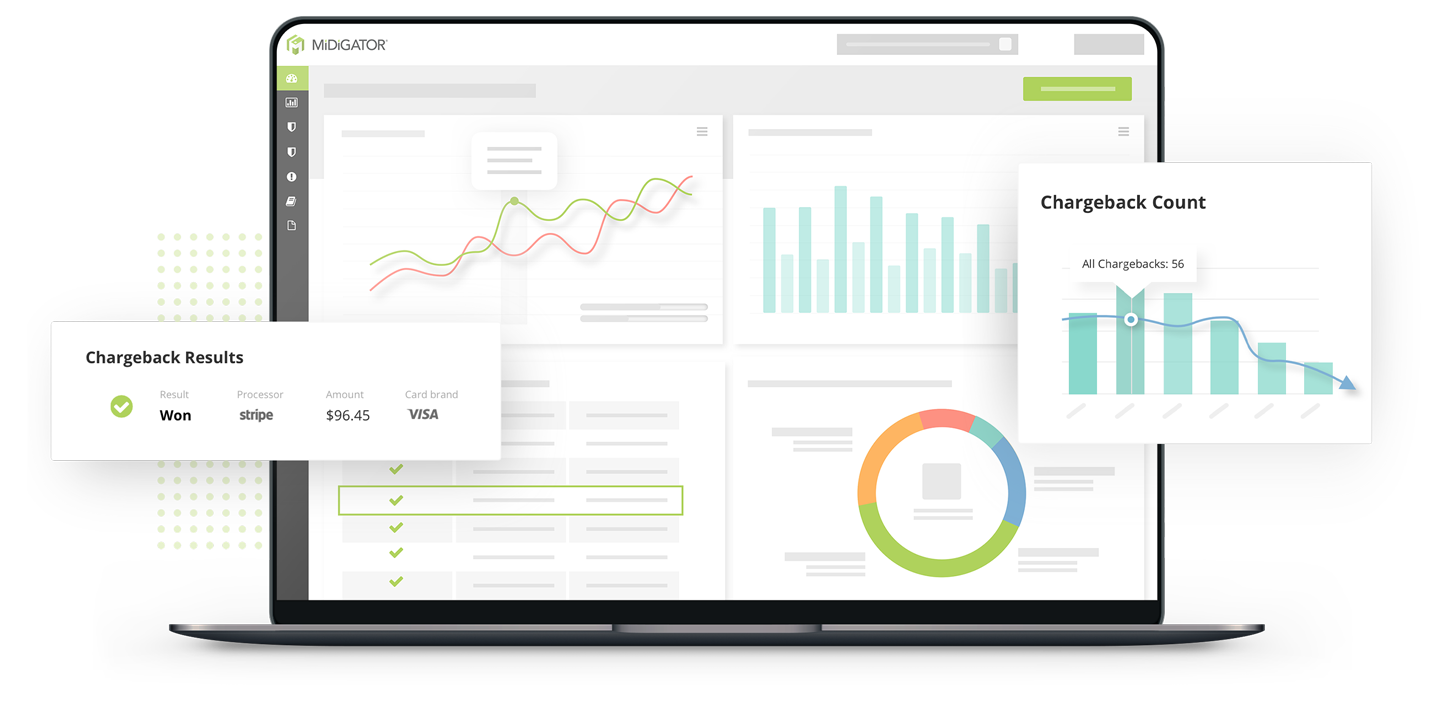 The #1 Choice for Chargeback Protection
See why Midigator has a 4.4 out of 5 star rating on Capterra.

Nick
Sr. Software Engineer II,
Computer Software
Integration with Midigator is easy, and once it's established, you have access to their full suite of services and reporting without any additional development effort.

Paul
Manager,
Health, Wellness and Fitness
The automation is the best part for us. We can put people into other roles rather than chasing chargebacks, knowing Midigator is working in the background. It's a huge timesaver.

Connor J.
Owner,
Retail
I love the easy-to-use interface that provides actionable data to help reduce and deflect chargebacks.
Prevent chargebacks & minimize revenue loss.
The easiest-to-win fight is the one you can avoid. That's why chargeback prevention is a crucial first step in your management strategy. Midigator has everything you need to prevent the preventable.
Start seeing results in as little as 24 hours
Prevent up to 50% of chargebacks
Solve issues up to 5 weeks sooner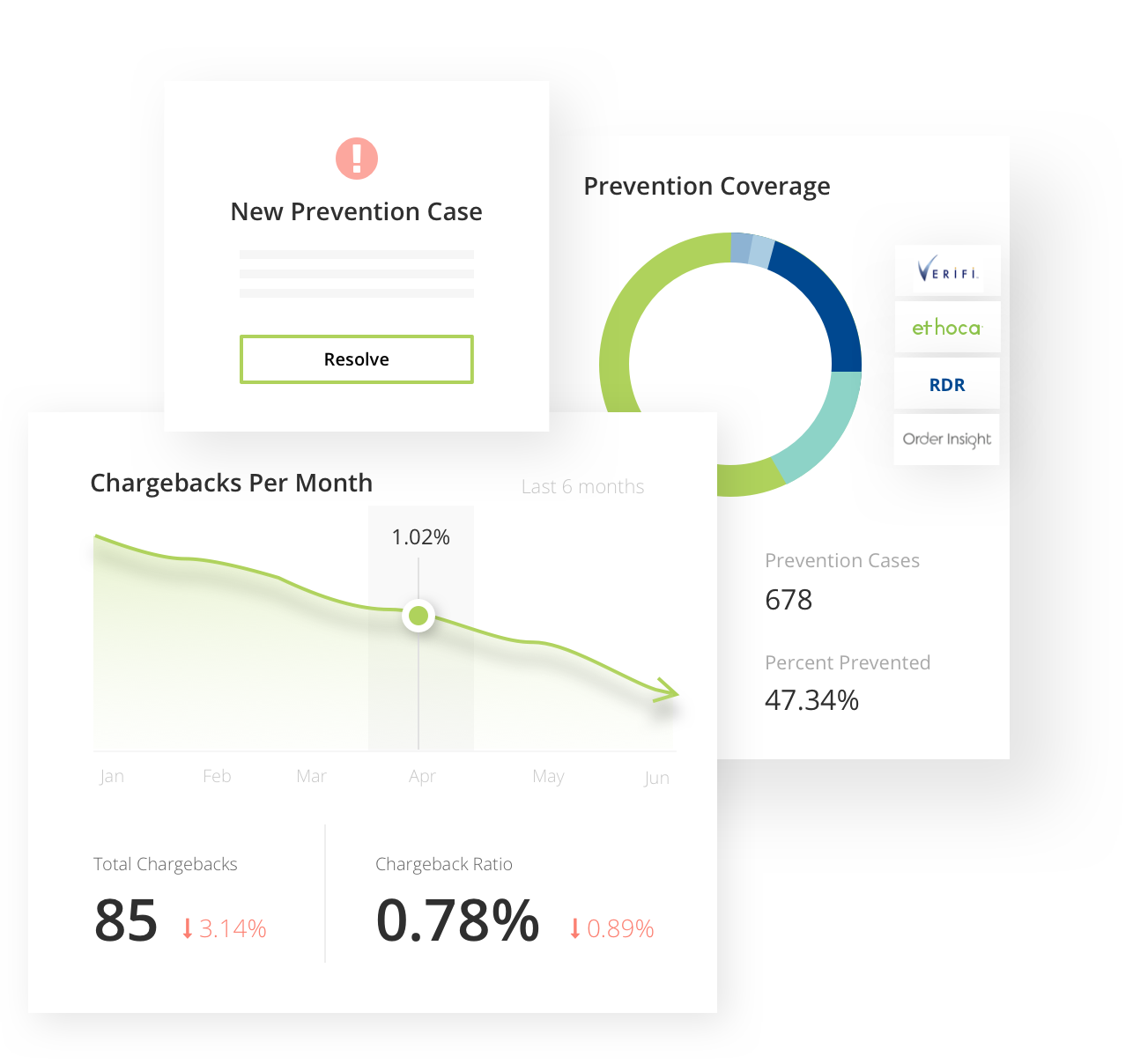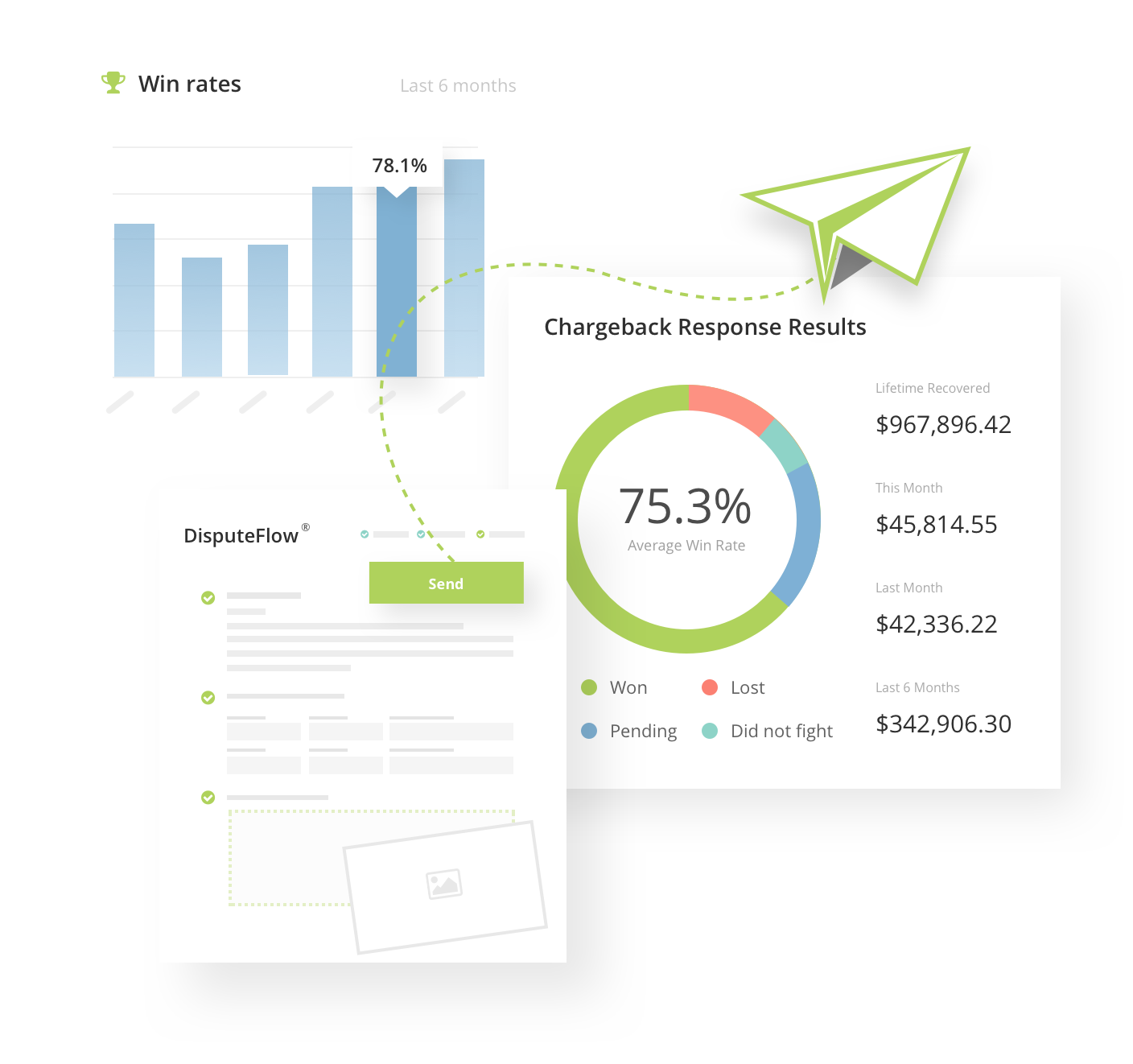 Fight chargebacks & recover more revenue.
When you lose money to chargebacks, Midigator gets it back. Our philosophy for revenue recovery is simple: we want you to have the best ROI possible. That means we fight chargebacks with the greatest efficiency and highest probability of success.
High win rates consistently improve over time
Intuitive, easy-to-use technology removes guesswork
Flexible automation replaces time-consuming, error-prone processes
On-demand support connects you with industry veterans
Chargeback Management Solutions
As any large company knows, chargebacks can really add up over time if they're not handled swiftly. Chargeback management solutions allow users to monitor chargebacks and tackle disputes as quickly as possible in order to avoid mounting fees. Following a solid chargeback funding method can ensure that, even in the event that you lose a chargeback dispute, you're able to cover your losses. You might also look into chargeback protection for merchants, which can guard your sales against fraudulent disputes. In short, there are various different solutions and strategies for properly managing your chargeback process, and it's important to find one that's most compatible with your business goals.
When managing the chargeback process, it can be helpful to use a chargeback app, or some other type of platform designed to simplify chargeback management. Trying to manage all of your disputes by hand can be extremely time-consuming, and it's easy to make mistakes. Chargeback management solutions help reduce human errors and automate repetitive tasks. Getting used to a new solution can take some time, but it can actually save you time in the long run. And while chargeback management is never exactly enjoyable, a software solution can help take some of the pain out of the process.
Midigator offers chargeback solutions to help users manage their disputes and ultimately prevent revenue loss. With Midigator you can consolidate your data for greater transparency and efficiency so that, rather than having to switch between multiple platforms to find information, you can quickly find what you need. In addition, Midigator helps users respond to and resolve disputes before they result in chargebacks. Managing your chargeback process through a platform like Midigator can help protect your brand reputation and minimize revenue loss by helping to increase your dispute win rate.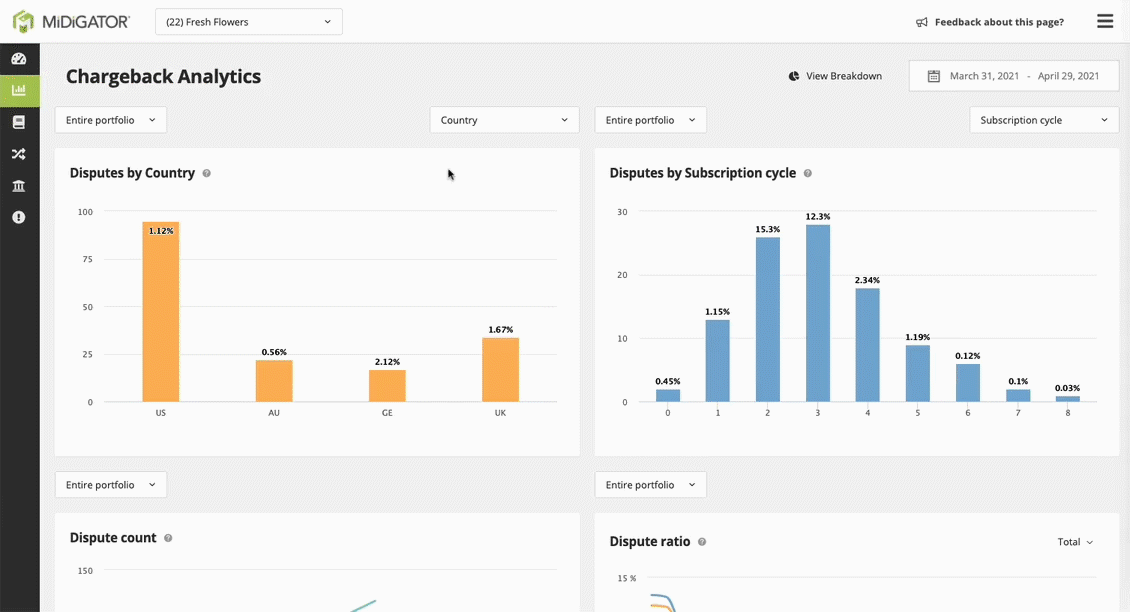 Midigator is a true software solution, providing complete, intelligent chargeback management.
A team of experts to help you succeed
Efficient, flexible automation
Everything you need in one platform
Proper chargeback management is crucial to staying on top of your disputes and resolving issues before they lead to even worse trouble for your business. But what is chargeback management? Essentially, chargeback management refers to the process by which companies monitor and respond to chargebacks. Some businesses fight these charges tooth and nail, while others simply choose to accept them. Either way, chargeback management software can help users manage each of their chargebacks, offering greater visibility into the process and providing guidance on what to do in different situations to achieve the best outcome.
Asking chargeback questions can help you understand things from a customer's point of view. It can also help you prevent disputes from arising in the future. By viewing a chargeback model example you can get a better idea of how the chargeback process works and what things you can do to put yourself in a more favorable situation. When it comes to chargeback protection, Stripe remains a popular choice. Stripe is a payment processing platform that offers chargeback protection services, but these are often limited in terms of covered chargeback amounts. So it's important to assess your business needs to determine how much coverage you actually need.
Chargeback Prevention Companies
Chargeback prevention companies offer chargeback management services to other businesses. They also provide dispute management software, which can often be used in a variety of ways with users' existing accounting systems. One of the key benefits of working with a chargeback prevention company is that you don't just get access to useful tools and software, you also get to work with a team of experts that are specifically trained to answer any questions clients have about the chargeback process and provide feedback on what to do to increase the odds of a favorable dispute outcome.
Some chargeback prevention companies also offer ecommerce chargeback protection, a type of insurance designed to protect online sellers from fraudulent chargeback activity. Having insurance can be particularly important for large companies that deal with a large volume of transactions and, consequently, chargebacks. While it can be easy to dismiss one or two chargebacks, they can really start adding up over time if you fail to keep track of them. Companies that are equipped with both chargeback protection and chargeback software tools are in the best position to successfully fight chargebacks and come out the better end of disputes.
Top Chargeback Management Companies
When looking for a chargeback management company, you obviously want to find someone that understands your needs and is able to help you with your specific business goals, whatever those happen to be. Most chargeback companies grant users access to a chargeback portal through which they can manage their accounts. They might also offer a chargeback questionnaire that you can use as a template for outlining the way in which you will respond to chargebacks. The top chargeback management companies offer a wide range of tools and features to help users customize a successful chargeback management process that simplifies their workflows.
Midigator's intelligent dispute response technology enables users to optimize their response process. Recognizing that there isn't a one-size-fits-all solution to winning disputes, the platform customizes every chargeback response to fit each unique situation. Using timestamps, product details, customer service notes, and more, Midigator works to help you create a winning strategy so that you come out on top of your disputes. You can also improve efficiency and accuracy by compiling your data into a single platform. This prevents you from having to pull from multiple sources to get the tools and resources you need.
One of the main benefits of chargeback software is that it alerts users whenever they receive a credit chargeback. Chargeback alerts are extremely useful for helping businesses keep track of their chargebacks and respond to disputes as soon as possible in order to resolve issues before they become even bigger problems. With the right software, you can receive timely chargeback help so that you're not stuck fighting chargebacks weeks, or even months after the fact. Chargeback solutions help users move through the process quickly. 
Midigator's chargeback software comes with chargeback prevention alerts, which notify you of disputes before they affect your company's chargeback ratio. As soon as a customer disputes a charge, you are notified and Midigator starts working to take immediate action. Once the issue has been resolved, Midigator sends a response stating that the problem has been taken care of. The alert network then contacts the issuing bank, preventing a chargeback from occurring. This is a great way to respond to customer concerns and resolve disputes before they become chargebacks. With Midigator's alert network you can receive timely notifications and alert banks as soon as disputes have been resolved, thus keeping customers happy and avoiding chargebacks.
Chargeback Systems Used in Organizations
There are different chargeback systems used in organizations, each designed to promote greater efficiency in the chargeback process. There's a chargeback model for shared services, as well as a cloud chargeback model, which operates in the cloud and provides access to users wherever they're connected to the internet. Whatever model or system you use, it's important to tailor your process to your unique business needs in order to increase your rate of chargeback recovery, and even work to prevent chargebacks from occurring in the first place. Different strategies may work better for different types of businesses, so you may need to experiment to see what works best.
When dealing with an internal chargeback or any other kind of disputed charge, it can be helpful to make a detailed record of what exactly is being disputed and how much the charge was for. Companies that receive large volumes of chargebacks should take particular caution to record everything as it happens to prevent disputes from slipping through the cracks. Chargeback management software can help you stay organized and ensure that you don't overlook anything important, which is crucial to maintaining an effective chargeback process and promoting customer satisfaction.
Choosing the right chargeback company is critical to ensuring the success of your chargeback process. While chargeback companies provide valuable tools and resources, partnering with a company that's incompatible with your business or doesn't understand your needs can set you back. Your chargeback company of choice should outline their process and work with you directly to customize your workflow. There isn't one right way to manage chargebacks  —  every business is different, and chargeback companies understand that what works for some may not work for others. Finding the right chargeback solution for your business can be a daunting task, but it will pay off in the long run by helping you avoid chargebacks and lost revenue.
Of course, not all chargebacks can be prevented, and if your business regularly receives a lot of chargebacks, odds are you're going to lose disputes from time to time. This is why it's a good idea to have some sort of chargeback allocation fund so that you can make up for your losses. A chargeback company can help you prepare for the worst, putting you in the best position to recuperate after suffering a loss — and, most importantly, help you to prevent future chargebacks so that you can continue growing your business.
GET STARTED TODAY
Get started with Midigator's chargeback management solutions today!
Are you ready to see why thousands of companies trust Midigator to manage millions of payment disputes with unprecedented ROI? Sign up for a demo today, and see what you've been missing!
Certified & secure technology