Win Chargebacks as a Merchant or Seller with These Tips
September 30, 2020

5

minutes
Are chargebacks damaging your business's bottom line? Are you tired of losing revenue? Are you ready to fight and win chargebacks?
Don't let chargebacks be a cost of doing business any longer. Use these six tips to optimize your response strategy, easily win chargebacks, and recover lost revenue.
STEP #1
Understand the Process
It's useful to review how a chargeback moves through the different stages of the dispute process. This can help you determine the best strategy for responding.

Key Things to Note About the Chargeback Process
Within this workflow, there are a few important things to note because they can impact your win rates.
Invalid disputes happen.
There are procedures and technologies in place to help filter out certain types of invalid chargebacks (or chargebacks that issuers file incorrectly). Some examples include chargebacks that are filed after the deadline, chargebacks that don't use the correct reason code, chargebacks that don't contain the required supporting documents, etc.
However, the review process isn't perfect, and many invalid chargebacks make it through these filters.
Don't assume that every chargeback you receive is legitimate. Mistakes can happen. If you receive a chargeback that is invalid because it doesn't adhere to the card brand's regulations, you can fight it — and it should be easy to win.
  You need to make your response easy to review.
The acquirer reviews all chargeback responses, and only certain cases are forwarded on to the issuer for decisioning. If your case doesn't advance, you can't win.
It is essential that you make it easy to review your response and forward it to the issuer.
Adhere to your acquirer's submission preferences.
Send the response in the appropriate file type (.doc, .pdf, etc.).
Use the required submission method (email, fax, etc.).
Make it easy to scan your rebuttal letter and identify the most compelling pieces of information.
Include all required documents and evidence.
STEP #2
Check the Expiration Date
If you are allowed to fight the chargeback, your chargeback notice will include a response deadline.
You must adhere to this deadline. If you don't respond on time, your case will not advance — there will be no way to win the chargeback.
At Midigator®, we suggest merchants err on the side of caution and respond at least three days before the submission deadline. This allows time for the processor to follow up if items are missing or to resubmit if the first attempt didn't go through.
Your processor or acquirer sets the response deadline. If you don't understand the timeline or have questions about what is expected, you can contact your processor.
STEP #3
Research the Reason Code
Each chargeback is accompanied by a reason code. The reason code helps explain why the dispute happened. It also helps you determine which types of compelling evidence you need to include in your chargeback response.
Check the reason code associated with your chargeback. Then, look it up in our reason code database.
RESOURCES
Want a printable chargeback reason code guide?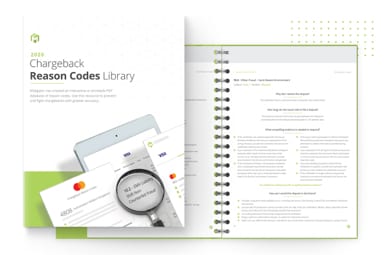 This resource will clearly outline which documents and evidence are required for the reason code associated with the chargeback.
STEP #4
Collect Compelling Evidence
To win a chargeback dispute as a merchant, you must have evidence that is compelling enough to persuade the cardholder's bank to reevaluate the case.
Depending on the reason for the chargeback, your evidence needs to prove you:
verified the identity of the shopper
processed the transaction correctly
described the merchandise or service accurately
delivered the item as promised
Since every customer experience is different, your chargeback response should likewise be unique. This means that you can't use the exact same pieces of compelling evidence for all disputes and expect to win. You have to choose the information that will be most compelling in the given situation.
Generally, the evidence you send will depend on what the customer purchased: a physical good, a digital good, or a service.
Evidence Examples for Physical Goods
A screenshot of the product description or a copy of the sales receipt
A copy of your return policy
Delivery confirmation and/or shipment tracking information
An in-store pickup form with the cardholder's signature
Photographs or emails that prove the cardholder is in possession of the merchandise
Evidence Examples for Digital Goods
A written description of the digital goods that were purchased
Usage logs such as login dates and download activity
The shopper's IP address and the device's geographical location at the date and time of purchase
Proof your digital platform asks for login credentials after a set period of inactivity
Evidence Examples for Services
A written description of the services provided
A contract or work order signed by the cardholder
Proof a ticket or boarding pass was scanned at the gate
Proof the cardholder made additional purchases tied to the original transaction (seat upgrade, extra baggage, on-board purchases, room service, etc.)
STEP #5
Craft a Rebuttal Letter
A winning chargeback response includes a compelling rebuttal letter.
A rebuttal letter acts as an introduction to your chargeback response and gives an overview of your evidence.
Check out this detailed guide that tells you everything you need to know about the letter writing process. It even includes examples that you can customize for your own letter.
This resource can help you win more chargebacks and recover more revenue.
STEP #6
Get Help
To optimize your business's profitability, it's important to fight chargebacks and win as many as you can. However, this isn't a task that you have to manage on your own. Midigator can help. 
We offer two different response strategies. You can pick the approach that is best for your business. 
Use technology to make it easier to fight chargebacks yourself.

You can use our automated technology and simplified workflows to fight your own chargebacks. This tactic is designed to let you manage chargebacks via your existing team of professionals but with a simplified, more efficient process.

  

Let Midigator fight for you.

Midigator's automated technology can handle the entire process from beginning to end. The hands-off approach means no expertise is required on your part. This strategy allows you to recover the maximum amount of revenue possible with the least amount of effort. 
No matter which option you choose, Midigator can help you win chargebacks with fewer costs and greater return on investment (ROI). 
When you are ready to get started, contact our team of experts for a demo of Midigator's technology.