What Are NFC Payments?
March 28, 2022

6

minutes
NFC payments are a type of contactless transaction method that uses near-field communication (NFC) technology. NFC-enabled payment cards, mobile wallets, and other types of devices can make purchases quickly and wirelessly through a single touch.
Accepting NFC payments lets your customers make simple and convenient contactless transactions — something that, for many, has become increasingly important after COVID-19.
In this detailed guide, we'll discuss how NFC payments work, how to accept them, and the advantages and disadvantages of NFC transactions for your business.
How Do NFC Payments Work?
Near-field communication technology is an evolution of RFID (radio-frequency identification), which uses electromagnetic radio fields to transmit data between two NFC devices over short distances.
NFC differs from RFID because it has a significantly reduced transmission range — typically four inches or less. For NFC payments to work, an NFC-enabled device, such as a contactless "tap-to-pay" payment card or mobile wallet, must come into close contact with another device, such as an NFC-enabled card reader or payment terminal.
Information is transmitted between both devices near-instantaneously. In fact, the entire transaction typically finishes in less time than it takes for a customer to swipe a card's magnetic strip or insert its chip into the terminal.
What are contactless payment cards?
Contactless, or tap-to-pay, payment cards use NFC technology to transmit customer information and account details over a very short distance to an NFC-enabled card reader or terminal.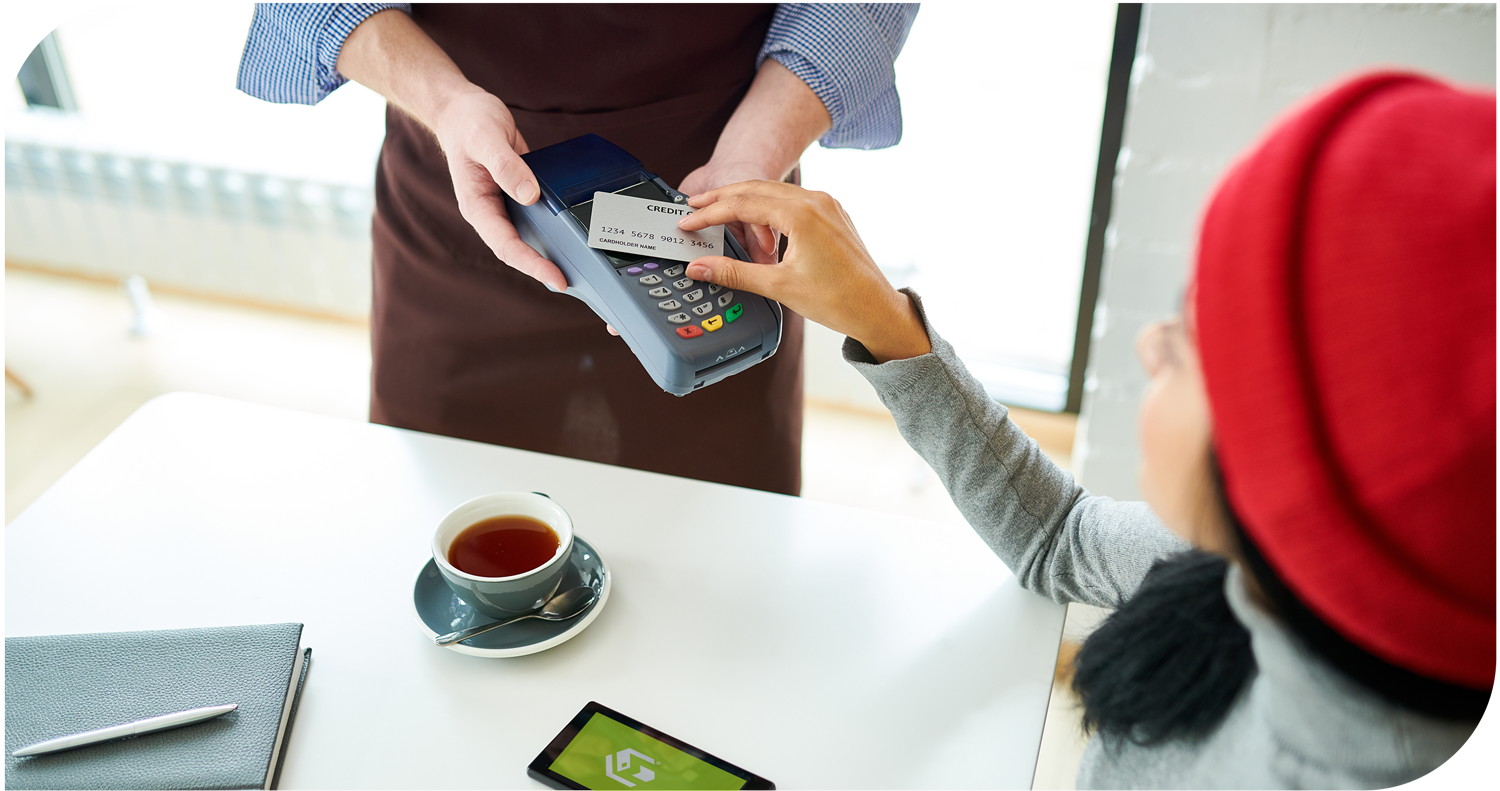 Customers with contactless cards do not need to slide the card's magnetic stripe or insert its chip into a terminal; instead, they must simply tap the card against an NFC-enabled card reader or terminal.
During this process, the reader receives the payment card's token — an encrypted, one-time-use code that stores the customer's account and payment information. From there, the customer is charged and the purchase is completed.
Customers without contactless payment cards — or those who wish not to use tap-to-pay functionality — may still slide their card's magnetic strip or insert its chip to pay for and complete their purchases.
Contactless payments are considered card-present transactions and require the payment card to be in very close proximity to an NFC-enabled terminal.
What are mobile wallets?
Mobile wallets, such as Apple Pay, Google Pay, and Samsung Pay, let customers add payment card details into apps installed on their mobile devices. From there, customers can make contactless purchases by opening their mobile wallet app, logging in, and tapping their device against an NFC-enabled reader — similar to using a contactless payment card.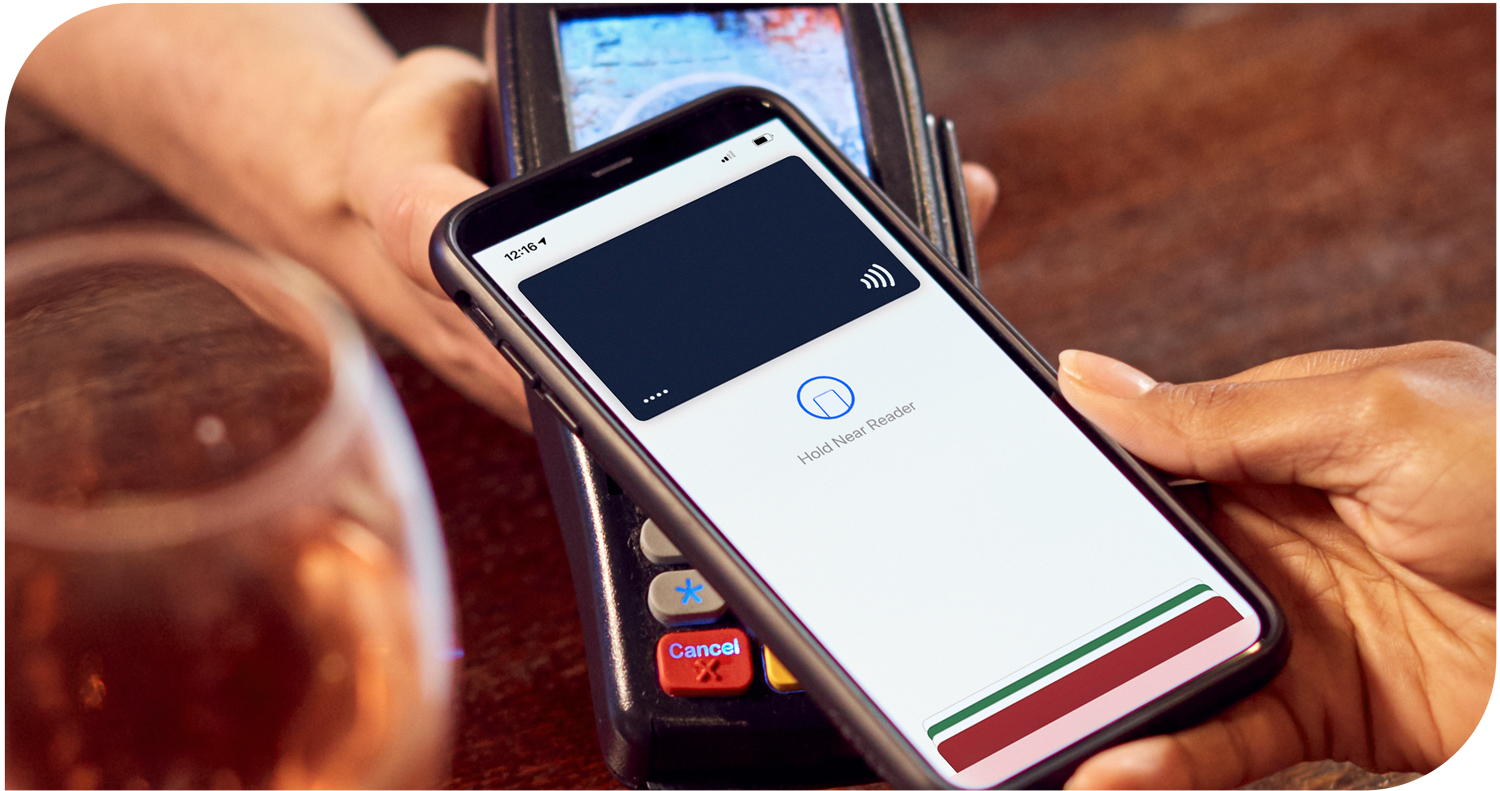 Purchases made using a mobile wallet in a physical location or store are considered card-present.
However, customers may also use mobile wallets to pay for purchases made online or via an app. These types of payments, in which there is no physical interaction between the payment device and a card reader or terminal, are considered card-not-present transactions.
How To Accept NFC Payments
To begin accepting NFC payments, ask your merchant account provider or payment facilitator if it supports contactless transactions. If not, you may need to apply for a merchant account from a provider that does.
Then check to see if your existing card readers or POS terminals are NFC-enabled. If not, it may be possible to update your existing hardware to accept NFC transactions. In other cases, merchant account providers or PayFacs, like Square or PayPal, provide or sell NFC-enabled card readers and POS terminals.
Finally, consult your merchant service agreement to determine what the processing fees are for NFC payments. Such fees are typically similar to other card-present transactions, though there may be some differences depending on your agreement or provider.
Pros and Cons of NFC Payments
Contactless payments bring convenience and simplicity to your customers, helping improve your revenue and speeding up your card-present transactions. However, there are downsides to accepting NFC payments. Let's look at the potential pros and cons for your business.
ADVANTAGE
NFC payments are as secure as other payment methods.
NFC transactions are designed to operate securely. Because NFC payments require both devices to be extremely close to one another, there's little opportunity for would-be thieves to steal customer information over the air.
In addition, tap-to-pay payment cards use the same technology as cards with EMV chips. This means that each contactless transaction generates an encrypted one-time code that helps prevent fraud and skimming.
NFC payments made through mobile wallets require customers to enter payment card information at the time they create the account. When those customers make purchases later on, they are typically required to enter a PIN or scan a fingerprint before they can complete the transaction.
Customers may also be required by the card brand to enter a PIN or provide a signature when the total transaction exceeds a given limit to help contain the extent of any potential fraud.
ADVANTAGE
Customers expect NFC payment options.
A 2020 Mastercard survey found that contactless payments are up to 10 times faster than other card-present transactions. Customers expect the convenience and speed provided by NFC payments, especially in a world still coping with the impact of COVID-19.
Your ability to accept NFC payments via mobile wallets supports customer convenience, too. Mobile wallets allow customers to organize their payment methods in a single app, using the payment method of their choice without needing to carry a specific card or manage different PINs.
ADVANTAGE
NFC payments improve customer loyalty.
In addition to speeding up the checkout process, your discount, loyalty, or membership programs can sync with NFC payment functionality. This can be accomplished by tying a branded mobile app to a mobile wallet and offering rewards to customers who use this method to complete a transaction.
Even if you don't offer or operate a branded mobile app, many mobile wallets provide customers with discounts and reward points simply for using the service.
DISADVANTAGE
NFC-enabled devices can still be stolen or hacked.
NFC payments are designed to be secure, though some security threats still remain — as is the case with nearly any payment method.
For example, NFC-enabled payment cards can be stolen. Because certain NFC transactions below a set threshold (and all credit cards issued in the U.S.) don't require customers to enter a PIN, thieves can use a stolen card to make a fraudulent purchase.
Similarly, a thief can steal a customer's phone and use an installed mobile wallet to make a purchase — though many mobile wallets require multi-factor authentication (MFA) before the customer (or thief) can complete the payment.
In addition, hackers can manipulate flaws in a customer's mobile device or your POS terminals to gain access to customer data and information. Fortunately, this danger can be minimized by keeping your hardware and software up-to-date and maintaining compliance with PCI Security Standards.
DISADVANTAGE
NFC payments usually come with additional costs.
Accepting NFC payments comes with an upfront cost to your business. Though some merchant account providers and PayFacs offer free card readers, you must typically pay to upgrade the device to accept NFC payments. In other cases, your first NFC-enabled card reader or terminal may be discounted, with additional devices sold at full price.
As a result, accepting NFC payments can lead to a significant upfront cost to your business, especially if you require multiple readers or terminals.
NFC Payments & Chargebacks
Chargebacks are a constant risk for any merchant and can result in significant revenue loss — and even closure of your merchant account. Fortunately, NFC payments aren't any riskier than other types of transactions.
For most merchants, less than 1% of chargebacks are associated with card-present transactions. In other words, it's unlikely that accepting NFC payments will increase your chargeback-to-transaction ratio (CTR).
For example, mobile wallets and apps that require customers to verify their identities through MFA before completing a contactless payment may help cut down on cases of friendly fraud. Similarly, requiring MFA for transactions exceeding a set limit reduces the appeal a payment card has for a hacker or thief.
However, accepting NFC payments doesn't mean you can ignore the risks of chargebacks and fraud.
Implementing an effective chargeback management strategy can help you minimize the risks of accepting card payments, especially if you process both card-present and card-not-present transactions.
Want to learn more about chargebacks? Check out these resources.