Merchandise Chargebacks: Top Management Tips
July 21, 2023

8

minutes
Chargebacks are transaction reversals that happen as a result of payment disputes. When you receive a chargeback, the amount of the transaction is returned to your customer and you incur a fee, leading to lost revenue.
You can receive a chargeback whether you sell digital goods, physical merchandise, or provide services. However, your strategy for fighting, managing, and preventing chargebacks for merchandise differs slightly from other types of products.
This detailed guide will help you learn how merchandise chargebacks work and what you can do to prevent and fight these types of disputes.
Chargebacks by Product Type
Businesses typically sell one or more different types of products:
Digital goods

include items such as apps, movies, music, video games, and other products sold in digital formats.

Physical merchandise

includes items like apparel, electronics, furniture, toys, and other tangible goods.

Services

include bookkeeping, consulting, IT support, landscaping, marketing, and other intangible offers.
Clients and customers can dispute transactions for each of these three types of products. Reasons for chargebacks can vary wildly but are represented by the corresponding reason code.
Most reason codes apply to any merchant regardless of what you sell. For example, the following reason codes are applicable to just about any business type. 
In contrast, some reason codes are highly specific and apply only to a certain type of product. These include:
As the above reason codes demonstrate, chargebacks are a risk regardless of what you sell, and failing to prevent them can result in fees and lost revenue.
How to Prevent Merchandise Chargebacks
To prevent merchandise chargebacks, you first need to understand why you might receive them. The most common Visa® and Mastercard® chargeback reason codes for physical goods are:
The biggest threat to merchants who sell merchandise and physical goods is 'friendly' fraud. Despite the fact that 80% of merchandise chargebacks are classified as criminal fraud, the underlying cause is actually cardholders misusing the chargeback process.
Therefore, you'll need tools and strategies to proactively resolve customer issues before they become chargebacks.
1. Use accurate product descriptions.
Your product descriptions need to use clear information that accurately describes what customers can expect when they purchase your merchandise. If customers receive something other than what they expected, they may file a chargeback.
Avoid these types of chargebacks by writing product descriptions that include characteristics such as:
Weight

Dimensions (height, length, and width)

Type of material(s) used

Color

Other elements and special features
For example, check out how See's Candies carefully details every option available in their box of assorted chocolates.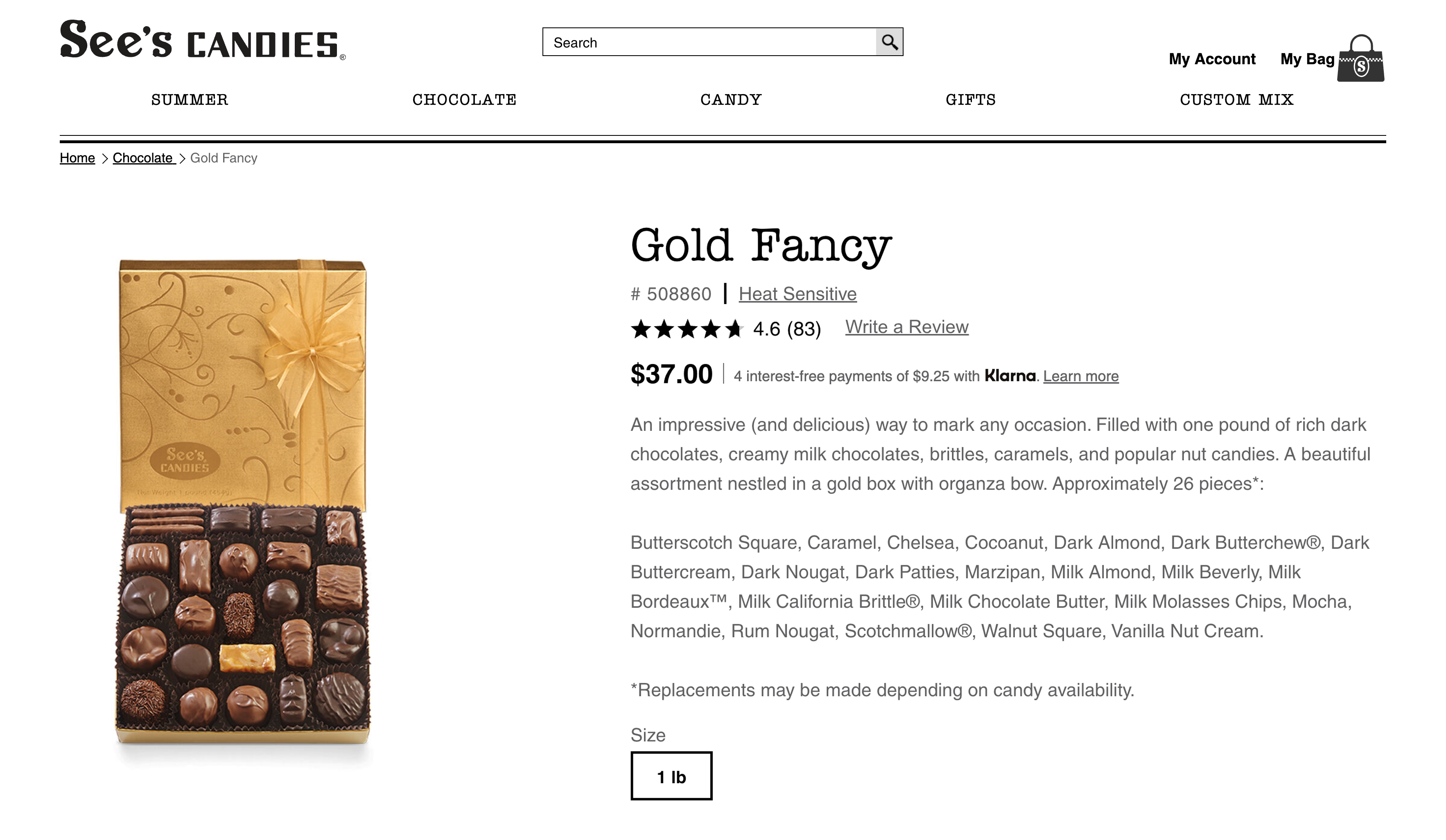 2. Write and share customer-friendly policies.
Simple and accessible policies — such as your terms and conditions, privacy policy, and return policy — can help customers resolve issues, get support, and request refunds. 
Write these policies in clear, easy-to-understand language and make them easy to find.
If your policies are complex or not easily found, customers may bypass you and your support staff by going directly to their banks.
Customer-friendly policies should:
Specify a refund time limit that equals or exceeds the maximum time a customer can file a chargeback (120 days)

Fully explain how refunds and other concerns are addressed

Clearly state what steps a customer must take to resolve an issue

Be easily accessible on your website, service pages, checkout page, and in all communications (including order confirmations and shipping emails)
For example, check out the detailed policy page on the Publix website. It covers all potential issues including coupons, rain checks, refunds, service animals, and more.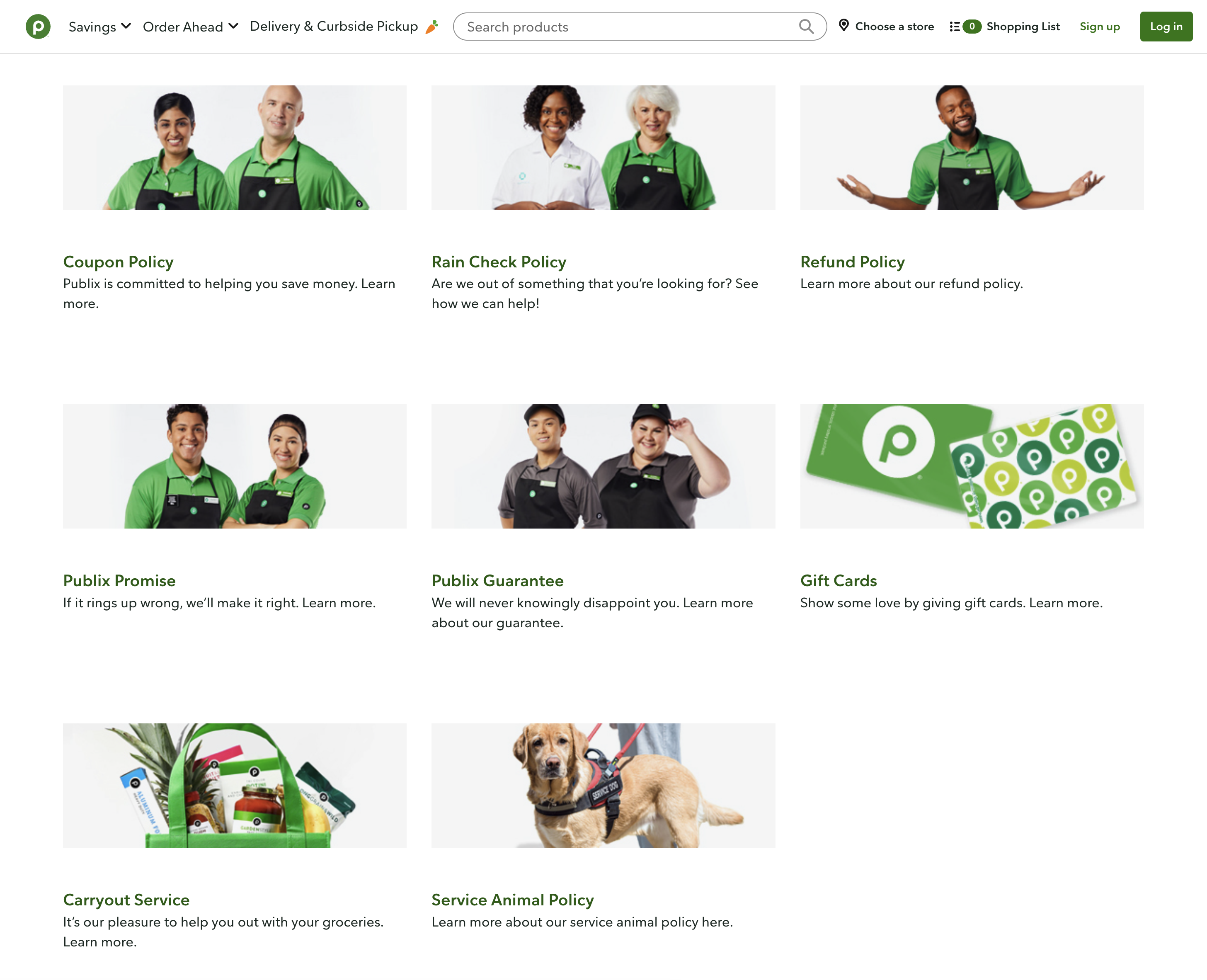 3. Sell quality merchandise.
Products you sell should be authentic, high-quality, and well-made. Counterfeit and defective merchandise can result in chargebacks.
To avoid these types of chargebacks:
Ensure the products you sell are genuine

Educate your fulfillment team to identify counterfeit goods

Seek to resolve any issues yourself without shifting the responsibility to the manufacturer or distributor
Check out how Helzberg Diamonds thoroughly outlines the quality of its products. From the diamond's origins to its clarity, the company clearly explains what the customer will receive.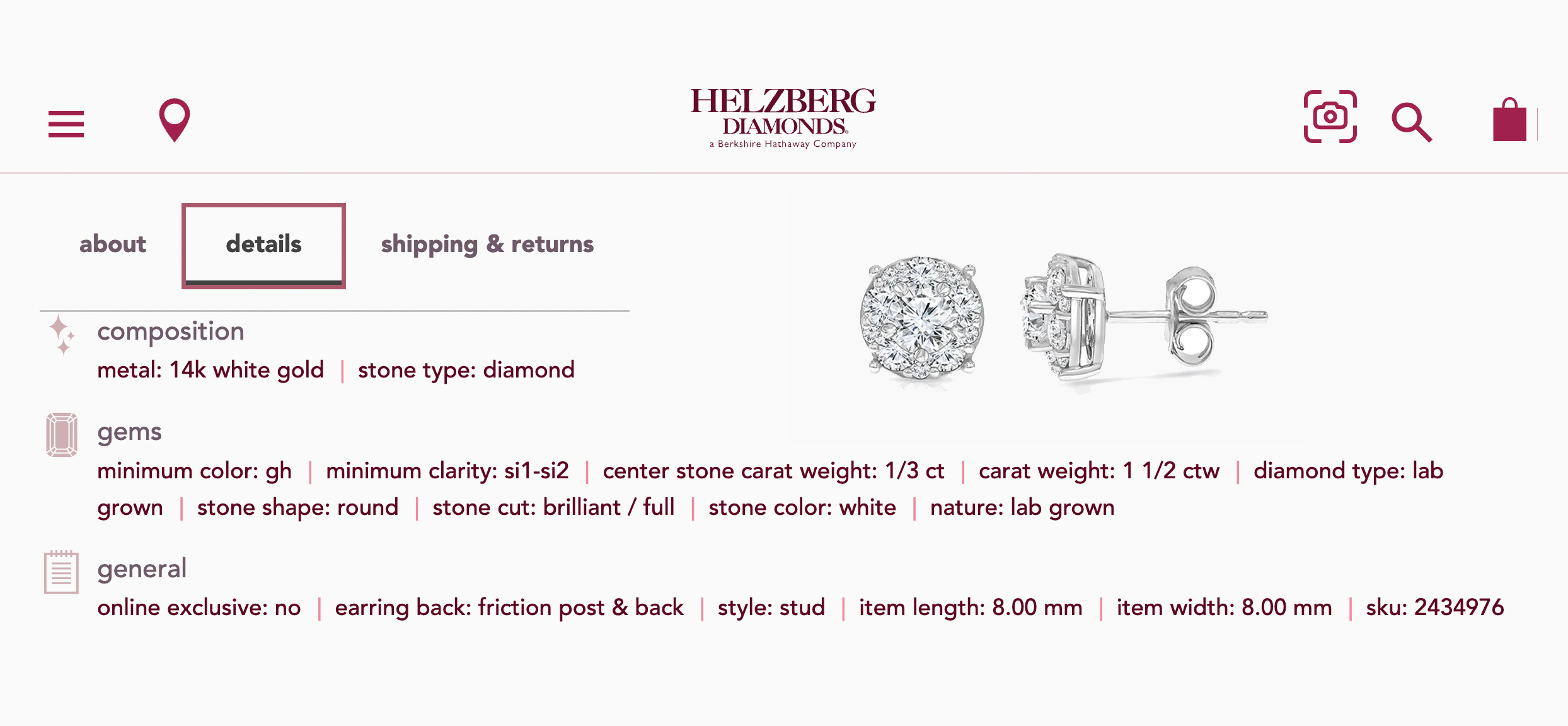 4. Take care when shipping merchandise.
Damaged, defective, and missing merchandise can decrease customer satisfaction. It can also result in chargebacks.
You can avoid shipping issues and prevent merchandise chargebacks by:
Shipping the correct product

Not charging the payment card until the order has shipped

Protecting merchandise by using the right box and packaging materials

Obtaining and sharing the tracking and shipping information with your customer

Notifying the customer if the product is out-of-stock or the delivery will be delayed

Swiftly resolving any issues, including replacing products or offering refunds
To proactively resolve issues related to defective merchandise, L.L. Bean promises to  "consider any items for return that are defective due to materials or craftsmanship."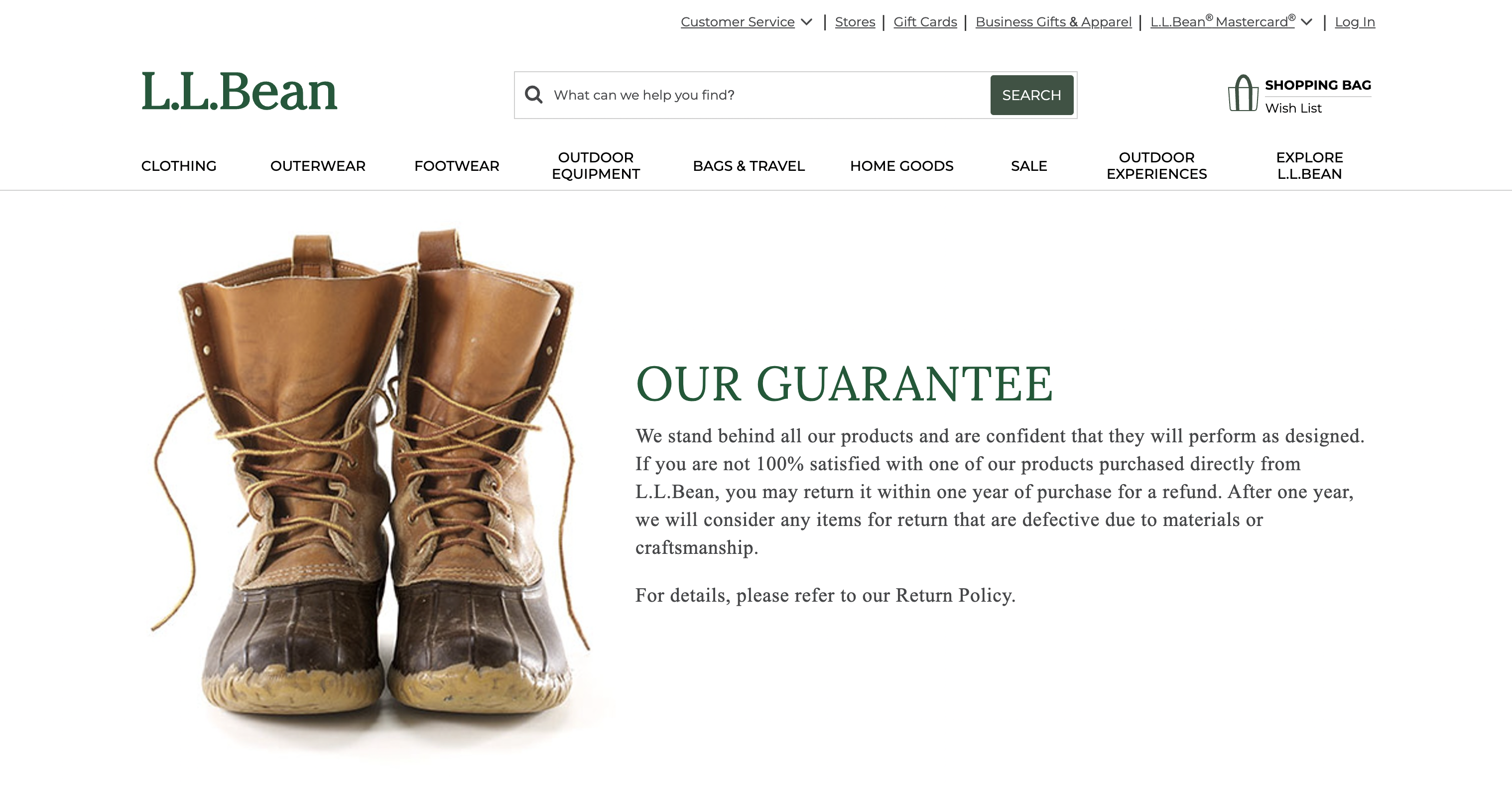 5. Require ID for buy-online-pickup-in-store purchases.
Buy-online-pickup-in-store (BOPIS) purchases are a convenient way for your customers to purchase merchandise and avoid shipping fees. But because the merchandise is already paid for, there's no guarantee the cardholder is the person who arrives to pick it up from your store.
To avoid this type of fraud and prevent chargebacks resulting from customers who order merchandise and never receive it, check the ID of anyone who arrives to claim a BOPIS order. If the ID doesn't match the cardholder or another authorized individual, you probably shouldn't hand over the merchandise in question.
This might be considered an inconvenience for customers, so try to highlight the advantages. For example, Home Depot requires a photo ID for BOPIS orders, but the company justifies the policy as protection for the shopper.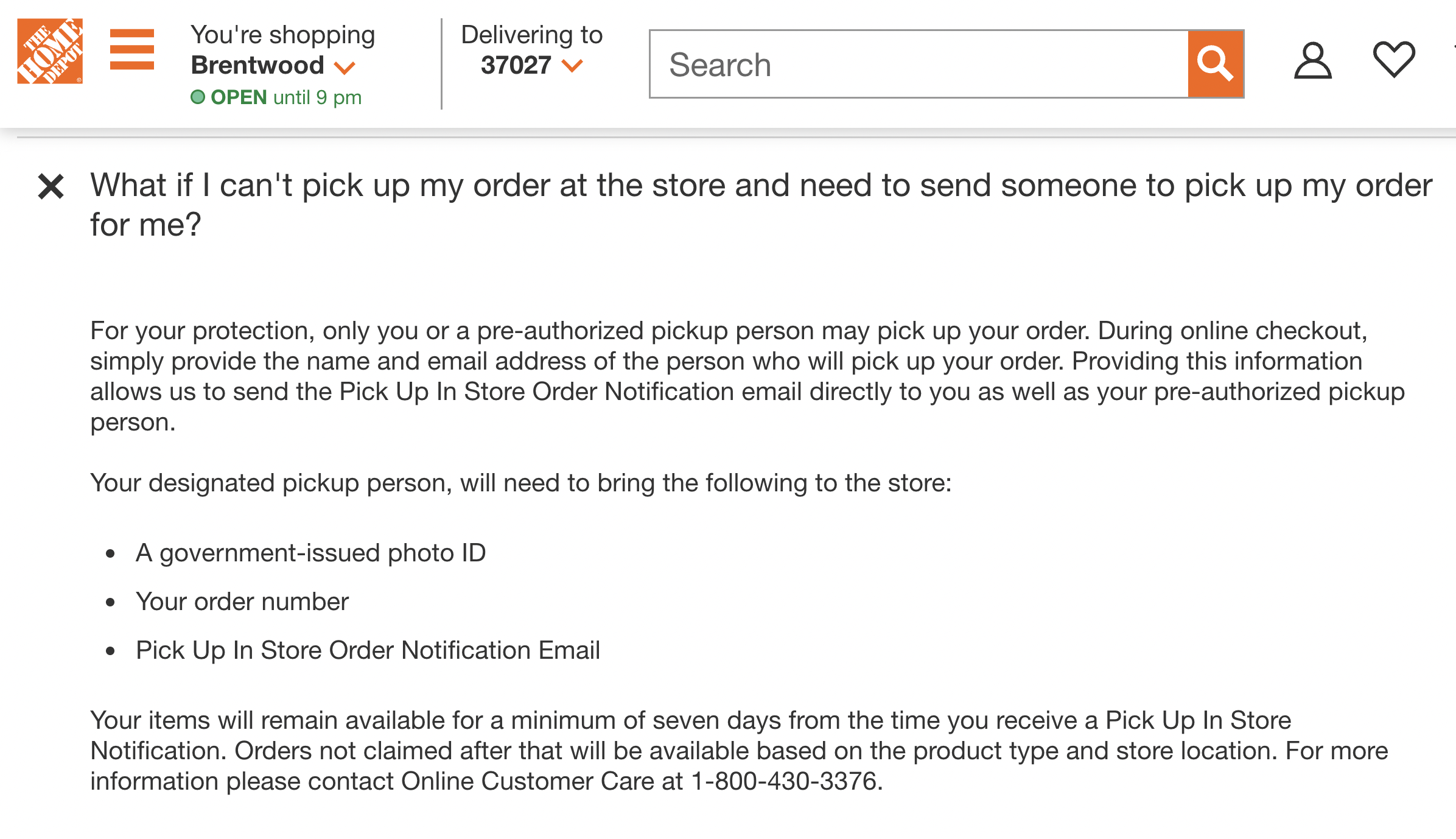 6. Use clear billing descriptors.
Customers often check their billing statements to identify fraud or unrecognized transactions. If customers can't remember or verify their charges, they might initiate chargebacks.
Using clear, concise, and informative billing descriptions for each of your merchant accounts can help resolve issues before they escalate into chargebacks.
In your billing descriptors, share as much information as possible. That may include:
The name or description of the merchandise you sold

Your contact information, including your phone number and website address

The name of your business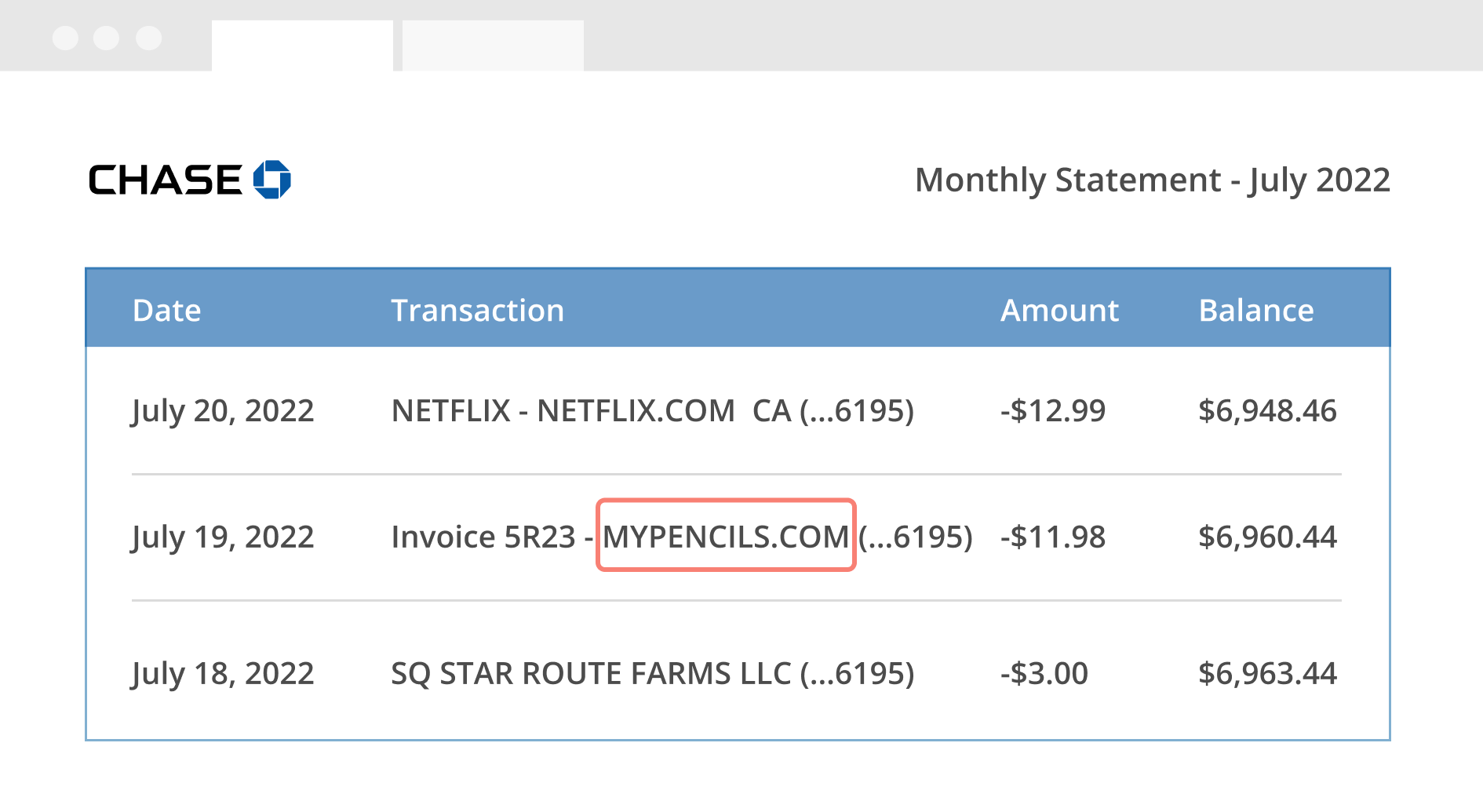 How to Fight Merchandise Chargebacks
Preventing chargebacks is only one small part of an effective chargeback management strategy. Because it's impossible to prevent every chargeback, you also need a way to fight those you receive.
Midigator® can help you recover lost revenue when you fight merchandise chargebacks. Merchants who use Midigator to fight chargebacks for merchandise have both a high win rate and high ROI.
Pairing an effective strategy with powerful chargeback management tools can more than pay for itself.
However, you still need to actively fight transaction disputes. Here are some of the more common reasons customers file merchandise chargebacks and how you can fight and win.
COMMON REASON #1
A customer claims a transaction is fraudulent
Fraud is the most common reason code for a merchandise chargeback. However, genuine criminal activity is rarely the real culprit. 
Since friendly fraud is responsible for more than 77% of all fraud claims, you need a way to prove the legitimacy of the original purchase. The best way to do that is with data from identity verification tools.
Tools like address verification service (AVS) and card security codes obtain information from customers during checkout. The information provided is then checked against what's on file with the issuing bank. If the information doesn't match, the transaction may be fraudulent.
However, if the information does match and the cardholder still files a chargeback, you can use the AVS and CVS data as supporting documentation to help fight the dispute.
COMMON REASON #2
A customer claims merchandise is defective or not as described
Customers can file chargebacks if they claim the products they received don't match the product descriptions you provided, are defective or broken, or are otherwise not what was expected.
To help fight these types of merchandise chargebacks, maintain records of your communications, such as your attempts to refund the purchase or replace the products. Similarly, demonstrate that the customer hasn't made any attempt to return the merchandise.
Other supporting documentation includes evidence that the customer agreed to accept repairs or a replacement before filing the chargeback and that you followed through with the agreement. 
You'll also want to provide the product description shared with the customer on your website or elsewhere. This will help the bank understand what was offered and what the customer was expecting. 
COMMON REASON #3
A customer claims credit was promised but never received
Credits are typically issued to customers who cancel their purchases or returned merchandise. However, a refund isn't always warranted, even if the customer thinks it is. 
If a refund is expected but not justified, you can fight back with supporting documentation that proves:
The cardholder hasn't returned the merchandise

The cardholder returned the merchandise, but didn't adhere to your return policy

You already processed a credit for the transaction
COMMON REASON #4
A customer claims to receive counterfeit merchandise
Some cardholders may be unable to recognize genuine products or otherwise claim merchandise you sold is counterfeit.
You can fight these types of merchandise chargebacks by providing supporting documentation that includes a certificate of authenticity or other evidence demonstrating the product is legitimate and high-quality.
COMMON REASON #5
A customer claims the merchandise was never received
Customers can file chargebacks for merchandise they claim was never delivered, won't be delivered on time, or that wasn't delivered as promised.
To fight these types of transaction disputes, strong supporting documentation includes proof that:
The merchandise was picked up in a BOPIS situation, such as a signature from the cardholder

The merchandise was delivered to the same physical address that yielded a Y or M

response code

from AVS or was signed for upon delivery

The order is still in transit and expected to be delivered by the expected delivery date

The merchandise cleared your local customs but is being held by the customer's customs agency
Managing Merchandise Chargebacks with Midigator
Preventing, fighting, and dealing with chargebacks for merchandise can seem complex, overwhelming, and costly. Managing chargebacks can be even more labor-intensive and confusing if you sell more than just physical goods.
Fortunately, Midigator can help.
Midigator is intelligent chargeback technology that can simplify your chargeback management process and maximize the ROI by preventing and fighting chargebacks to protect your revenue.
If that's not enough, Midigator improves your efficiency, too. Clients who use Midigator spend 85% less time managing chargebacks and reduce costs by 45%.
Adding Midigator to your chargeback management strategy gives you access to a single technology platform that:
Resolves customer issues before they escalate to chargebacks

Shares real-time data so you know what's happening at any point

Identifies the real reasons for transaction disputes to solve issues at the source

Determines when to fight a chargeback

Crafts intelligent dispute responses to maximize your ROI

Automates processes to reduce time-consuming and labor-intensive tasks
If you'd like to learn more, sign up for a demo of Midigator today. We'll show you how effective and efficient it can be to manage merchandise chargebacks.