WHY BASIC AUTOMATION?
Unique Features. Valuable Benefits.
Prevention alerts can help keep chargeback counts low — but only if you have an efficient and accurate way to manage them. Find out why Midigator's basic automation is the secret to your success.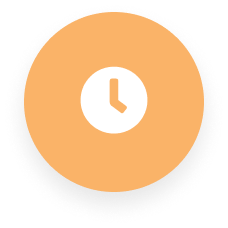 Get Started Quickly And Easily
The setup process is simple — no complicated APIs or development work. We can get you up and running in as little as 24 hours.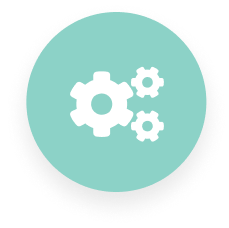 Simplify Processes to Improve Results
Our guided workflow is specifically designed to reduce the risk of errors. You'll prevent more chargebacks with fewer costs.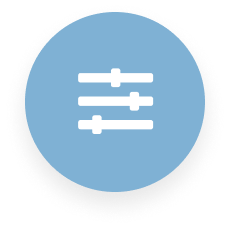 Increase Efficiency But Retain Control
You can keep your team, maintain a hands-on approach, and be involved in the day-to-day activities. But you'll execute with efficiency.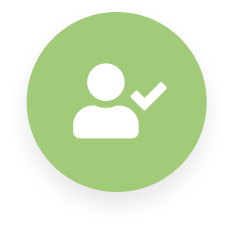 Receive Help When You Need It
Have a question while you're working a case? Wonder if there's a way to improve results? Our team of experts is just a click away.
THE BASIC AUTOMATION FLOW
How it Works: Midigator in Action
Midigator's intelligent technology makes it easy to manage prevention alerts. With our guided workflow, which we call PreventFlow, you won't miss a step — or waste any effort.
1. Customer disputes a charge.
Your customer contacts their bank to dispute a transaction.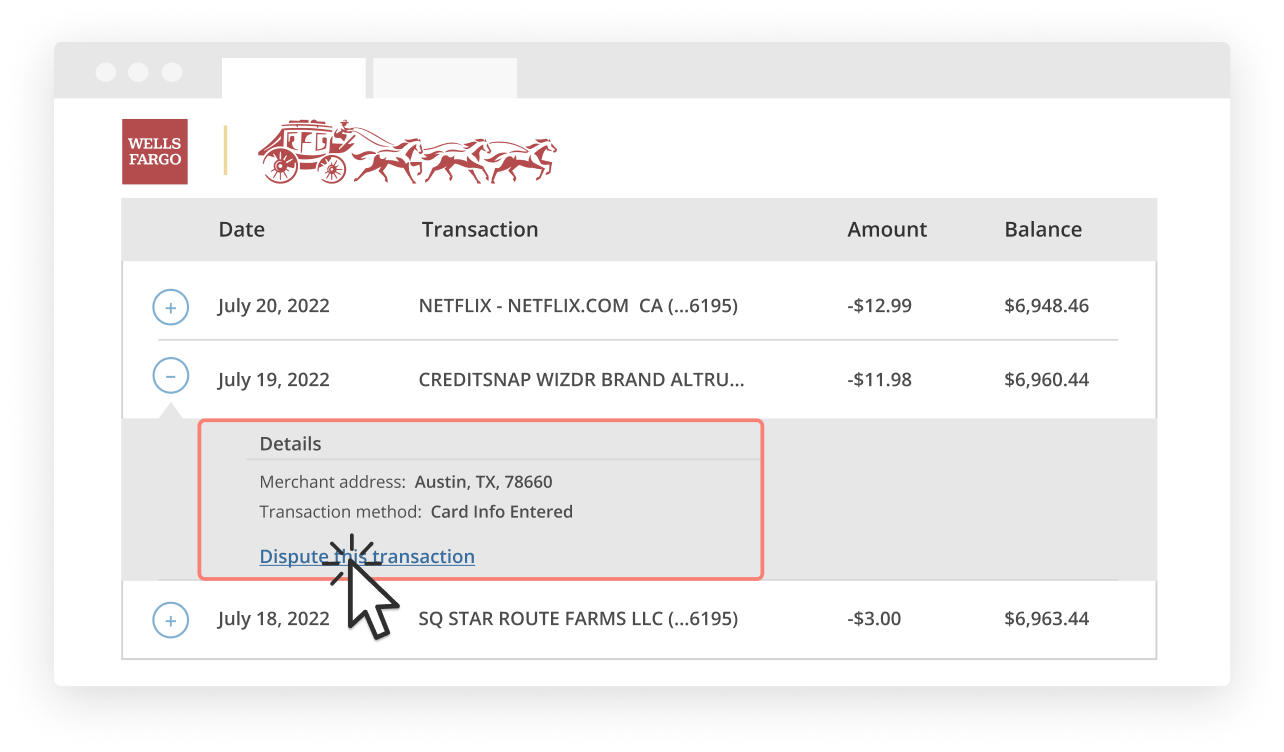 2. Customer's Bank Sends an Alert
The bank initiates the prevention alert process.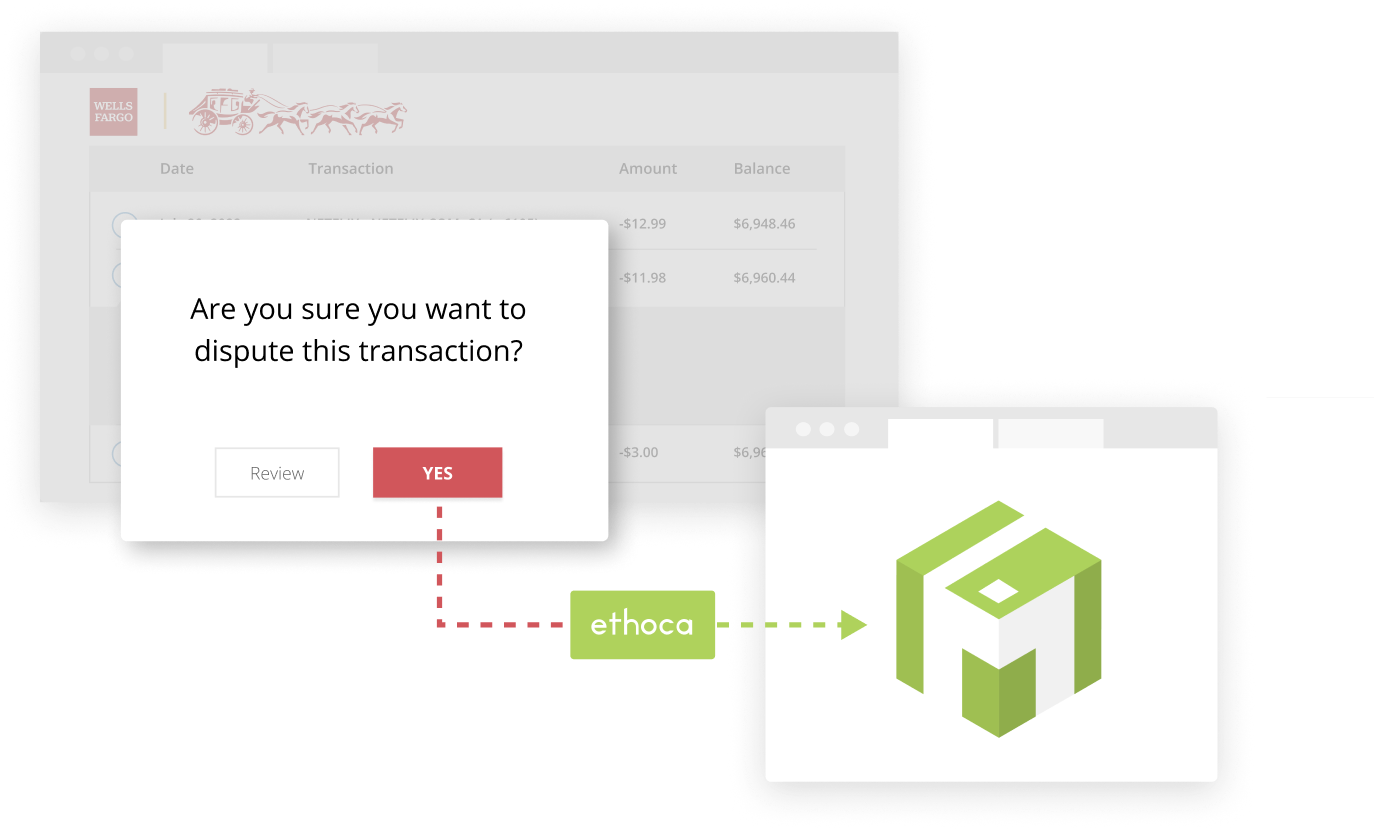 3. Prevention Alert is Received
The bank initiates the prevention alert process.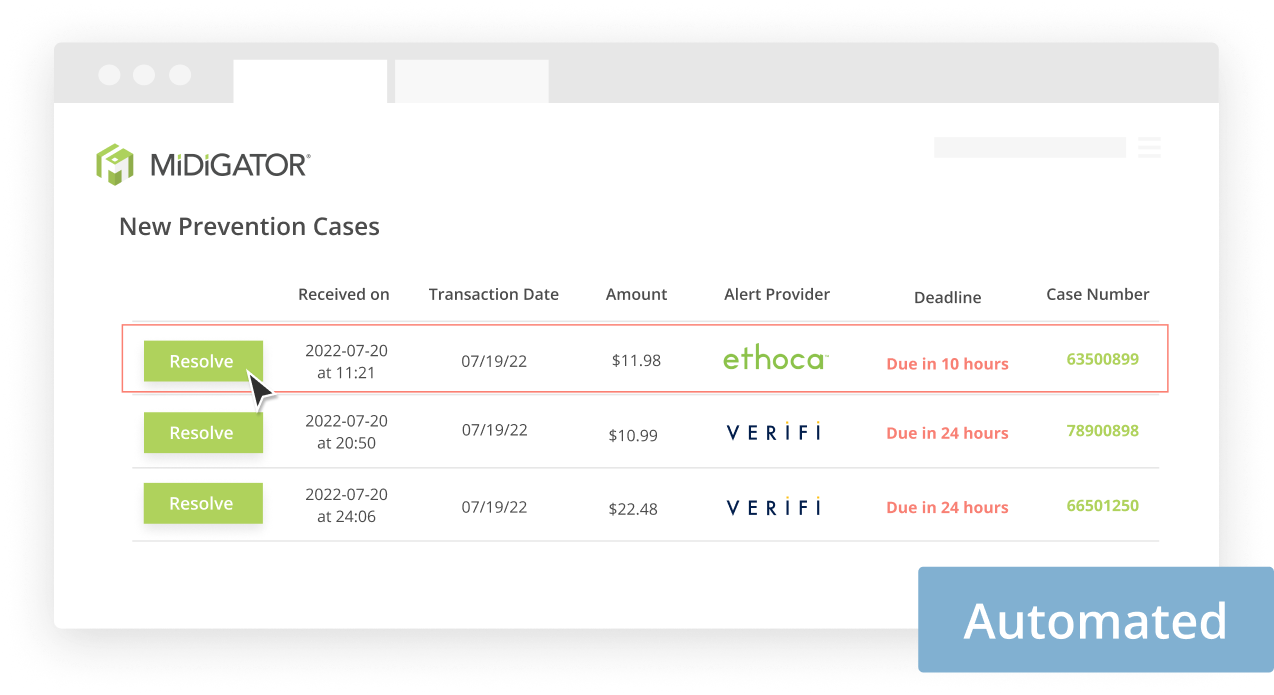 Necessary steps are taken to resolve the customer complaint.
The alert is matched to the original order
The transaction is refunded
The alert resolution is noted
The alert response is sent to the customers bank
Fulfillment is stopped and subscription is canceled
(if applicable)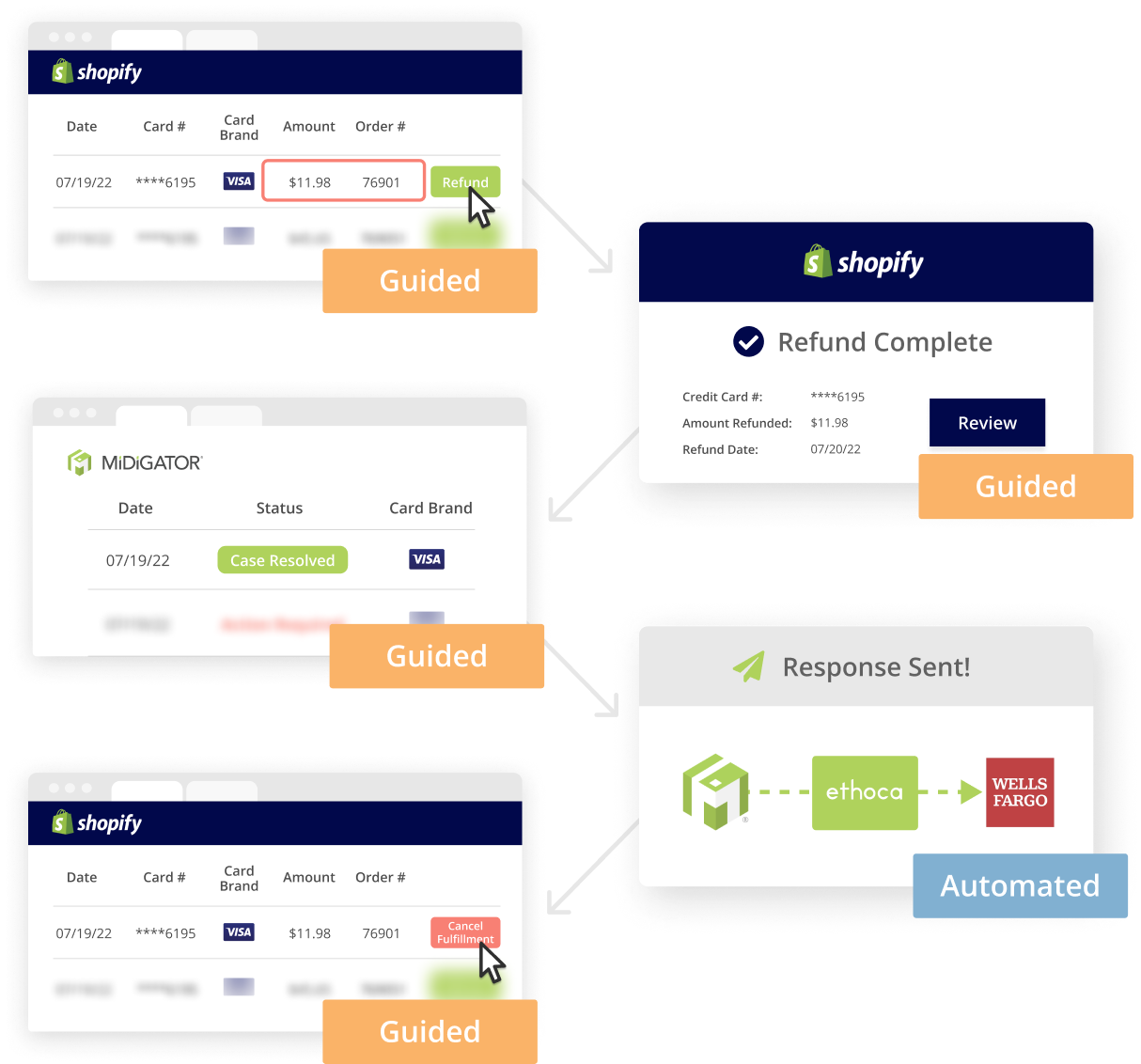 5. Chargeback is Prevented
Prompt resolution prevents a chargeback from happening.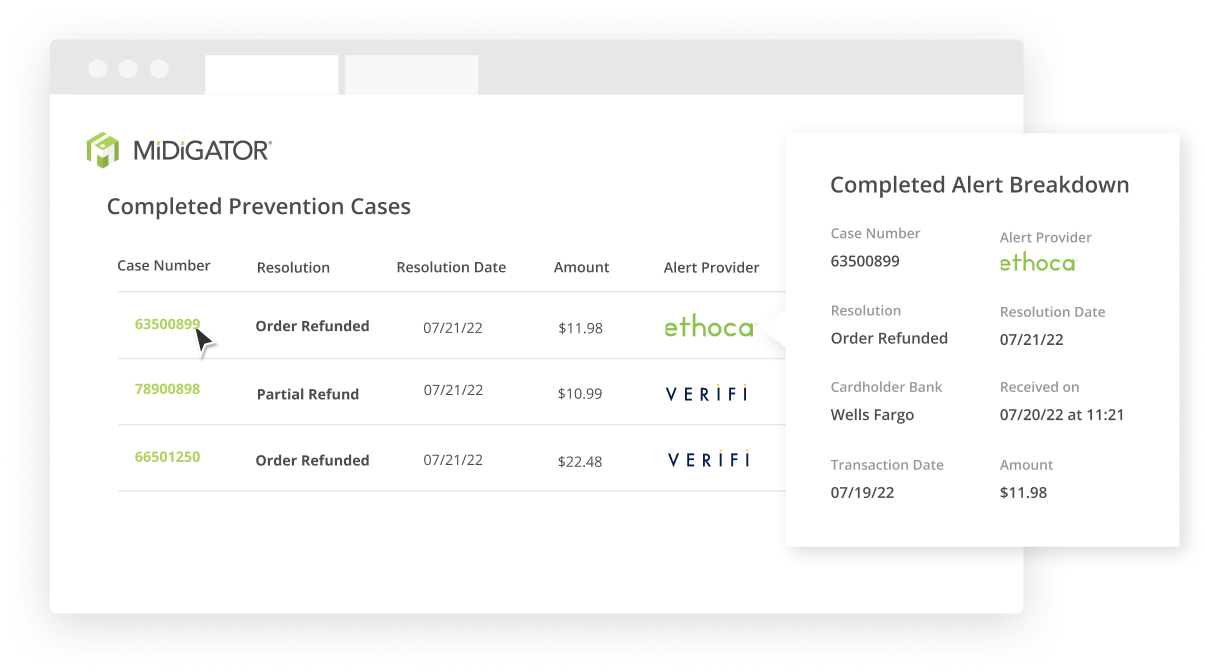 Prevention alert data is displayed in intuitive, interactive reports for easy analysis.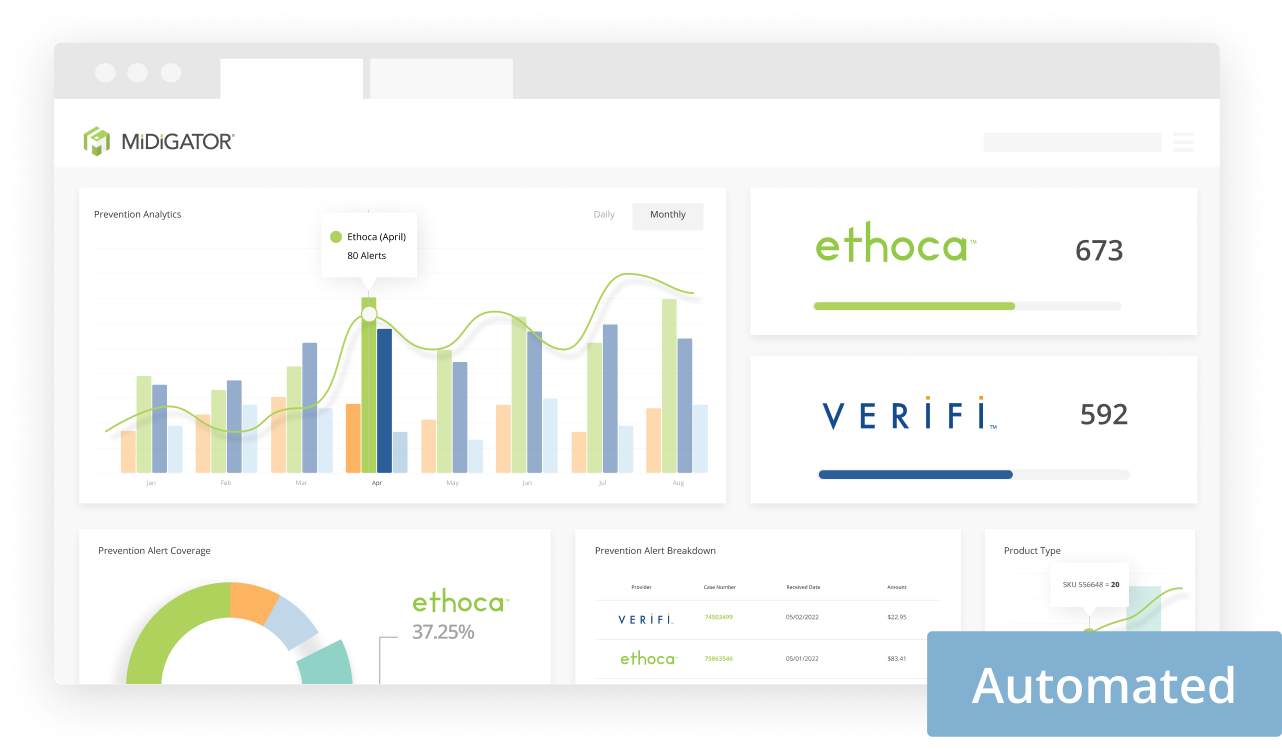 WHAT'S INVOLVED?
Getting Started With Basic Automation
What's involved in implementing basic automation
for prevention alerts?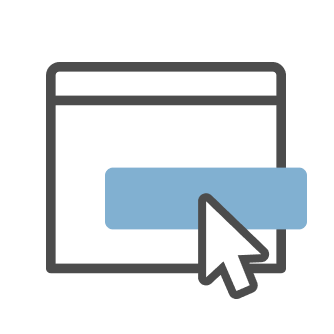 for Midigator's prevention alert service.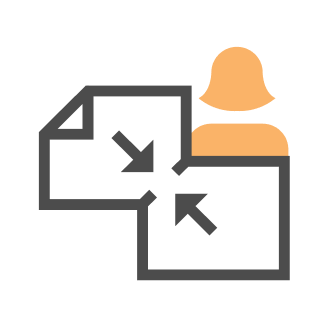 account information with the onboarding team.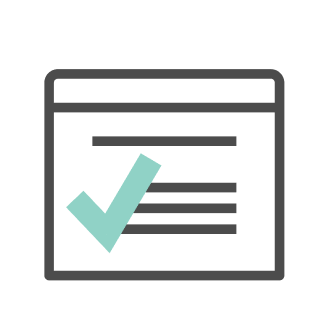 prevention alerts with our guided workflow.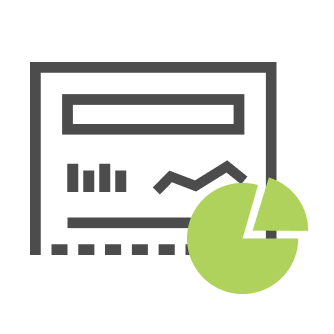 outcomes and look for ways to improve results.
Want to create your own automation for the prevention alert workflow?
Ask us about our APIs. We can make DIY automation incredibly easy!
TESTIMONIALS
What Our Clients Are Saying

I love Midigator. It's very efficient, easy, helpful, and understandable.
Customer Service Supervisor,
Consumer Goods

Software is easy to use once set up. Getting around inside the software is simple and self explanatory.
Treasury Manager,
Education Management

Great service. Efficient and easy to use. Fast and response support.
Director,
Information Services
ANSWERS & INSIGHTS
Frequently Asked Questions
Prevention alert setup is quick and easy. We need just two pieces of information. 
Your billing descriptor(s)

The names and email addresses of the people you want to have access to Midigator
A billing descriptor describes a payment and helps the cardholder identify the transaction on his or her bank statement. Billing descriptors are what Ethoca and Verifi use to issue prevention alerts. 
Your processor will have a "main descriptor" on file for each of your merchant accounts (MIDs). However, a single billing descriptor typically has several different variations. Your descriptor may change based on many different things such as:
the type of transaction you process (card-present, card-not-present)

the card brand that issued the card (Mastercard, Visa)

the type of card used to process the transaction (debit, credit), etc.
If you know what your billing descriptor is and all of its variations, we can get those enrolled for you right away. 
If you are unsure, reach out to your payment processor for clarification. You can also process a couple of test transactions with different cards issued by different brands to see how your descriptors display.
There are several benefits of managing alerts with Midigator rather than going directly to Ethoca or Verifi. 
All-in-One Platform

– With Midigator, you can manage both Ethoca and Verifi alerts from the same platform. If you go directly to the vendors, you'll have to access two different dashboards. Functionally will vary by platform, and data will be siloed.  

Analytics

– Midigator is the only service provider to offer analytics for prevention alerts — Ethoca and Verifi don't even offer this feature! Analytics reveal the underlying reasons for disputes so you can solve problems at their source. And because alert data is available 2-5 weeks before chargeback data, you can detect problems quicker and prevent more chargebacks from happening.  

Complete Strategy

– Midigator's intelligent chargeback technology offers a complete solution — you can prevent, fight, analyze, and automate chargebacks. By consolidating all your management tasks and data into one platform, you can monitor trends across the entire dispute lifecycle. 

Automation

– Midigator was the first service provider to add automation to the prevention alert process. With technology, you can manage alerts with greater efficiency and accuracy.

No Volume Requirements – Midigator doesn't have minimum volume requirements. If you have chargebacks and want help preventing them, Midigator can help.
Important: Chargeback prevention alert prices are the same whether you integrate directly with the provider or you integrate through a partner. But if you integrate through Midigator, you'll get all the alert functionality with the added bonus of automation and reporting — at no additional cost.
Alert responsibilities depend on the level of automation that you choose. 
If you use full automation, Midigator will handle everything for you. We'll receive the alert, issue a refund, and notify Ethoca or Verifi of the action that was taken. 
If you use basic automation, you'll refund the transaction in your CRM or order management system. Then you'll resolve the alert in Midigator, and we'll send the response to Ethoca or Verifi.
GET AUTOMATION
Start Preventing
Chargebacks Today
Are you ready to see why thousands of companies trust Midigator to manage chargebacks with unparalleled success? Sign up for a personalized demo today, and see what you've been missing!