Chargebacks for Services: Tips for Preventing & Fighting
July 1, 2023

9

minutes
A chargeback is a transaction reversal that occurs following a payment dispute, resulting in lost revenue. Whether you sell digital goods, physical merchandise, or provide services, you're susceptible to chargebacks.
Preventing and fighting chargebacks can protect your business, improve customer satisfaction, and maintain positive relations with banks. However, dealing with chargebacks for services can require a slightly different approach than what's required for other types of products.
This detailed guide will help you understand how a chargeback for services works and how to prevent and fight these disputes.
Chargebacks by Product Type
Generally, there are three different types of products that a business could sell: 
Digital goods

, such as apps, movies, music, video games, and other products sold in a digital format.
Physical merchandise

, such as candles, clothing, electronics, food items, and other tangible goods.

Services

, such as accounting, graphic design, hospitality, marketing, subscriptions, and other intangible offers.
Each type of product is susceptible to chargebacks. And there are a variety of reasons why chargebacks happen. Those reasons are explained through the corresponding reason codes. Most reason codes apply to any merchant, regardless of what's being sold. The following are some examples: 
However, some reason codes are highly specific and apply only to a certain type of product, such as:
In other words, you aren't protected from chargebacks because of the products you sell or services you offer. Any payment card transaction you accept can lead to a transaction dispute and additional costs for your business.
NOTE: All chargebacks are factored into your chargeback-to-transaction ratio. A high ratio could cause additional fees and usually comes with penalties such as the revocation of your payment processing privileges altogether. That's why it's important to take a proactive approach to chargeback management and put prevention efforts in place before it's too late. 
How to Prevent Chargebacks for Services
Though it's impossible to completely avoid the risk of receiving chargebacks for services, you can implement tools and strategies that will help reduce them. 
By understanding why service chargebacks happen, you'll have a better idea of which tools and strategies are most useful. To do that, take a look at the most common Visa® and Mastercard® chargeback reason codes for services:
According to data obtained in the annual Year in Chargebacks report, the biggest threat for services is fraud. But which type of fraud?
The vast majority of fraud chargebacks — up to 77% — are cases of 'friendly' fraud. Friendly fraud happens when a cardholder uses the chargeback process incorrectly, either as an intentional attempt to get something for free or an innocent mistake. 
Therefore, if you offer services (either standalone or on top of physical products or digital goods), you need a chargeback prevention strategy that resolves customer concerns before they lead to transaction disputes.
1. Use clear service descriptions.
Each service you offer needs an accurate and unique description that explains what it is. Outline what your customers are getting for their money without using complex industry jargon or high-level concepts.
Additionally, include honest and accurate time frames for when you'll provide the service and how long it'll take to complete. Ensure that each service you offer — as well as service "tiers" or packages — has a comprehensive description and an overview of what's included.
For example, check out how The Ritz-Carlton Laguna Niguel gives a detailed overview of the different suites that are available.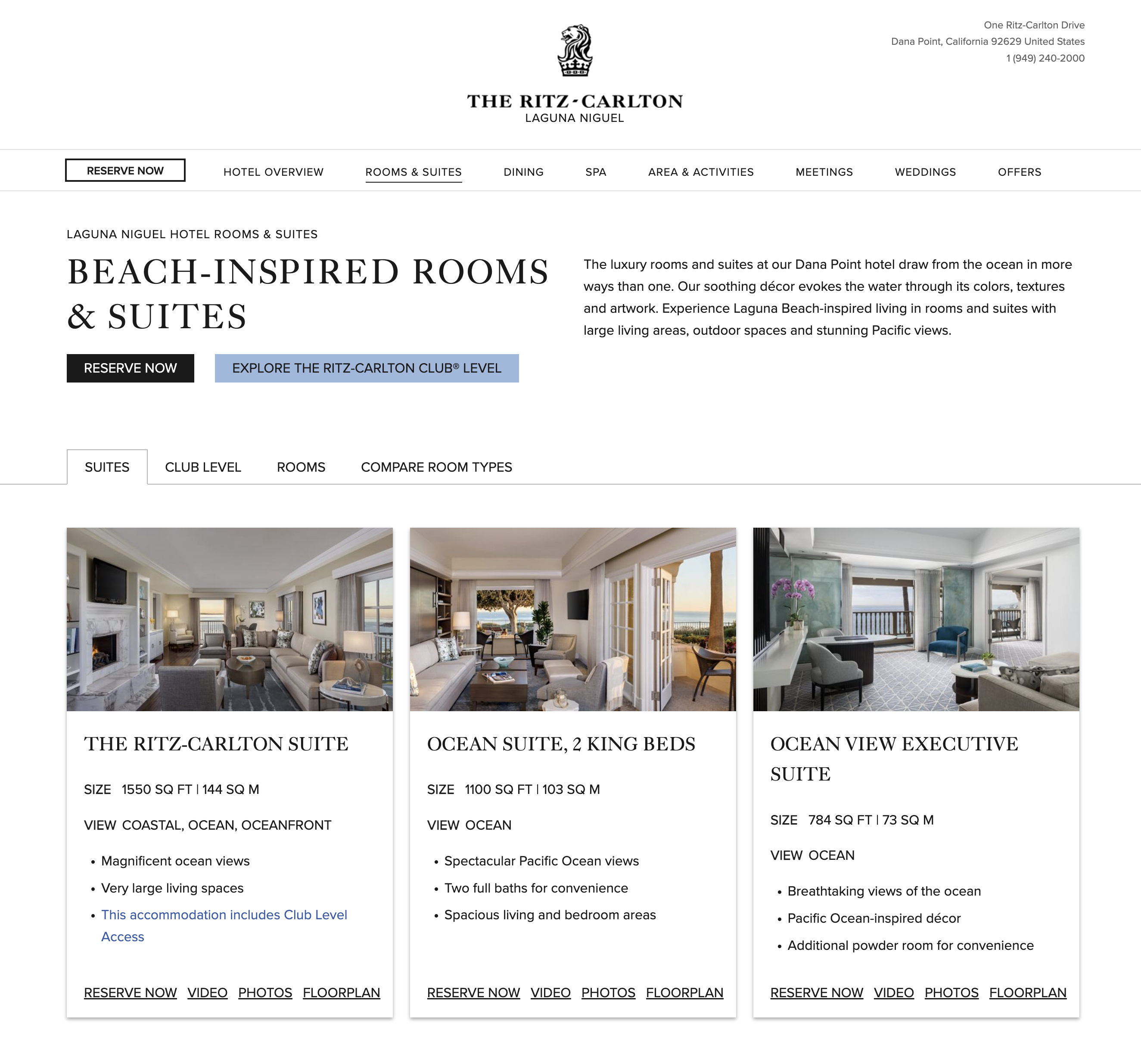 2. Write and share user-friendly policies.
Accessible and easy-to-read policies, such as terms and conditions and refund policies, help users understand how to resolve issues, get support, and request refunds. 
Confusing, inaccessible, or inconvenient policies can result in customers bypassing your support team and going directly to their banks, stripping you of the ability to resolve issues before they escalate.
Your policies should:
Provide a concrete refund time limit that equals or exceeds the maximum time a customer can file a chargeback (120 days)

Offer free and convenient cancellations

Clearly state the steps a customer needs to take to resolve an issue

Fully explain how refunds and other concerns are addressed

Be easy to access on your website, service pages, checkout page, and in all communications (including order confirmation or renewal) emails
JetBlue is a great example of creating customer-centric policies. In fact, the company offers the industry's first Customer Bill of Rights.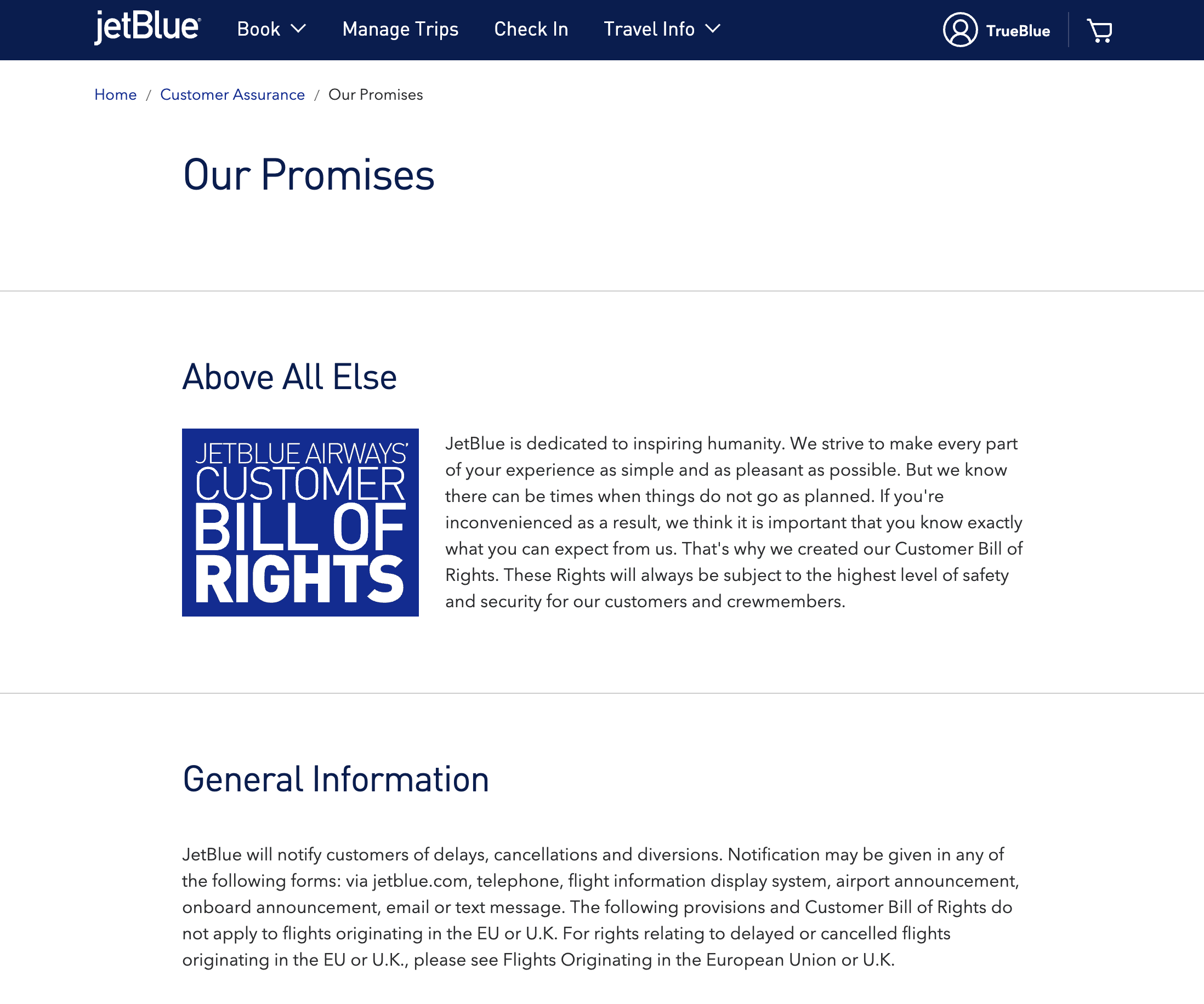 3. Honor all cancellation requests.
Many types of services use recurring payments to bill customers on an ongoing basis. However, this payment method can contribute to increased chargebacks if you fail to honor cancellation requests on time.
You can prevent chargebacks for recurring services by sending out notifications and reminders a few days before each new billing period. These communications should include a convenient option for customers to cancel their service before their renewal.
When you receive a cancellation request, honor it as quickly as possible by stopping any future payments. If you owe the customer a refund, process it promptly and let the customer know when to expect a credit to the account.
Check out Buffer's guide on how to cancel a subscription. It explains everything a customer would possibly need to know about subscriptions, billing, pricing plans, and more.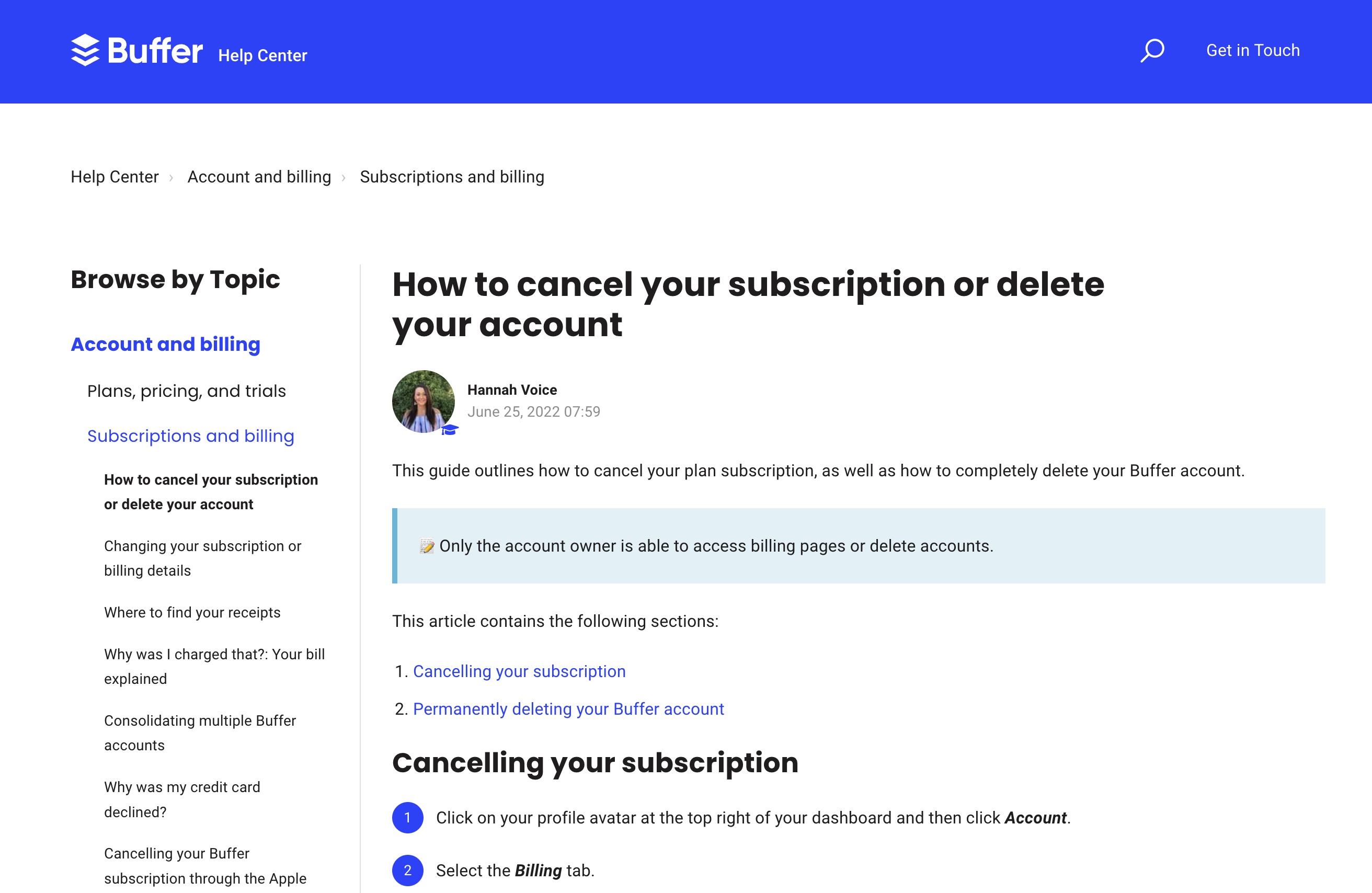 4. Provide high-quality services.
Your customers deserve the best, so the services you offer should reflect that. If your service quality doesn't fulfill your customers' expectations, they may file chargebacks.
To prevent chargebacks for services, provide high-quality services that meet or exceed your customers' expectations or needs. If you fall short, implement resolutions that fix any mistakes.
For example, CleanFreak clients love their services so much, they are willing to provide testimonials for the company's website.

5. Include the service in the billing descriptor.
Customers often rely on their banking and billing statements to identify fraudulent or inaccurate purchases. If a customer doesn't recognize a charge — or who the charge is from — they can contact their bank to file chargebacks.
Prevent chargebacks for services by using clear and concise billing descriptors for each of your merchant identification numbers. Consider listing the service you provided so the charge is easily identifiable by your customer, even if they forget the name of your business.
In addition, include contact information in your billing descriptor. A phone number or website provides customers with a convenient option for contacting you to determine what the charge is for and, if necessary, how to request a refund or resolve another issue.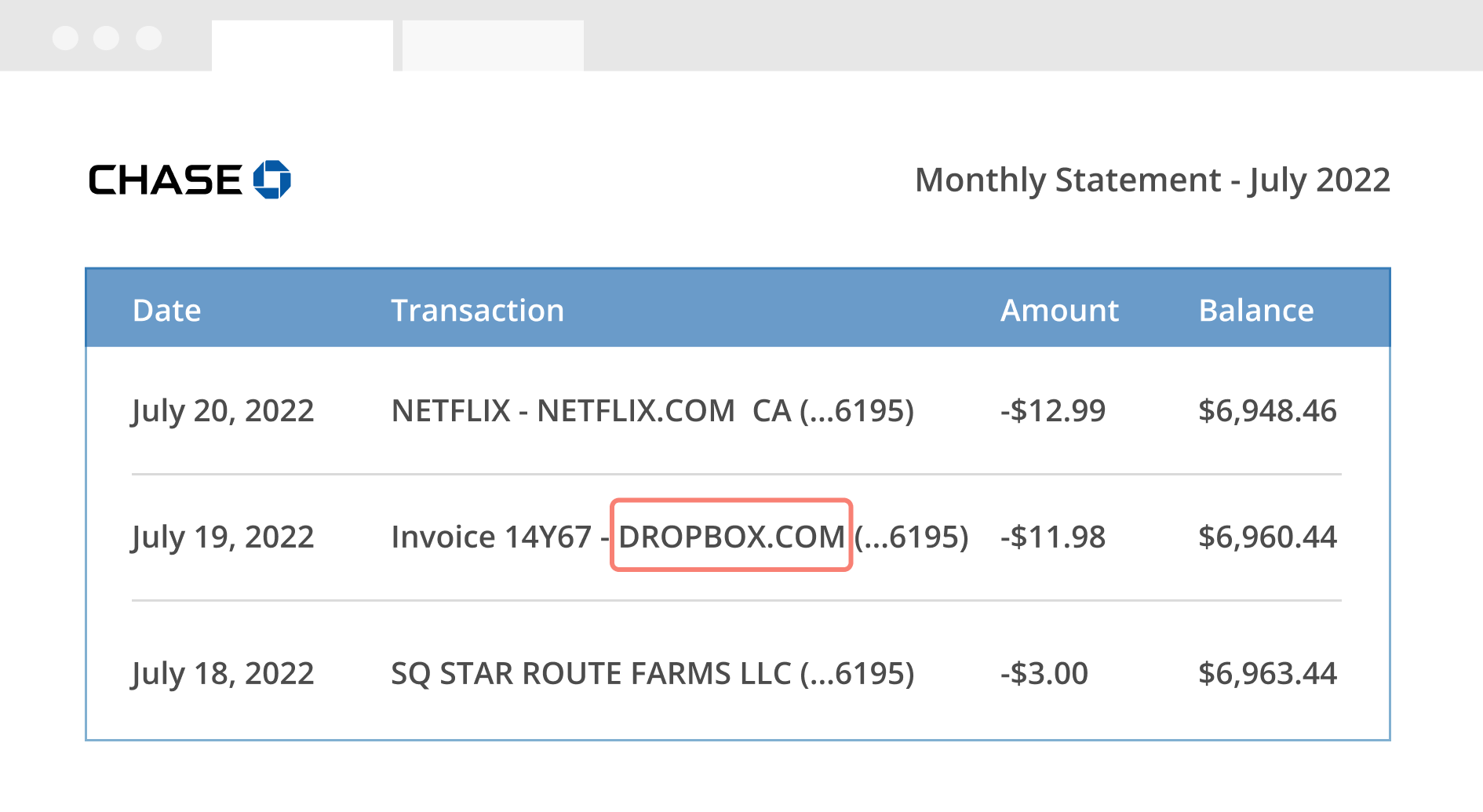 Demonstrating respect toward your customers can go a long way to mitigating concerns and issues. Satisfactory customer experiences can give you enough goodwill in the eyes of your customers to resolve any potential issues before they file a chargeback.
For digital services, this means responding to customers promptly, offering support when needed, and delivering on your deadlines and other promises.
If you offer in-person services, start by showing up on time, dressing professionally, and being courteous in how you speak and treat your customer's colleagues, family, and property.
For example, One Hour Heating & Air Conditioning puts their promise of professionalism in their slogan!

How to Fight Chargebacks for Services
Chargebacks are a constant threat. You can never fully avoid the possibility of receiving chargebacks, even though you can reduce the rate at which you receive them. 
Therefore, your chargeback management strategy needs to be twofold. You need to prevent what you can, and fight what you can't prevent. Because fighting chargebacks can protect your revenue. And if you use Midigator®, you'll have the best results possible. 
Merchants who use Midigator to fight chargebacks for services have both a high win rate and a high ROI.
In other words, investing in an effective strategy for fighting chargebacks more than pays for itself!
Here are some common reasons why customers might dispute their services with tips on how to fight and win.
COMMON REASON #1
A customer claims a transaction was fraudulent
Fraud is the most common reason code used for chargebacks for services. Documentation and tools that verify customer identities can be used to fight more than 60% of service disputes.
Tools like address verification service (AVS) and card security codes prompt customers to enter information during checkout. From there, these tools check their entries against the information on file with the issuing bank. If the information doesn't match, the transaction can be considered fraudulent.
However, if the information does match and the customer still files a chargeback, the AVS and CVV data is strong supporting documentation that helps you fight the dispute.
COMMON REASON #2
A customer claims to have canceled services
Customers can file chargebacks for services by claiming they did not receive a credit after a cancellation request. To fight these types of disputes, maintain records of any conversations you've had with your customers. Document all requests for cancellations, as well as the response from your company.
If there is no evidence that a customer submitted a cancellation request, provide documentation supporting your claim.
COMMON REASON #3
A customer claims services wouldn't be provided on time
Sometimes, your services can't or don't adhere to a customer's expected time frame. If you've already billed the customer for the services you intended to provide, this can result in a chargeback.
If you refunded the customer before receiving a chargeback for services, provide evidence of the credit or refund as supporting documentation when you fight the dispute.
COMMON REASON #4
A customer doesn't follow your cancellation policy
Your cancellation and refund policies should lay out your expectations for customers seeking refunds. For example, the customer has to submit a cancellation request within five days of downloading the app. 
If you don't issue a refund because the request doesn't comply with your policy, you may receive a chargeback. But if you do, you can fight back.  
Explain why you didn't fulfill the cancellation request. Include a copy of your cancellation policy, as well as information about where and how customers can access your policies. Provide evidence that the customer agreed to the policy before using your services. Finally, explain why any charges you haven't refunded are valid.
COMMON REASON #5
A cardholder claims no connection to the service
Some cardholders purchase services on behalf of other users. For example, a business owner may purchase access to a service on behalf of her company's marketing department. However, because she doesn't use the service herself, she may file a chargeback when she doesn't recognize the transaction on her next billing statement.
Evidence linking the cardholder to the service, even on behalf of another user, can be used to fight these types of chargebacks. Provide emails or photos that show a connection between the cardholder and the person receiving the service.
COMMON REASON #6
A customer claims they never received travel and entertainment services
Customers may file chargebacks after using your transportation, lodging, or other hospitality services. To fight chargebacks resulting from T&E services, provide supporting documentation that includes proof:
You provided the service

The ticket was received at the cardholder's billing address

The ticket or boarding pass was scanned at the gate

Frequent flier miles or other loyalty program rewards were earned or redeemed as part of the transaction

The cardholder made additional purchases tied to the original transaction (such as seat upgrades, extra baggage, or onboard purchases)
Managing Service Chargebacks with Midigator
Preventing and fighting chargebacks for services can be a confusing, labor-intensive, costly process. It's even more challenging if services are just one of the types of products you offer.
Luckily, Midigator can help. 
Midigator is intelligent chargeback technology that helps you maximize the ROI of managing chargebacks for services, protecting your revenue, and improving your efficiency. In fact, clients who use Midigator spend 85% less time managing chargebacks and reduce costs by 45%.
Dozens of unique features add up to one amazing technology platform that can do it all: 
Resolve customer issues before they become chargebacks

Reveal the underlying reason for disputes so issues can be solved at their source

Share data in real time so you know what is happening at any given moment

Determine which chargebacks are worth fighting

Fight chargebacks with customized responses so you have the very best chance of winning

Automate processes to reduce redundant, time-consuming, error-prone tasks
Sign up for a demo today to explore how Midigator can protect your business from chargebacks for services.