How to Manage Chargebacks for Digital Goods
August 3, 2022

8

minutes
Unfortunately, chargebacks are a threat for nearly all business and all product types — digital goods, physical merchandise, and services. 
Even though all transactions are at risk for chargebacks, management strategies can differ depending on what was sold. In this detailed guide, we'll explain how to manage chargebacks for digital goods. 
Chargebacks by Product Type
Your business probably sells one or more types of products. 
Digital goods

, such as apps, courses, ebooks, movies, music, software, video games, and other products sold in a digital format.

Physical merchandise

, such as clothing, electronics, furniture, office supplies, toys, and other tangible items.

Services

, such as bookkeeping, copywriting, IT, subscriptions, and other intangible offers.
Whether you sell digital goods, physical merchandise, services, or a mix, you are susceptible to chargebacks. Unfortunately, no product type is immune.
Chargebacks can happen for a variety of reasons (causes are explained with a reason code). Most reason codes apply to any transaction without regard for what's being sold. The following are some examples:
Other reason codes are specific and only applicable to certain types of products, such as:
In other words, any type of payment card transaction can lead to a chargeback and lost revenue. Though the reason code can vary depending on what you sell, you're still at risk.
NOTE: Each chargeback you receive contributes to your chargeback-to-transaction ratio. Maintaining a high chargeback ratio can result in additional fees and the potential revocation of your payment card processing privileges. Implementing an effective and proactive chargeback management strategy is the best way to keep risk in check.
How to Prevent Chargebacks for Digital Goods
It's impossible to completely eliminate the risk of chargebacks for digital goods. However, implementing effective tools and strategies can reduce the risk.
First, you need to understand why digital goods chargebacks happen. By understanding the root cause, you can identify areas where you're vulnerable and develop an effective solution to prevent these types of chargebacks.
The most common Visa® and Mastercard® chargeback reason codes for digital goods are:
According to data obtained in the annual Year in Chargebacks report, the biggest reason for chargebacks for digital goods is due to fraud. 
But what kind of fraud? 
More than 77% of chargebacks classified as fraud are actually friendly fraud, in which the cardholder misuses the chargeback process.
This can be intentional for the purposes of getting products for free, or it can be a misunderstanding of the chargeback process.
Whatever the reason, selling digital goods means you need an effective chargeback prevention strategy to resolve customer issues before they escalate to transaction disputes.
1. Write detailed product descriptions.
Write clear product descriptions that accurately describe what customers can expect after they submit a purchase. If customers purchase digital goods that aren't what they expected or contain limitations they weren't aware of, they may file a chargeback.
Avoid these types of chargebacks by writing product descriptions that include the:
Type of format

Supported devices or operating systems

System requirements

File size

Digital rights management (DRM) software

Length (in time)

Features and restrictions

Other elements and features
For example, check out the massive amount of details listed for the different Apple Music plans.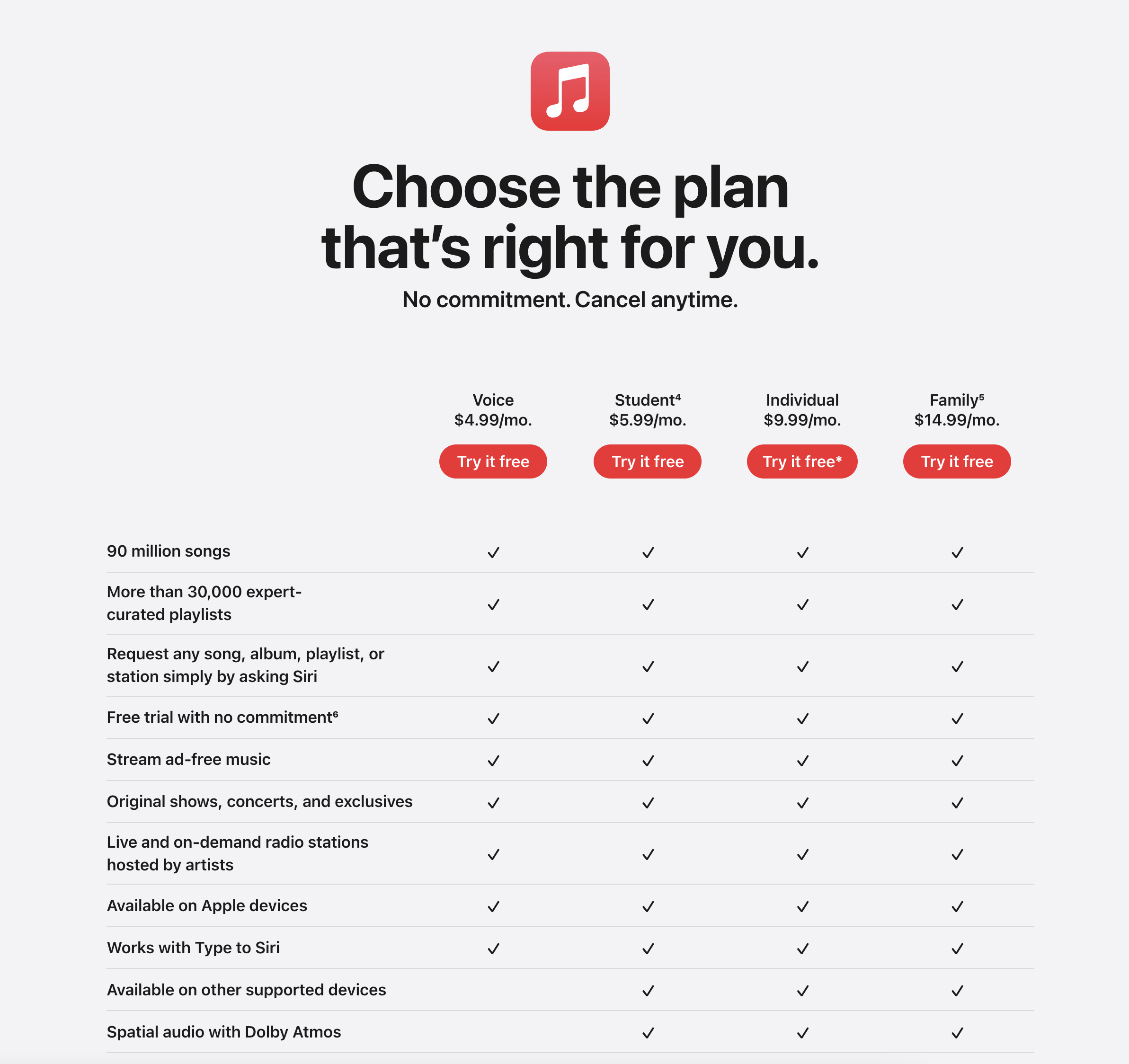 2. Write and share customer-friendly policies.
Create and publish simple customer policies that outline your terms and conditions, privacy policy, and refund or cancellation policy. Use clear, easy-to-understand language and publish these policies in accessible locations on your website, in all communications with your customers, and anywhere else you see fit.
Your customer policies should provide a simple framework that explains how customers can resolve issues, get support, and request refunds or cancellations. 
If your policies are needlessly complex or hard to find, customers may bypass your support staff and initiate a digital goods chargeback without allowing you the opportunity to resolve the issue first.
For example, Hubspot clearly explains how to cancel a subscription. Not only do the user tutorials provide step-by-step instructions with screenshots, the company also outlines the financial impact of a cancellation. 

3. Avoid accidental or unwanted digital good purchases.
Buying digital goods is an inherently simple process. In some cases, purchases can be made through a swipe of a finger or a series of quick taps, using stored payment information to simplify the process.
But this can lead to chargebacks for digital goods, particularly if the cardholder is unaware of and didn't previously authorize the transaction (such as a child making in-app purchases on a parent's device).
To avoid these types of chargebacks:
Limit purchases from new user accounts

Require an opt-in for the cardholder to confirm purchases can be made without a password or other type of authentication

Require re-authentication of account information after 15 minutes of inactivity

Clearly display the total transaction amount for each pending purchase and ask the cardholder to confirm or cancel before proceeding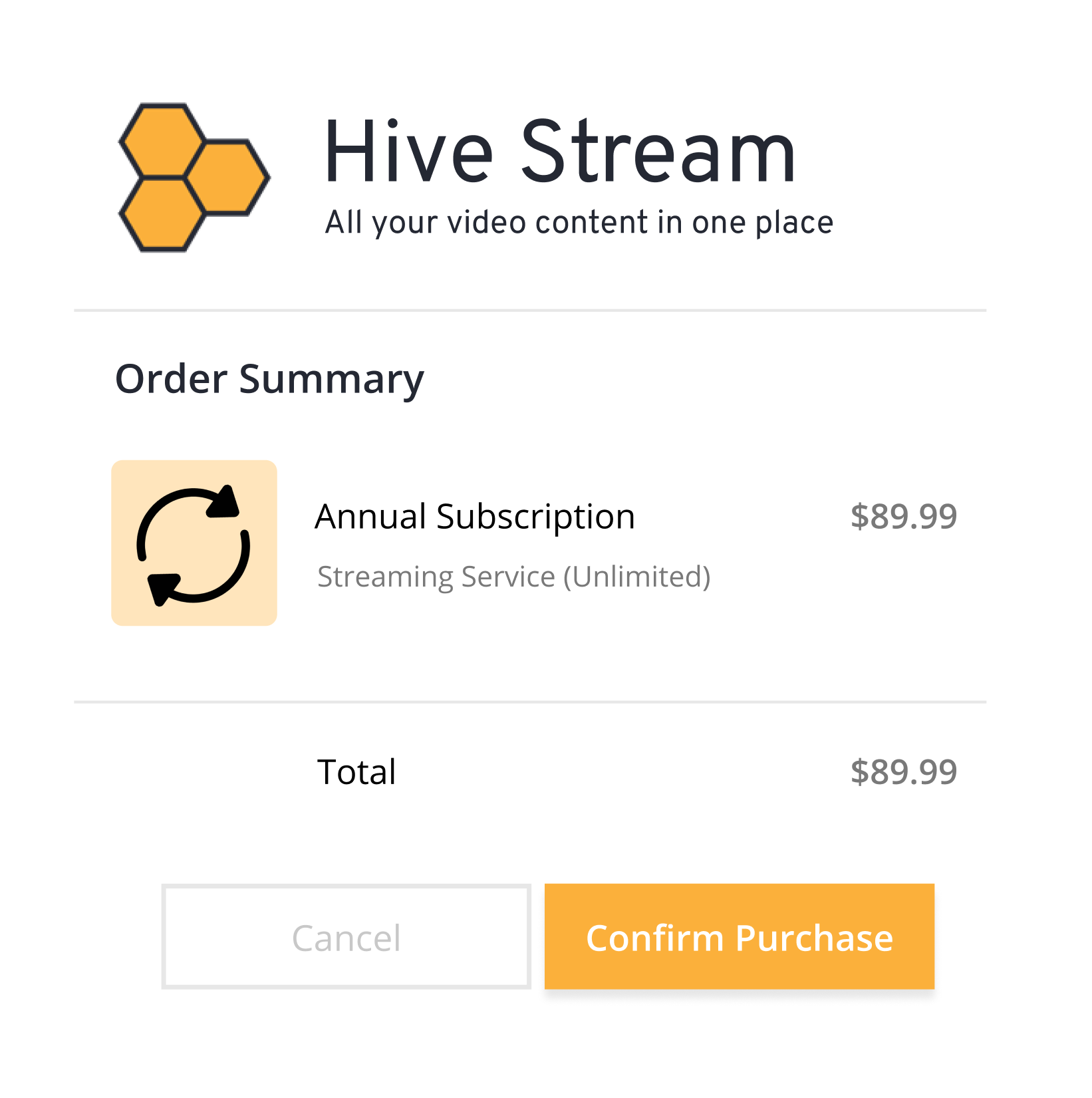 4. Require activation, registration, or validation after purchase.
After a customer purchases digital goods and before being granted access to them, require activation, registration, or validation. 
This additional confirmation helps prove the purchase was made with intent.
For example, check how Amazon activates Amazon Business subscriptions.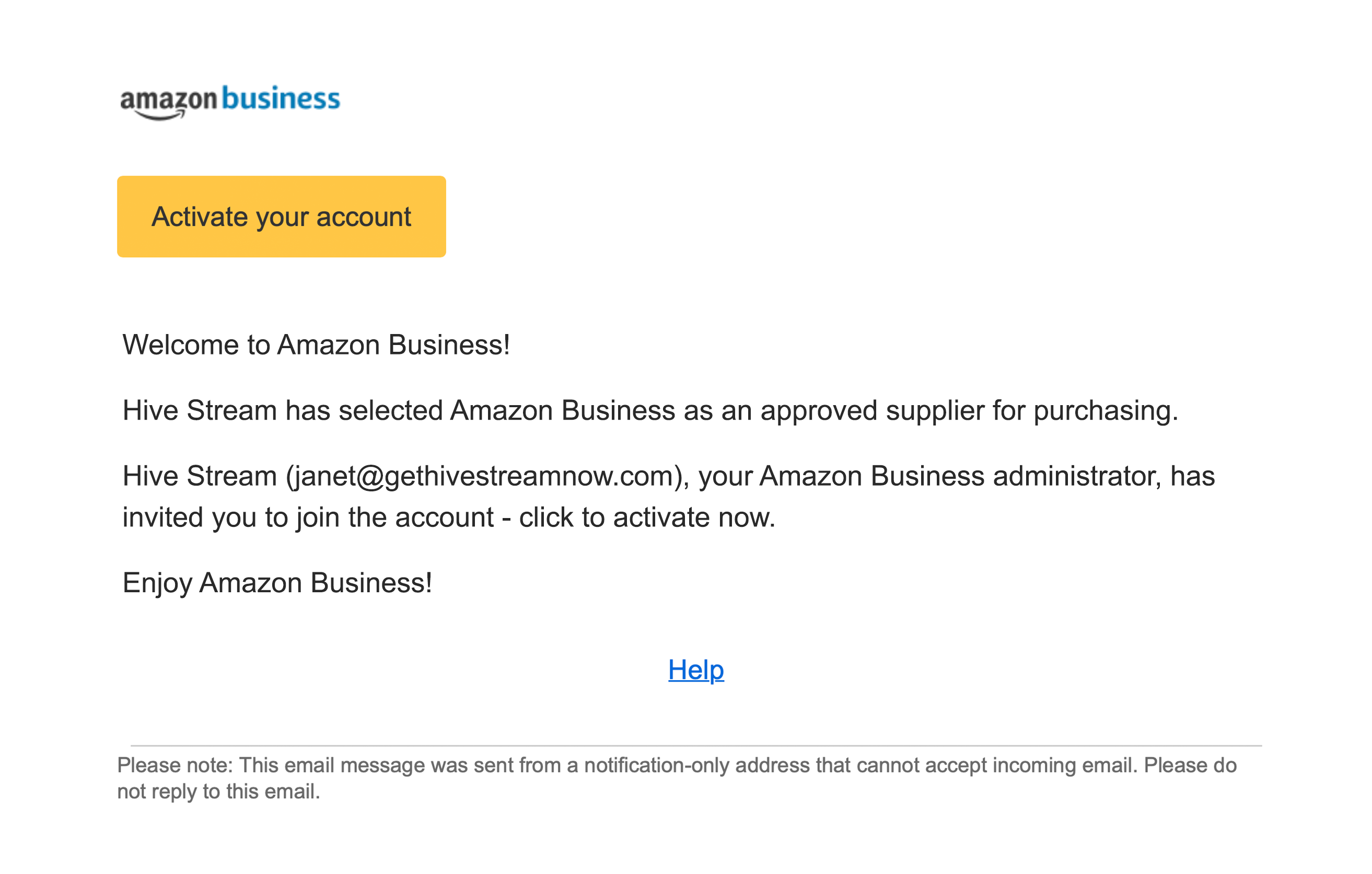 5. Immediately follow up after a purchase.
After a customer completes a purchase, follow up with an immediate confirmation email or text message to confirm the transaction. 
Include information about what was purchased and how it can be accessed, as well as links to your policies and steps to take if the cardholder doesn't recognize the transaction or made the purchase in error.
For example, Google Play sends a purchase confirmation email after every recurring transaction.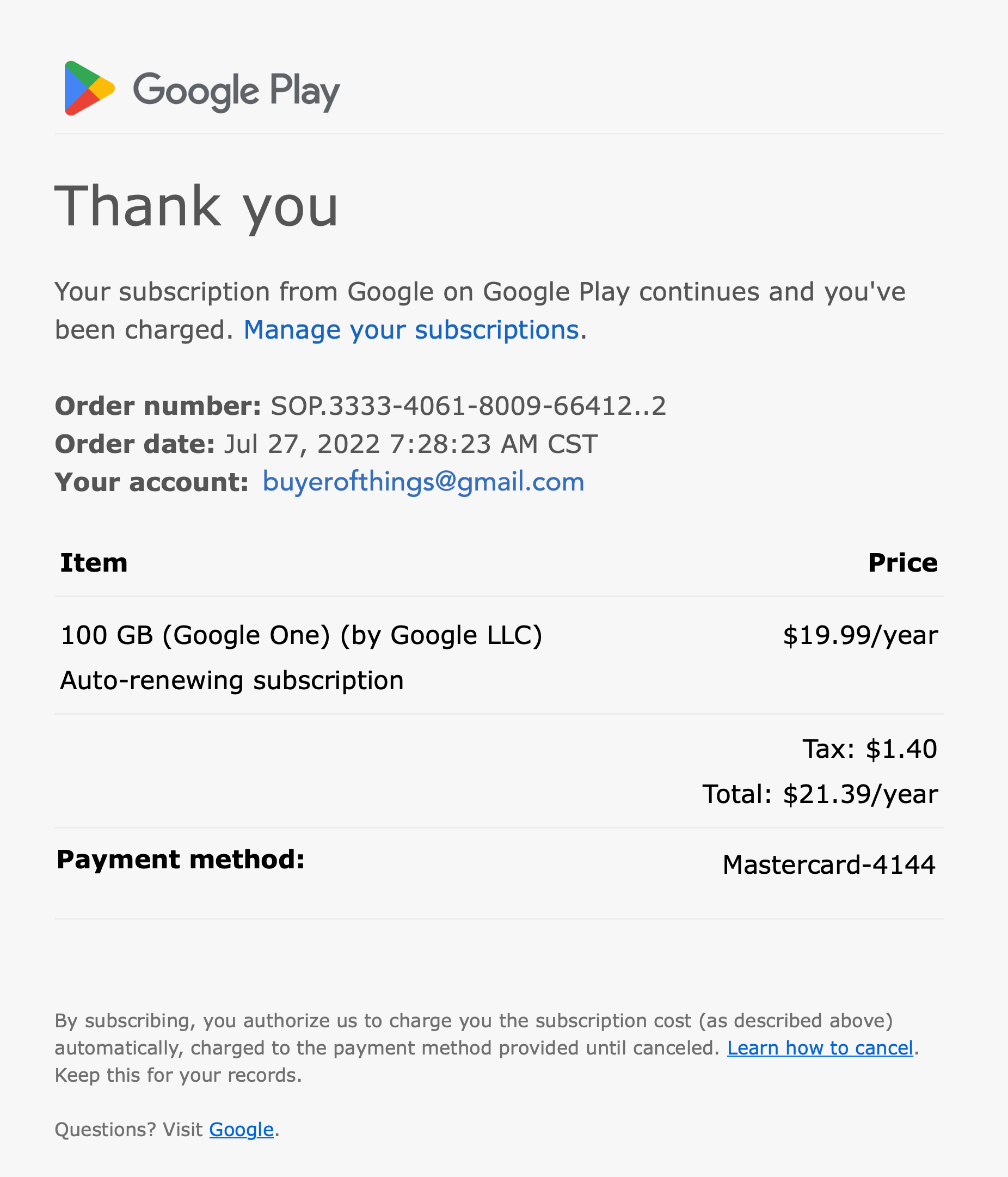 6. Use clear billing descriptors.
Customers often refer to their billing statements to identify potential fraud or other unrecognized transactions. From there, they can take steps to cancel orders and services, request refunds, or, in a worst-case scenario, file chargebacks.
Failing to include clear billing descriptors and contact information can lead to a customer filing a chargeback for digital goods you sold rather than contacting your support team to resolve an issue or address a concern.
To prevent these types of transaction disputes, use clear, concise, and informative billing descriptions for each of your merchant identification numbers. Examples of information you may want to include are:
The name and description of any digital goods you sold

Your contact information, including your phone number and website address

The name of your business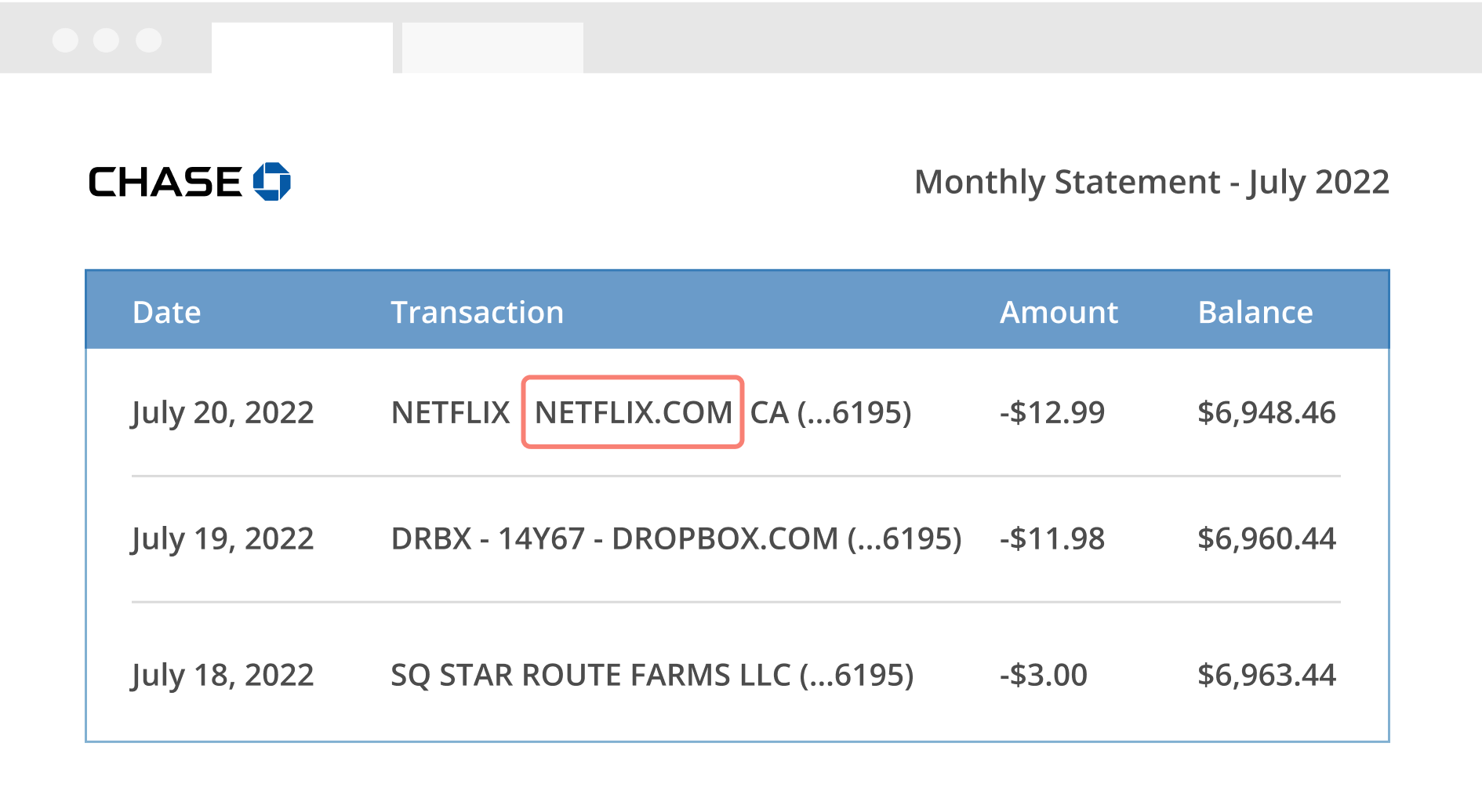 How to Fight Digital Goods Chargebacks
Because chargebacks for digital goods are an inevitable part of running a business, you need to develop a comprehensive strategy that helps you manage your approach with efficiency, accuracy, and a high rate of success.
In other words, chargeback prevention is only half the battle. You need to fight what you can't prevent, too.
And Midigator® can help. 
Merchants who use Midigator to fight chargebacks for digital goods have both an impressive average win rate and ROI.
Ultimately, pairing an effective chargeback management strategy with proven, versatile tools like Midigator can more than pay for itself.
Here are some of the common reasons customers file chargebacks for digital goods and what you can do to fight these disputes — and win!
COMMON REASON #1
A customer claims a transaction is fraudulent
Because fraud is the most common reason for a customer to file a chargeback, you need to verify your customers' identities during checkout.
Tools like address verification service (AVS) and card security codes (CVV, CVC) can help fight more than 80% of digital goods chargebacks. These tools require customers to enter personal information during checkout so it can be compared to what's on file with the issuing bank.
If the information doesn't match, the transaction is flagged as potentially fraudulent, giving you the opportunity to reject the purchase and avoid a future chargeback.
If the information matches and the cardholder still files a chargeback, you can use the AVS and CVV data as supporting documentation to help fight the dispute.
Another great way to challenge friendly fraud is to incorporate the new Visa CE 3.0 data elements into your chargeback responses. If you can disprove the fraud claim, you'll win the case.
COMMON REASON #2
A customer claims digital goods are defective or not as described
Sometimes, digital goods and other virtual purchases fail to function properly. In other cases, customers may not have the necessary technical know-how to properly access, install, or use digital goods you've sold.
This can create a situation in which a cardholder files a chargeback alleging the digital goods purchased from you don't work or otherwise don't fit the product description you provided.
To fight these types of chargebacks:
Provide evidence that the customer knew what they were purchasing beforehand, including the product description, system requirements, and other details

Include any correspondence that took place between the customer and your support teams, including any technical support you provided

Provide copies of your license agreement, terms of service, and other documentation that the customer agreed to before accessing the digital goods

Provide access and usage logs that show the cardholder used or consumed the product
COMMON REASON #3
A customer claims digital goods were never received
A cardholder may file a digital goods chargeback alleging the purchased item was never received.
To fight this chargeback, submit supporting documentation that proves the digital goods were downloaded or otherwise accessed by the cardholder. This can include:
Copies of access information or download locations sent to the customer via email

Proof the digital goods were downloaded or accessed by an IP address and device's geographical location matching the cardholder's at the time of purchase

A device name and identification number

The shopper's name and email address
COMMON REASON #4
A customer claims credit wasn't received for a refunded transaction
Your cancelation and refund policies should outline the process a cardholder must go through to request a credit for a canceled transaction.
In some cases, your policy may specify that it's no longer possible to refund a purchase once the cardholder has used your product for a given length of time.
Situations in which you do process a refund typically mean revoking the cardholder's access to the digital goods they originally purchased. However, it can take up to seven days for a credit to appear on a customer's billing statement.
In either instance, you may receive a chargeback for digital goods alleging a credit for a refunded transaction. To fight these types of chargebacks, provide supporting documentation that proves the cardholder:
Violated the terms of your cancelation or refund policies

Was provided with copies of or agreed to your cancelation and refund policies before consuming the digital goods

Continued to access the digital goods after receiving a refund

Already received a credit for the transaction in question
Manage Chargebacks for Digital Goods with Midigator
Dealing with digital goods chargebacks can be expensive and time-consuming. In fact, it's even more complex and overwhelming to manage chargebacks when digital goods are only one of the products and services you offer.
Fortunately, Midigator can help.
Midigator is intelligent chargeback technology that simplifies the chargeback management process. This enables you to protect your revenue and maximize your ROI.
Clients who use Midigator spend 85% less time managing chargebacks and reduce costs by 45%.
Midigator combines dozens of unique features into one powerful technology platform that does it all:
Resolve customer issues before they escalate to chargebacks

Identify the real reasons for transaction disputes to solve them at their source

Share real-time data so you know what's going on at any given moment

Determine which chargebacks are worth fighting to protect your ROI

Generate customized and intelligent chargeback responses to give you the best chance of winning

Automate processes to reduce inefficient, time-consuming, and error-prone tasks
Sign up for a demo today to see for yourself how Midigator can protect your business and revenue from chargebacks for digital goods.